You came to the right place to find taste-pleasing Norwegian Recipes in English.
On these pages, I will give you free recipes for delicious traditional foods of Norway as well as seafood recipes.
This country is known for its fish and seafood products, but the Norwegians enjoy a great variety of foods, not just fish.
Here, I will, as per usual, brag on my mom and her great cooking. Also, you will find recipes for beef, pork, lamb, venison, chicken and other fowl, soups and stews.
In addition, you will find recipes for Norwegian desserts, such as blotkake, Christmas cookies, puddings and other traditional Norwegian foods.
While visiting norway-hei.com, you will find out about the foods unique to the various villages and towns around Norway. Many homemakers around the country have their own unique methods and recipes for some of the old traditional foods.
Norway is a country of many flavors. No wonder, people from all over the world come to live in Norway and of course, they bring their special native cuisines.
Furthermore, when the "Norskes" travel and they do a lot of that, they discover delicacies from foreign lands and bring great recipes back to their homeland.
So even though, Norwegians hold tight to their traditional foods, they enjoy trying new things. Norway is a country of variety. The recipes here will reflect that.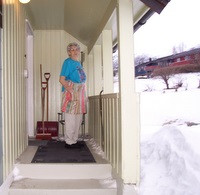 My mom, makes great Mexican foods. Tacos are her specialty. The other day I gave her a compliment about the fact she makes such good Mexican food, she said, "I don't make Mexican food, I only make tacos".
She also makes a delicious pizza. Find the recipe below. OK, done bragging about my mom for now, but it is hard to stop.
My wonderful mom on her back porch. (above) Would you believe she is standing outside in the middle of winter in a short sleeve top - that's a Viking for you.
I will keep on adding delicious recipes. I am on it. Ann :-)
Healthy Cod Recipes:



Bacalao (left)

Bacalao, a Norwegian Cod Recipe
Cod Casserole
Cod Baked in Foil
Cod and Broccoli Medley with Bechamel Sauce
Happy Cod in Cream Sauce
Fish Patties/Fish Burgers
Fish Nuggets Norwegian Fiskeboller
Au Gratin Cod, an easy make-ahead meal
Cod Tacos, a Norwegian recipe with a South of the Border twist.
Yummy Salmon Recipes: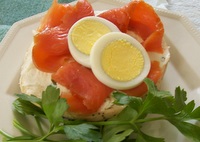 Gravlaks
Healthy Poached Salmon with Dill Sauce
Baked Salmon
Salmon in Lemony Lemon Sauce
Marinated Salmon
Salmon Chowder
Marinated Salmon with Sherry Sauce
Smoked Salmon Quiche
Salmon Salad
Smoked Salmon Sandwich (left)
Shrimp:
Cucumber Aspic/Mold with Shrimp
Trout:
Rainbow Trout Recipe

Beef:
Beef Pot Roast
Swedish Meatballs
Homemade Sausage
Chicken:
Lemon Chicken.

Lamb:
Lamb Casserole (Fårikål)
Pork:
Marinated Pork Roast
Piquant Roasted Pork Tenderloin
Venison:
Venison Steak Recipe with a Norwegian Aquavit accent.

Delicious Sauces and Spreads:
Curry Sauce
Lemon Butter Sauce
Mustard Sauce

Aspic/Molds & Salads:
Cucumber Aspic/Mold with Shrimp
Salmon Salad

Tasty Soups and Chowders:
Seafood Bisque
Fish Soup
Yellow Pea Soup
Salmon Chowder

Breads:
Easter bread with Bunny Eggs
Yule Cake/Norwegian Christmas Cake/Norsk Julekake
WOW, more Traditional
Norwegian Recipes:
Mom's Mashed Potatoes
Potato Dumplings
Sweet Sour Red Cabbage.
Stewed Green Peas
Lutefisk
Caviar
Various Pickled Herring Recipes

Drinks:
Gløgg, a delicious Norwegian Viking drink

Lefse Recipes
Yummy Potato Lefse
Nordlands Lefse
Lefse Baking by Kari
"Out-of-sight" Cakes and other Desserts: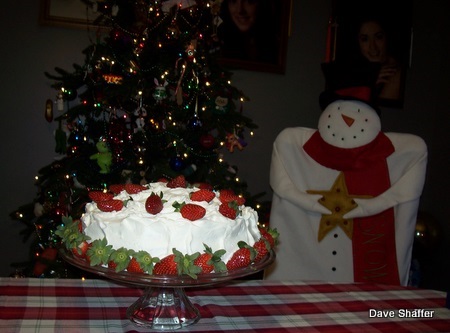 Norwegian Almond Cake
Apple Dessert/Cake
Hazelnut Coffee cake
Cream Puffs and Basic Puff Pastry
Fyrstekake/Norwegian Royalty Cake
Kransekake
Kringle
Bløtkake/Birthday Cake (left)
Norwegian Mor Monsen Cake/Mother Monsen

Puddings and Creamy Desserts: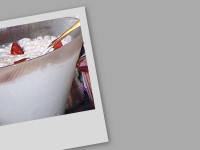 Norwegian Rice Cream/Norsk Riskrem (left)
Norwegian Rommegrøt/Sour Cream Porridge/Pudding
Lemon Mousse/Sitronfromasj
Norwegian Rhubarb Compote
Norwegian Christmas Tapioca Dessert
Norwegian Rice Pudding/Risengrynsgrøt


Nei, sei du det? More Traditional Recipes
All the Way from Norway: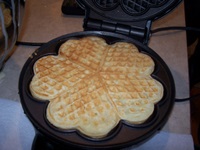 Pancakes/Crepes/Pannekaker
Dessert Crepes
Norwegian Waffles (left)
Yule Cake/Christmas Cake/Norwegian Julekake
Easy Pie Crust
Norwegian Oatmeal Crackers


Heisann!
Norwegian Christmas Cookies:
Norwegian Butter Cookies
Fattigmann
Norwegian Ginger Cookies
Goro, Norwegian Christmas Cookies
Krumkake Recipe
Lemon Almond Cookies
Merengue
Norwegian Sugar Cookies
Norwegian Pepperkaker
Sandbakels/Sandkake
Shortbread Cookies - Norwegian Mørkaker
Norwegian Sirupssnipper Cookies
Spritz - (Norwegian Sprut Cookies)
Oy, not so Norwegian Recipes:
No problema Paella
Sangria Oola Moola
Mamma Mia Pizza in 1 Hour
Even though for right now, this is the end of the page I named Free Traditional Norwegian Recipes, I will continue to add great free recipes to this page.
www.norway-hei.com © Copyright 2020
All Rights Reserved
Go to Foodpage after Norwegian Recipes
Search It Here