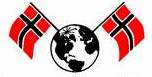 Merengue in Norway
The first time I had Merengue in Norway, I was pleasantly surprised what a sweet and delightful treat it was and I decided to make it for Valentines' Day for my family.
Every time I visit my family and friends in Norway I end up with tons of great recipes. Since I enjoy good food, it's an easy thing to sample them all.
Meringue is a mixture of egg whites and sugar beaten to a stiff foam. There are two basic types of merengue – a soft type that is used on top for cream pies – the other is a hard meringue which is baked overnight or for 6 hours in an oven where the heat is turned off.
First you separate the eggs, so that no yolk get mixed in with the whites. A trace of yolk will prevent the whites from forming a stable foam which is necessary to make a hard meringue. Use glass, copper or stainless steel mixing bowl - NO PLASTIC.
Do not use a plastic bowl for beating the egg whites. A plastic bowl may retain a fat residue, which will prevent the egg whites from forming a stable foam.
There are two important things to remember when whipping the egg whites, add sugar gradually and beat long enough.
When you think you are done – beat egg whites for another few minutes. Use an electric hand mixer or your Kitchen Aid.

Norwegian Meringue/Pikekyss (girl-kisses)
Preheat oven to 350F. (175°C.)
Ingredients
3 egg whites
1 teaspoon vanilla
¼ teaspoon cream of tartar
1 cup sugar
A pinch salt (1/8 teaspoon or less) Cover the cookie sheet with baking paper or aluminum foil.
Add vanilla, cream of tartar and salt to egg whites. Use an electric mixer to form soft peaks. Make sure sugar is dissolved.
When you think you are done whipping - whip for another 2-3 minutes. A rounded copper bowl is ideal for making meringue.
Spoon mixture onto a baking sheet forming small round cookies with peaks.
For variation, fold in small chocolate chips, chocolate shavings, ground hazelnuts, or cookie/dessert sprinkles to the mixture before placing them on the baking sheet.
Place pikekyss in the oven. Turn heat OFF. Leave overnight or for 6 hours. Do not open the oven door once you have placed meringue into the oven. I usually keep them in the oven overnight.

Transfer the pikekyss/merengue into pretty pastel baking cups and place them in a heart shaped box.

You will receive oohs and AH's when you serve these delicacies at your next party.



www.norway-hei.com © Copyright 2020
All Rights Reserved
Go to Norwegian Recipes after Merengue in Norway
Search It Here