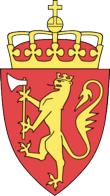 Government of Norway
Kongeriket Norge, Kongeriket Noreg,
Kingdom of Norway.
The Government of Norway is a Constitutional Monarchy and is a Parliamentary Democracy. Norway is a Kingdom.
Norway's Coat of Arms. (above center)
In a Constitutional Monarchy, the power lies in the Parliament.
Norway's currency is the Norwegian Krone (NOK). One Krone is divided into 100 øre.
The Kingdom of Norway consists of the mainland, the archipelago of Svalbard, and the island, Jan Mayen.
The capital city of Norway is Oslo with a population of about 450,000. It is located in southern Norway at the beginning of Oslofjord.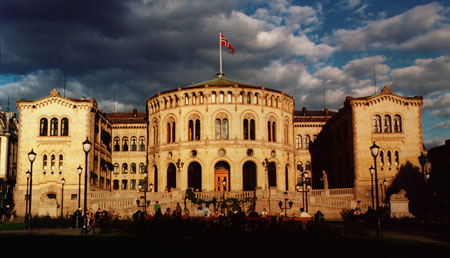 The Parliament Building, Oslo (Storting Bygningen in Norwegian)
Stortinget is the supreme legislature of Norway, located in Oslo. The unicameral parliament has 169 members, and is elected every four years based on party-list proportional representation in nineteen plural member constituencies. The assembly is led by a presidium of a president and five vice presidents; since 2009 Dag Terje Andersen has been president. The members are allocated to twelve standing. Information obtained from Wikipedia.

Flag of Norway (above)
Royal Motto: Alt for Norge (All for Norway).
The Eidsvoll Oath of 1814: Enig og tro til Dovre faller
(United and Loyal until the Dovre Mountains fall).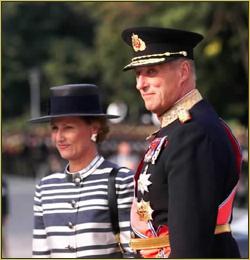 His Majesty King Harald V, King of Norway and
Her Majesty Queen Sonja are Norway's Monarchs.
The Country is divided into 19 Counties (fylker)

Rogaland
Sogn og Fjordane
Sør-Trøndelag
Telemark
Troms
Vest-Agder
Vestfold

Akershus
Aust-Agder
Buskerud
Finnmark
Hedmark
Hordaland

Møre og Romsdal
Nordland
Nord-Trøndelag
Oppland
Oslo
Østfold



Norway's 5 Regions/landsdeler:
Østlandet (Eastern Norway)
Sørlandet (Southern Norway)
Vestlandet (Western Norway)
Midt-Norge (Central Norway)
Nord-Norge (Northern Norway)
17th of May, Norway's Constitution Day. Hurra for Syttende Mai!
Every year the entire country celebrates the 17th of Mai, with parades, song, music, dancing, games, speeches, parties, and delicious foods.

Have you ever celebrated Syttende Mai in Norway? If not, you are really missing out on a wonderful experience.
Click on the arrow below to hear The National Anthem of Norway,
which is: "Ja,vi elsker dette landet..." (Yes, we love this land).


Click arrow below to hear The Royal Anthem of Norway:
Kongesangen (The Song of the King)

www.norway-hei.com © Copyright 2020

All Rights Reserved
Royal Family of Norway
Norwegian Currency
Fact on Norway
Return to Homepage after Government of Norway
Search It Here