Norway via Mallorca
To Norway via Mallorca? Yes, and why not?
Going to Norway via Mallorca is easy to do with lay-over travel. It's a great way to get more travel for your money.
On a snowy day in March, I ventured from Chicago to Barcelona, Spain.
In Barcelona, I jumped onto another plane and aimed for Mallorca, the sunny, beautiful island east of mainland Spain.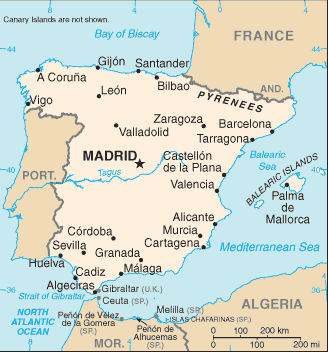 Map of Spain



Watch out Spain, a Norwegian Viking girl is on her way, but not on a mini Viking ship.
Mallorca Saludar!
I stayed at Hotel Playa Golf at El Arenal, about
5 kilometers from the airport and also from Palma de Mallorca.
Playa Golf, a four-star hotel - clean, modern and with all the amenities. The food was great. I especially remember the delicious gazpacho (cold vegetable soup).
They offered several meal plans - The one I chose was one that had two meals of choice. I also visited restaurants around the island to sample another local cuisine.
Paella is one of my weaknesses and I found it and many other Spanish delicacies at various spots. Every restaurant seemed to prepare paella a little differently.
Check out my favorite recipe for Paella at the bottom of this page.
El Arenal's white, sandy beach outside the hotel; the sunshine, swimming in the salty Mediterranean Sea; sipping sangria under the palm trees and listening to flamenco music. What more could a Norwegian Viking girl possibly want?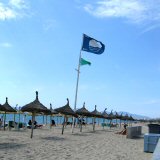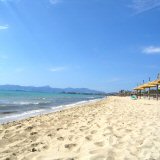 El Arenal Sandy Beaches (left)


It was worth it for this Viking to travel to Norway via Mallorca.



Dipping in the pools (indoor/outdoor) was invigorating and relaxing in the hot tub after a hard work out in the gym was a nice reward for being good.
A group of lively Norwegians almost bumped into me on the beach. Just like the Americans go to Florida in the winter, the Scandinavians go south to Spain, which is one of their favorite vacation spots. So I ended up with a bunch of fun people to hang out with.
More about travel to Norway via Mallorca.
The bus ride to downtown Palma de Mallorca was really hilarious. We were jammed together, like sardines in a can, stand-up room only - but who cared - it was only for five kilometers.
On the sidewalks, young musicians were strumming on their guitars and passionately singing romantic Spanish ballads.
Palma de Mallorca can boast of new, beautiful hotels, old buildings, and interesting small shops - a great mixture of old and new.
I walked up and down the cobbled streets, taking in the unique Spanish architecture and the wonderful atmosphere of Spain. It couldn't stop me from doing little people-watching catching bits and pieces of various languages as people passed by.
Think I had a good time going to Norway via Mallorca? YUP!
In front of a Mercado de Flores (flower market), a senorita danced the flamenco, clicking her heels and castanets while a hombre, with a mustache and an enormous sombrero, soulfully played his guitar.
While walking along the narrow streets, I saw little sidewalk cafes enticing with their unique specialties. The aroma of freshly baked pastries and coffee latte lingered in the air.
Shopping? Being an avid bargain shopper I visited unique boutiques along the way and bought beautiful leather boots, a suede skirt, and an awesome leather bag. But, my favorite purchase was a pair of gorgeous Mallorcan pearl earrings.
Now, my cousin, Kari has a fantastic web site on pearls. Check out
Kari's pearls here.
To Norway via Mallorca - read on...
Every night, at the hotel, people were dancing to Espanola musica Caliente. Many clubs around the island offered great music and a warm atmosphere.
Various sightseeing tours were available, one was a tour to Morocco, North Africa. Very eventful - maybe I will tell you about that another time.
Flyinging to Norway via Mallorca? - - Try it, you'll like it!
In case you would like to creative "Spanish delishesness" in your kitchen, here is a great recipe for Paella that I picked up on my travel to Norway via Mallorca.
www.norway-hei.com © Copyright 2020
All Rights Reserved
PAELLA VALENCIANA
For the seafood lovers in your life.
Ingredients:
8 chicken wings(split wings)or use 3 skinless, boneless chicken breasts cut into slices 1 lb pork ribs or l pork loin (cut ribs or loin into
strips)
1 lb Chorizo (Spanish/Mexican sausage) optional
½ lb shrimp in the shell
½ lb scallops
6 oz squid and/or octopus
1 lb mussel and clams
6–10 pieces crab legs
1 lobster cut into pieces (optional)
Pinch of salt - easy on the salt
½ can diced tomatoes
3-4 cloves garlic (chopped)
1/4 cup sliced green onion
¼ cup Vidalia or any sweet onion
¼ cup sliced red peppers
½ cup frozen green peas
1-cup fresh or frozen green beans
2 cups paella rice or use Arborio rice
1 teaspoon saffron
1 teaspoon smoked paprika
4-5 cups chicken broth
1-2 Knorr's fish bouillons or use Tiparos fish sauce
to add to the chicken broth to enhance the seafood
flavor
½ cup extra virgin olive oil
lemon wedges, strips of red and green
peppers for garnish.
Preparation:
The paella can be cooked in an extra-large stainless steel frying pan preferable with a lid to keep the food warm until it is served. Serve the paella from the same pan. A special paella pan can be purchased, it works well.
1. Add extra virgin olive oil to the frying pan and heat.
Add chicken and the pork rib strips and the optional Chorizo sausage cut into I" pieces – sauté 5 minutes – medium heat.
2. Add garlic and sweet onion, sauté for 3 minutes medium heat DO NOT BURN
3. Add sliced red peppers, green onions, and diced tomatoes. Cook 2 – 3 minutes
4. Add rice, and stir and cook for 4 minutes
5. Heat 4–5 cups chicken broth in the microwave oven with Knorr's fish bouillons or Tiparos fish sauce and add it to the mixture.
6. Add saffron. Cook for 10 minutes
7. Add shrimp, squid and/or octopus, scallops, mussels, peas, and beans. These items require shorter cooking time and will finish cooking with the steam in the pan.
Reserve some of the shrimp, crab meat, lobster and strips of red pepper to use as a garnish for the paella
8. If the paella is dry, add chicken broth as needed.
DO NOT STIR – TURN HEAT TO LOW and cover the pan.
Garnish with shrimp, crab, lobster, and strips of red pepper. Keep the lid on the pan.
The paella is ready to be served when the rice is done.
Make sure not to overcook the rice.
Garnish with lemon wedges, red and green pepper strips and serve.
Serving Suggestion:
Serve with a spinach salad, baguettes and herb butter with garlic and medium, dry white wine - or...
www.norway-hei.com © Copyright 2020
All Rights Reserved
---
Here is another recipe I picked up in my travel to Norway via Mallorca...
SANGRIA MAGNIFICO
A fruity, nutritious, summer or anytime drink.
1 bottle of white wine
1/3 cup sugar - add more sugar to taste if you use the
juice from fresh lemons.
¾ cup peach-flavored brandy or schnapps
6 tbsp thawed lemonade concentrate or juice from 6 lemons
12 oz sliced peaches (canned peaches may be used)
1 cup sliced green grapes (seedless)
1 cup sliced red grapes (seedless)
Mix together wine, sugar, brandy or schnapps and lemonade
or lemon juice. You can also add 5-6 lime wedges for more
color and flavor.
Add ice cubes and stir before serving to dissolve sugar.

Using a large glass mug to serve the sangria is nice because it is appetizing to see the fruit through the glass.
www.norway-hei.com © Copyright 2020
All Rights Reserved
---
SCRUMPTIOUS HEALTHY SPINACH SALAD
Serves 4
Ingredients:
10–ounce bag baby spinach leaves
1 cup canned mandarin orange sections
or 4 tangerines, peeled and sectioned
1 small onion
1/2 pound mushrooms, sliced
½ cup walnuts
Dressing:
¼ cup rice vinegar
2 tablespoons prepared Dijon mustard
1/2 teaspoon celery seed
Freshly ground pepper

Stir the dressing ingredient together.

Combine the salad ingredients in a bowl and toss with the dressing.
www.norway-hei.com © Copyright 2020
All Rights Reserved
---
DELICIOUS HERB BUTTER WITH GARLIC
Ingredients:
6 ounces softened butter not melted
4 cloves garlic, minced
1 tablespoon chives, chopped
1 tablespoon chopped parsley
Salt and pepper to taste
Preparation:
Mix together softened butter, minced garlic, chives, parsley, salt (easy on the salt) and freshly ground pepper.
The leftovers can be frozen for later use.
Finally, the end of my story "To Norway via Mallorca".
www.norway-hei.com © Copyright 2020
All Rights Reserved
Norwegian Recipes
Return to Homepage after to Norway via Mallorca
Search It Here