Norwegian Glogg, the Viking Drink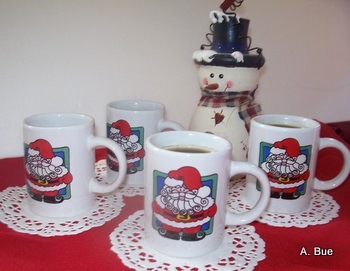 Glogg in Christmas Mugs
One sip of this warm delicious drink, will give you an insight into how the Scandinavian people cope with the long, cold nights in this winter wonderland.
Glogg is the Norwegian version of the famous international mulled wine.
There are many different recipes for mulled wine, but the most common ingredients include sugar, citrus (oranges, lemons and/or limes), cinnamon, nutmeg, cloves, ginger, star anise, and cardamom.
Below you will find one Norwegian Glogg recipe of this hot spiced mulled wine drink.
Around the Christmas Holidays, festive Christmas mugs are used to serve this delicious aromatic drink. The delicious rich blend of spices, nuts, dried fruits, and wine is guaranteed to warm you up.
Drink Recipe:
5 cups orange juice
1/2 cup slivered almonds
1-1/2 cups raisins
1/2 cup pitted prunes, chopped
12 dried apricots, chopped
15 whole cloves
5 cinnamon sticks (break into smaller pieces)
2 pieces fresh ginger, chopped
1/8 teaspoon cardamom
1/2 teaspoon cinnamon
2 bottles (750 ml) red wine or
red grape juice)
Cinnamon sticks for serving
Preparation:
Pour the orange juice into a large pan. Place cloves and ginger into cheesecloth bags* and add to the pan.
One method to make the spice bags is by cutting food grade cheesecloth into squares; fill them with the spice mix and tie each bag at the top with food-grade string.
Add the raisins, prunes, pieces of cinnamon sticks, and almonds to the pot. Bring the mixture to a boil and let it steep for about 45 minutes. If desired, add the wine and heat.
A crockpot is a perfect container to use both to prepare and to keep this Viking drink nice and hot. Ladle the Glogg into pretty mugs and serve. Enjoy!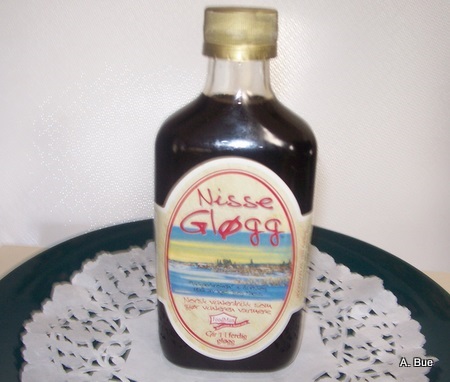 Norsk (Norwegian) Glogg
In Norway, you can buy bottles of this festive Viking drink mix and all you have to do is add the wine and/or red grape juice if you do not wish to add alcohol. Either way, Glogg is so delicious.
Add some nuts, dried fruit, and a cinnamon stick to the drink before serving.
One easy way to make and serve Glogg is to utilize a crockpot.
When the Glogg is ready, place a pretty ladle inside the pot and the serving mugs and a glass filled with cinnamon sticks next to it and your guests can serve themselves.
www.norway-hei.com © Copyright 2020
All Rights Reserved
Search It Here