Midsummer night in Norway is called Sankthansaften. It is celebrated on June 23rd every year. It is a traditional event and folks celebrate with bonfires, food, games, and dancing.
It is not uncommon hat people stay up all night having fun.
Pippi Longstocking or me?
When I was about 10 years old, I played a few numbers on my accordion at the Midsummer Night dance in our little home town.
People were having fun singing, dancing and laughing and watching me. Can you imagine...a skinny, little redhead with cute freckles, (kind of like Pippi Longstocking)... playing a VERY LARGE accordion; keeping the rhythm by tapping her feet and moving her tongue from side to side. I have been told that I was both cute and funny.


The highlight of the midsummer night celebration is the huge bonfire that is lighted at midnight.
Midsummer night bonfire
out of control (left)
Photo by Trond J. Strand, Aftenposten.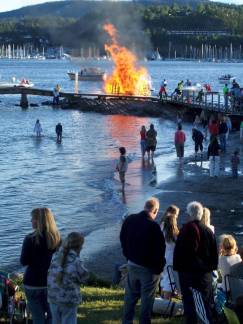 In the popular resort, Hvalstrand, Asker, the bonfire went a little out of hand.

Even though the dock was watered down before the bonfire was lighted, it started to burn.

The fire department had things under control in no time.

Bonfire (St. Hans-bål) Hvalstrand, Asker (left)
Photo by Trond J. Strand, Aftenposten


Midsummer Night
Midsommernatt (Norwegian)
Mitsommernacht (German)


We welcome you to Norway, the Land of the Midnight Sun

www.norway-hei.com © Copyright 2020
All Rights Reserved
Return to Home page after Midsummer Night in Norway.
Search It Here