Cod Fish Tacos
Fish Tacos, Seafood Tacos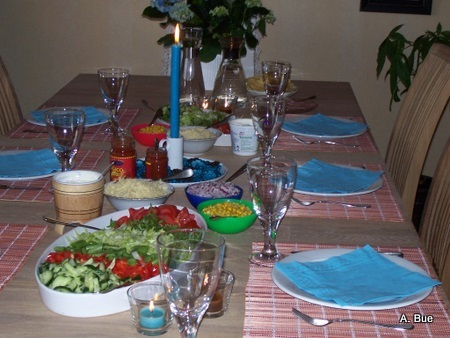 Norwegian Cod Fish Tacos Party
Find a recipe here for North-of-the-Border Cod Fish Tacos.
Cod fish is mild in flavor, white in color, lean, and flaky. You can purchase frozen boneless, skinless, wild-caught Icelandic Cod or Norwegian Cod in most supermarkets. North Atlantic Cod fish is among the healthiest food found in the sea.
It is an excellent low-calorie source of protein and omega-3 fatty acids, serve this fish to support heart health, boost brain power, or simply because it tastes oh-so-good.
Or...how about hard or soft shell Tacos made with other seafood? Sure, that will work, but, it must have a South of the Border kick, don't you think?
The first thing I do to make Cod Tacos is to defrost the fish, then rinse and dry it off with paper towels. Keep it in the refrigerator until you have the marinade sauce ready.
If you don't have cod fish on hand, other types of seafood will work just fine.
You can even use bacalao-type cod, which is salted and dried - you can also use salmon or shrimp. Most seafood lends itself well to making delicious tacos.
If you choose Bacalao-type cod,(salted and dried fish). You must first soak it for a few hours in cold water in the refrigerator, changing the water numerous times to remove excess salt Following the direction on the Bacalao packaging.
Place the ingredients for the marinade in a large bowl and stir. Add fish fillets and marinate in the refrigerator for about 30 minutes.
Marinade Sauce for the tasty Cod or other healthy Seafood.
1 can (14.5 ounces) diced tomatoes or use chopped fresh tomatoes
2 tablespoons Balsamic vinegar
onions of choice, chopped
green onions, chopped
juice of 1 lemon or lime
chopped Cilantro
2 cloves garlic, minced
1/2 or less jalapeno pepper, finely diced
1 teaspoon salt, omit if using bacalao type cod.
Marinate the seafood for 30 minutes and strain.
Remove Cod and strain out the liquid and retain the other ingredients.
Pour 1 tablespoon olive oil or coconut oil into a large pan and add strained ingredients and saute until the onions are soft.
Add the cod and saute on each side until the fish is flaky.
Do not overcook the cod or turn it more than once, the fish could fall apart. Seafood requires a very short cook time.
Filling
Sauted Cod Fish Fillets and Vegetables.
Roma tomatoes, firm, chopped
green onions, chopped
green peppers, chopped
sweet red peppers, julienne
green peppers, julienne
cilantro, chopped
black beans, 1 can, strained
sharp cheddar cheese, shredded
black olives, sliced
lettuce, finely julienned
Cilantro, washed and chopped
fresh lime (quartered)
sour cream
Jalapeno peppers for those who like it
HOT
Salsa, hot, medium, or mild, whatever you like.
Taco Shells (crisped in the oven)
Let's have a Codfish Tacos party...and why shouldn't a meal be fun and easy?
Place the above ingredients into colorful serving bowls along with salsa, crispy taco shell, and tortillas, and let your guests enjoy creating their own delicious healthy Cod Fish Tacos. Olé!
And...of course, if you are Norwegian, proper Norwegian Etiquette requires that you set the table with a knife and a fork, even with Cod Fish Tacos. See the picture above.
www.norway-hei.com © Copyright 2020
All Rights Reserved
Delicious Norwegian Recipes
Go to Foods of Norway after Cod Fish Tacos
SEARCH IT HERE