Yummy Homemade Pizza in one Hour.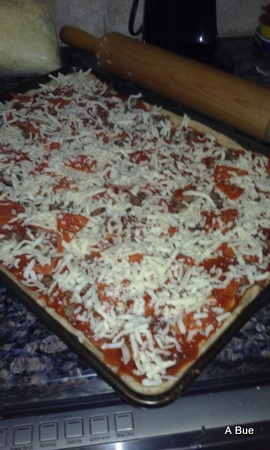 Pizza with toppings ready for baking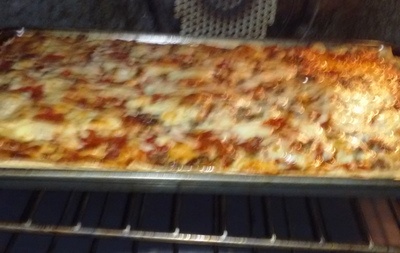 Pizza baking in the oven
Yup, when your kids want pizza, they sure don't want to wait for hours - they want it NOW and of course, home made crust is best.
This is the easiest and best crust recipe I have ever used - I have success every time with this one. By the way, kids in Norway looove this stuff - in fact, ALL Norwegians love Pizza. As you know, it is an universal food instead of just Italian.
The Norwegians are not exactly famous for Italian cooking, but at least I am very popular at my house for making this Italian food, which internationally, we all lovingly call Pizza. Joy!
RECIPE - Dough for the Crust:
Preheat over 400°F

1 ½ cups unbleached all-purpose flour
1 cup whole wheat flour
1 packet instant dry yeast
1 ½ teaspoon salt
1 cup warm water, not too hot it will stop yeast action
2 tablespoon oil or butter, plus
Butter melted to be applied with pastry
brush between layers of dough before baking
Garlic (Add garlic, granulated or powder, when melting butter)
Directions:
In a large mixing bowl, combine 1 cup flour, yeast, salt and mix well. Add water and oil/butter. Mix batter until somewhat smooth. Gradually stir in remaining flour to make a stiff dough.
Lightly dust same bowl with flour and allow the dough to
rest for 15 minutes. Place dough on a clean surface lightly dusted with flour. Divide dough into two pieces if you
want a double crust. For single crust don't divide dough. Knead dough until smooth.


     Homemade dough ready for rolling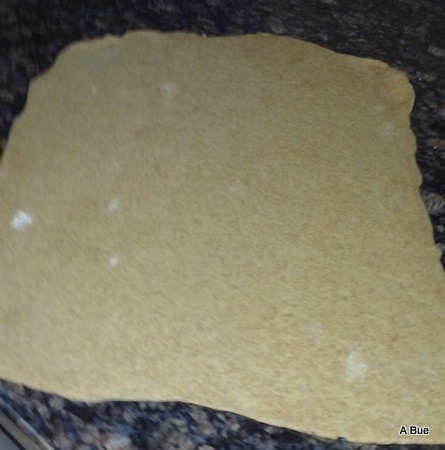 Homemade dough rolled out

Place the dough onto a clean surface and use a rolling pin to roll out dough to fit your baking pan.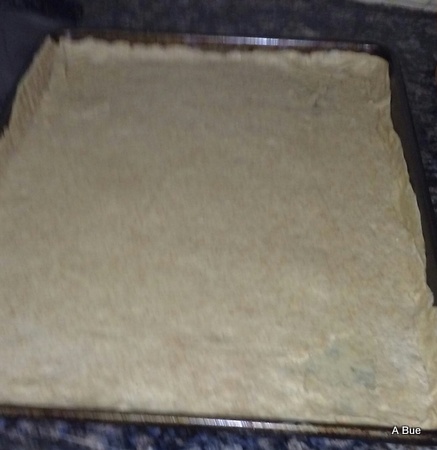 Homemade dough pressed into pan

For Double Crust: Roll out each piece of dough. Place first rolled out dough onto the baking pan. Using a pastry brush spread melted butter and garlic onto the dough in baking pan.
Place second rolled out dough over the first layer. Press both pieces of dough into the greased 12-14 inch baking pan.
Crust ready for the topping. Top with your favorite homemade or canned sauce. Add meats, s.a. Italian sausage, ham, pepperoni, onion, mushrooms, green and/or red pepper, herbs, s.a. Oregano, Sweet Basil and olives.
Sometimes I spritz Olive Oil over the toppings and toss tons of shredded Mozzarella cheese and whatever goodies I have on hand for topping.
Bake at 400°F 25–30 minutes or until the crust is light golden brown and crisp on the edges. Serve immediately, and that's no problem, I am sure.
If you make a double batch, freeze half, and you'll serve in only a few minutes next time. Or you can freeze it assembled and bake it later.
If your family enjoys a thick crust, double the recipe and use all the dough for one pizza.
www.norway-hei.com © Copyright 2020
All Rights Reserved
Norwegian Recipes after Homemade Pizza
Search It Here