Norwegian Lefse Baking by Kari
For Lefse Baking by Kari, scroll down...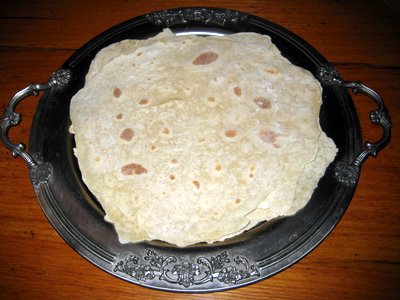 Lefse Served
Photo by my cousin, Kari.
"Lotsa" lefse baking takes place at Kari's house before Christmas.
Below you'll find Kari's Lefse recipe and learn all about how to
make this unique Norwegian traditional food.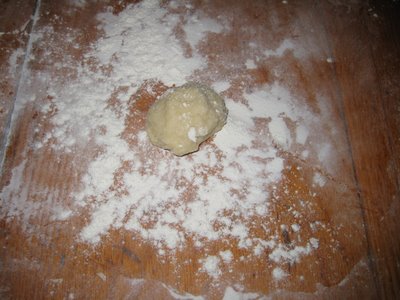 Lefse dough (above)
Kari said: "Although we all like the taste of the traditional lefse made with potatoes better, this dough was amazingly easy to work with. (Recipe below)
Visit Lefse Story and learn more about the Norwegian tradition of lefse baking.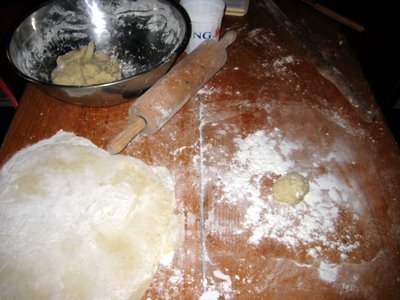 Rolling lefse
The dough was so "strong" and I could roll the discs out very thin. That's something I always struggle with when making them with potatoes."
Here is Kari's Lefse Recipe:
(without potatoes)

Scald milk and shortening. Pour liquid (medium hot) over dry ingredients.

Ingredients:
2 cups scalded milk
6 tablespoons shortening
5 cups flour
2 tablespoon sugar
2 teaspoons salt
Knead thoroughly before rolling. For best results roll out dough on stretched canvas or heavy cloth, occasionally dust lightly with flour.
Form into round discs about 8-10", or larger depending upon the size of your frying/baking surface.
Use a Turning Stick to flip the lefse so you can bake it on the other side.
(shown below)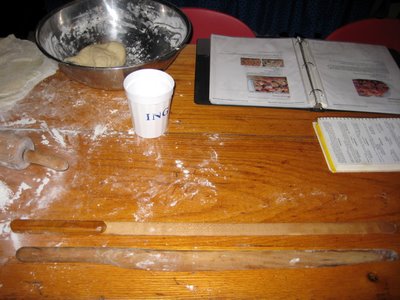 Lefse Turning Stick
Bake on an un-greased griddle (takke in Norwegian) or in a cast-iron frying pan. Make sure the baking surface is not too hot.
When/if the lefse becomes hard, you can still use the lefse by re-constituting it by moistening it by spritzing it with water and place it between paper towels or in a clean cotton dish towel to absorb excess water.
To serve lefse, spread it with softened butter; sprinkle it with cinnamon and sugar; roll it up and cut it at an angle.
More Serving Options:
You can also fill Norwegian lefse with various sandwich meats, salads, jams, jellies, seafood, various cream cheeses, or hard cheeses, such as Norwegian Jarlsberg or Fløtemysost by TINE, the Norwegian cheese producer.
Next to Last, but not least, you can even fill it with the dreaded and delicious LUTEFISK.
Lastly - Begin a fun Norwegian tradition in your home and Enjoy your Lefse Baking!
www.norway-hei.com © Copyright 2020
All Rights Reserved
Have A Fun Lefse Story or Recipe?
Have A Fun Lefse Story or Recipe?

What Other Visitors Have Said
Check out recipes others have added.
Lefse Toss Not rated yet
In Granite Falls, Minnesota they have a contest to see who can throw the lefse the farthest. It's mostly men who enter the lefse toss contest. They draw …
Nordlandslefse
Lefse made with potatoes
Foods of Norway

Lefse Story


So you thought my cousin Kari only makes good food - guess what??? - she makes beautiful jewelry from natural pearls, as well. Check out
Kari's beautiful natural pearls website here.

To Norwegian Recipes after Lefse Baking

Search It Here