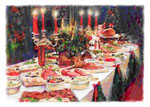 Norwegian Potato Lefse Recipe
Potato Lefse Recipe Mystery Unwrapped.
Above picture: Norsk Julebord
Table dressed for Norwegian Christmas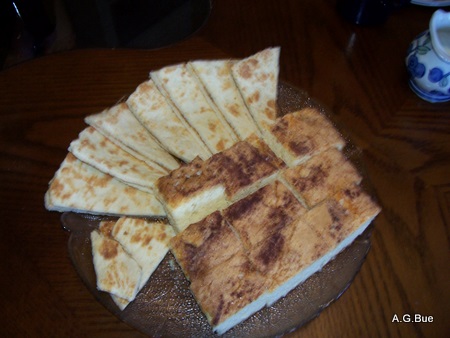 Norwegian Potato Lefse (above left) Mor Monsen Cake (above right)
There is more than one Norwegian potato lefse recipe around. Here you'll find a traditional Norwegian lefse recipe directly from "the old country".
This unique and delicious Norwegian Culinary tradition is practiced and enjoyed by "Norskes" in many parts of the world, including in the USA. They dig out their special Norwegian potato lefse baking utensils, especially around Christmas time.
If you are one of the lucky ones to be a guest at my mom's home, she will serve delicious lefse throughout the year.
The Norwegian Potato Lefse (plural) is made with a rolling pin and formed into thin, round discs. They are easy to make and are an appreciated treat not only for Norwegians.
This recipe makes 30 Lefse rounds

Utensils you will need to make Norwegian Potato Lefse:
Electric Griddle
Rolling pin
Turning stick
Pastry board
Ingredients:
6-7 medium potatoes, cooked & peeled.
1/4 cup milk
1/4 cup butter
1 teaspoon sugar
1-1/2 teaspoon salt
2-1/2 to 3 cups flour.
Preparation:
Drain boiled potatoes; mash and gradually add butter, salt, milk, and sugar. Whip well until light and fluffy. Chill the mixture in the refrigerator.
Gradually add 1/2-cup sifted flour and mix well. Add enough of the remaining flour to form a soft dough.

Rolling Pin for making lefse.
Place the dough onto a lightly floured surface. Divide it into 30 pieces of dough. Roll into 6" round discs.
Place the rolled-out potato lefse discs in the middle of the hot, dry griddle.
Electric Griddle
Use the Lefse turning stick to flip the lefse round and bake both sides to a light golden.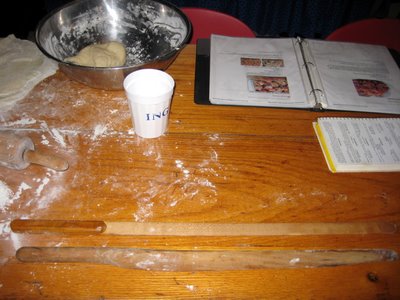 Lefse Turning Stick
You can bake them without a griddle - use a large cast-iron frying pan instead.

You will have to make smaller lefse disks to fit your baking surface and that's OK. Smaller size lefse will be easier to roll out and handle.
One way to serve this traditional Norsk delicacy is to spread it with softened butter and sprinkle it with sugar and cinnamon.
Roll the lefse and cut the roll in the center at an angle and serve.
The lefse can also be filled with favorite sandwich meats and cheeses. Pop it in the Foreman Grill for a few minutes until the cheese melts. Cheeses, s.a. gulost, Jarlsberg, cheddar, or another cheese of your choice, will work.
In Norway, we also eat lefse with thinly sliced brunost (sweet Norwegian goat cheese/Gjeitost). But don't heat the lefse if you have sliced goat cheese (brunost) on it. Norwegian goat cheese is usually not served melted.
Norsk Potet lefse is also ideal for making delicious appetizers. All you have to do is fill it with your desired delicacy; roll it up; cut it at an angle and serve.
Add garnish by sticking a toothpick with an olive or a cherry tomato with a sprig of parsley through it. Voila, you'll have beautiful appetizers. Only our imagination is the limit.
I am sure by now you know that when the Norskes in Minnesota serve Lutefisk, there will also be Norwegian potato lefse on table. Yum-Yum.
I hope you will enjoy this Norwegian Potato Lefse Recipe.
Happy Baking!
I will keep on adding recipes for traditional Norwegian food, so stop in often.
www.norway-hei.com © Copyright 2020
All Rights Reserved
Lefse Story
Lefse Baking
Nordlandslefse
Foods of Norway
Norwegian Recipes after Potato Lefse
Search It Here