Norway, all things considered.

Norwegian Flag
Welcome to my Norway web site!
Search It Here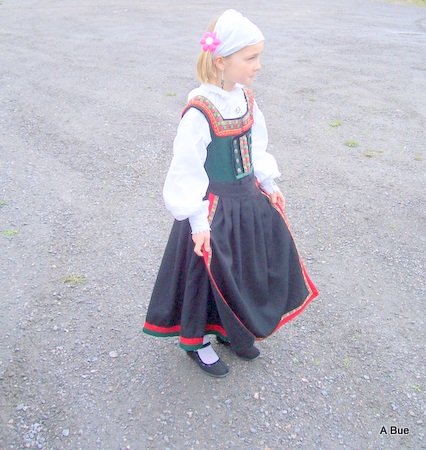 Norsk Bunad
"You can take the girl out the country, but you can't take the country out of the girl."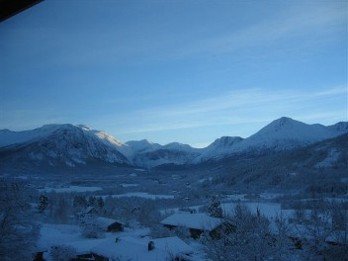 Isfjorden in winter.
Yes, at age 18, trying my wings, I left my home in Isfjorden, which is a small village in Romsdal, and came to the United States.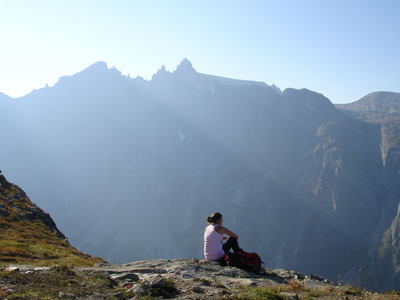 Breathtaking view from Romsdal Mountains.
After an experience-rich childhood in my country full of beautiful, breathtaking nature, history, old Nordic customs and folk tales still sing in my soul. Sometimes I "go back" to my fun-filled days of hiking in our mountains; picking wild strawberries and catching brook trout with my bare hands.
I left behind the stories of terrible looking Norwegian trolls, huldrer and fairytales that live in the caves and halls in Norway's huge, tall blue mountains. These creatures also lurk underneath old stone bridges in villages and towns. The memories of all these stories of old are still part of me.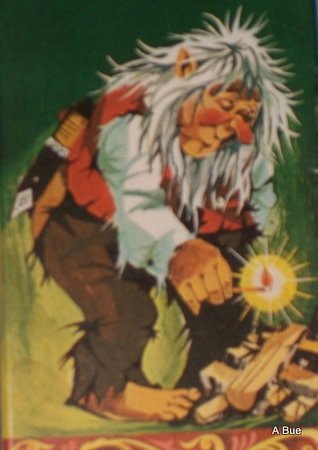 Norwegian Troll
Norwegian traditions, a bit of history; a peek at the arts, foods, and flavors of Scandinavia and a way of life are some of the things I brought with me to the USA, the great international melting pot called America.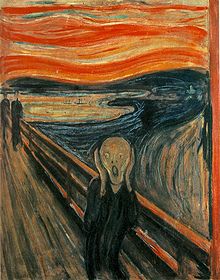 The Scream/Skriket in Norwegian (1910)
One of four versions of this famous painting by the Norwegian artist,
Edward Munch displayed at the Munch Museum, Oslo.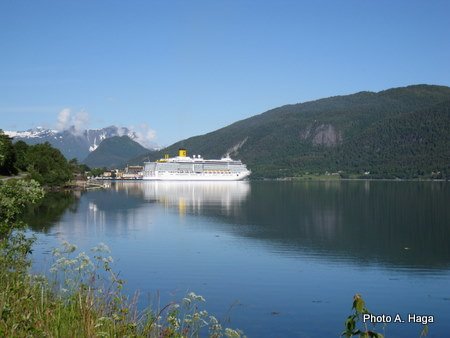 Cruise Ship on the Fjord
Photo: Arna Haga
When people ask me, "Where are you from?" (I still have a Norwegian accent.) I sing my answer back... "All the way from Norway"
If you browse around on my pages you will find photos, stories, facts from my Nordic country. Find out about Norwegian Foods, here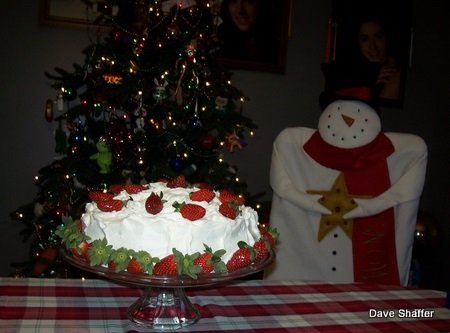 Norwegian Christmas Blotkake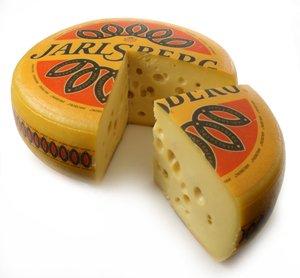 Norwegian Jarlsberg Cheese
a lean and tasty type of Swiss cheese.
When I arrived in the United States, I couldn't wait to take a trip to a store, so "right off the boat", I went to the corner market to buy a large head of lettuce - it was green and round - I came back with cabbage and everybody had a good laugh, including me.
I didn't want to ask for help — must be the Norwegian Viking spirit in me. It sounds dumb, but I didn't go shopping for groceries at home.
That's pretty much the way I still am — sassy, stubborn, independent, and adventurous — wanting to do things my way. Most of the time I land on my feet, but sometimes- NOT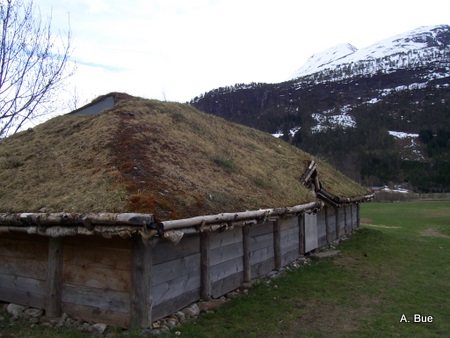 Replica of a Viking house from the Iron Age
located in my hometown, by Hen Skole Isfjorden Romsdal
Oh, in case you want to know the meaning of the word "hei" - it is the same as the greeting hi or hello, but not the same as saying hello on the telephone - that is "hallo".
Viking Map (left)
Hang on to your hats - here we go to Norway. Hei!

Mini Viking Ship
www.norway-hei.com © Copyright 2020
All Rights Reserved
Get a personal glimpse of Norway through my funny stories, pictures, traditions, facts of Norway and tasty family recipes.
Discover the wonders of Norway. Here you can check out some the highlights of this beautiful Kingdom of the North.
Want some interesting Norway Facts? Come on over and have a look.
Learn about the Government of Norway.
Ever wondered what the Royal Family of Norway is like? Why are they so loved by the Norwegian people?
Want info on Norwegian Currency/Norske penger? Find it here.
Want a glimpse of the Norwegian Economy? Hop over for a peek at history and interesting facts on the Norwegian Economy.
How is the Weather in Norway? Find out here about the climate and seasons of Norway.
Norwegian Etiquette? Does anyone care about proper manners? The Norwegians do - find out here.
Foods of Norway are some of the best reasons to love this country. Find great recipes and cooking ideas here.
Looking for Norwegian recipes? Find new and traditional Norwegian Recipes in English here.
Norwegian Breakfast? So what's the big deal? Ever heard that they even serve delicious seafood for breakfast? Wow, no wonder that Norwegians are such a healthy bunch!! Read about it here.
Caviar, well, it's Kaviar in Norwegian and super delicious. Here are ideas how to spark up your food with Norwegian/Norsk kaviar.
A few sips of Norwegian Glogg and you'll have an insight into how the Norwegians cope with the cold snowy nights in Norway, the Winter Wonderland.
Norwegian Lefse Story? What in the world is lefse? Stop in and learn all about this traditional food of Norway.
Lefse Baking? Is this another secret Norwegian lefse recipe. Yup, and you found it here.
Lutefisk, love it or leave it. Seriously, it is delicious and authentic Norwegian.
Who are the people of Lapland? Visit this page to learn about these resourceful, Nordic folks, also called Laplanders.
Ever wondered what Norwegian National Costumes are all about? Find pictures and information here.
Discover the fascinating aspects of the Norwegian language here.
The Norwegian Alphabet and how to pronounce it. Use my easy method. It is a lot easier than you think. Try it here.
Searching for English Norwegian Translations Cooking and Baking terms? Find it here.
Finn en liten norsk engelsk hus og heim ordbook her. Oversettelser er bra og nytting, men hvordan lager man setninger? Hopp over og finn hele setninger oversatt her.
Want to learn Norwegian? Jump over to English to Norwegian Translations Greetings and Phrases here.
Hvorfor ikke friske litt opp i engelsken? Her har du en liten norsk engelsk hilsen ordbok.
Want to count in Norwegian? Check out English Norwegian Translations Numbers.
Interested in learning Norwegian? Jump over to English Norwegian Translations Helpful Terms.
Hei, kikk innom min lille Norsk Engelsk Ordbok Familie.
What is the Nobel Prize? How did it have its beginning? Who was Albert Bernhard Nobel?
Entice folks to visit Norway by sending fantastic Norway Mountain Ecards for free.
Hey, have a look at the amazing beauty of Norway mountains Norwegian nature. Enjoy!
Midsummer Night in Norway.
Mass Grave of Vikings Found in England. What happened to at least 249 Norwegian Vikings? Find out here.
Learn about Norwegian Boat Building. Read about a village in Norway where they still build Viking ships.
Norwegian Viking Food? Ever wondered how the Norwegian Vikings baked a leg of lamb? Here is a peak at how to toss a leg of lamb into a cooking pit as the Vikings did in the year 700 AD.
Eldhuset? What? Long ago it was a small house on the Norwegian farm where the woman did their cooking and baking. Read all about it here.
Here is a funny story about How NOT to make Norwegian Potato Dumplings/potetball. Send along your unusual cooking story and we'll laugh together.
A fun story for young and old. Been thinking about Flying mom's navy blue silk umbrella lately? This could change the future for anyone young at heart.
Travel to Norway via Mallorca, Spain? I did it and so can you. Enjoy the beautiful beaches, shopping in Mallorca and then hop over to the glorious nature and culture of Norway.
This Lake Home is no longer for sale or rent.
Owning or renting a timeshare could be one of the best ways to see our wonderful world.
Want to build a web site? Learn how you can create and manage your own web site and have fun doing it.
Hey, I am making money on the internet. It is easy. Learn about it here.
About me.
Want to contact me? Here is how you can get in touch with me.
Ever tasted Fish Nuggets Norwegian Fiskeboller? Here you will find a time-tested family recipe for this seafood delicacy.
Want yummy Homemade Pizza? How about having it ready to eat in one hour? Yup, kids don't want to wait. Find great recipe here.
In the mood for Cod Fish Tacos? Find here a "North-of-the-Border" Taco recipe with a South-of-the-Border kick.