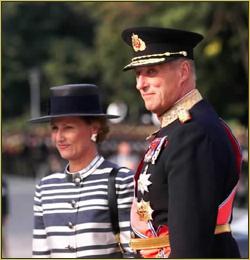 The Royal Family of Norway

Ever wondered what the Royal Family of Norway and His Majesty, King Harald of Norway, and Her Majesty, Queen Sonja of Norway (picture above) are like? Why are they so loved by the Norwegian people? Read all about it here.
On a visit to Ålesund, a city on the west coast of Norway, the royal couple was to honor the eldest person in the city.
King Harald greeted the lady first and then Queen Sonja greeted her - the lady looked at the queen and said: "And who are you"? Sonja smiled and said: "I am the queen". The lady replied: "Oh, I didn't recognize you".
This story tells about how sweet and loving the Queen of Norway is. She communicates her kindness to the people of Norway and they love their charismatic queen and all the members of the Royal Family of Norway.
The Royal Palace of Norway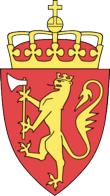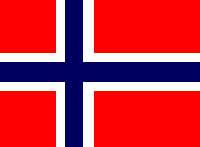 Norway's Coat of Arms (left) The Flag of Norway (above)
          

The King and Queen of Norway
The King of Norway and His Royal Family are honored and loved by the Norwegians.
They visit small towns as well as the big cities, constantly keeping in touch with the people.
It not uncommon to see the royal couple being out for a walk in the park or on skis on the slopes.
Also, the royal family of Norway travels all around the world, representing their country and supporting many worthy causes.
"To be king is not a job, but an existence", said His Majesty King Harald while the relaxed royal couple met with journalists from many Nordic countries.
Questions comprised of everything from the future of the Norwegian Monarchy; terror threats against Norway; the rich gas and oil adventures in Norway, to raising children. (Source: Henrik Width, Presseråd, Den Norske Ambassade, Finland).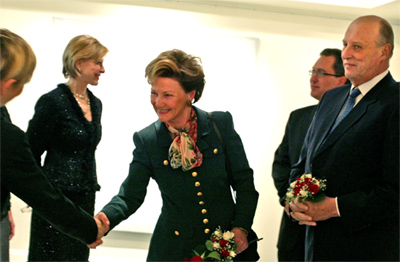 The Norwegian Royal Couple
H.M. King Harald and H.M. Queen Sonja.
In the media, The King and Queen are usually referred to by their first names, Harald and Sonja and everyone in Norway know whom you are talking about.
Because The Royal Family of Norway tries to keep a low profile, sometimes they are not recognized, something they really enjoy and it keeps them amused.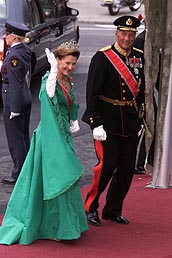 His Majesty King Harald and
Her Majesty Queen Sonja (above)
Photo by Orn Borgen/scanpix.
The Royal Family of Norway has chosen to live normal lives without much glitter, and therefore they can easily relate to the people of Norway whom they love and have good contact with.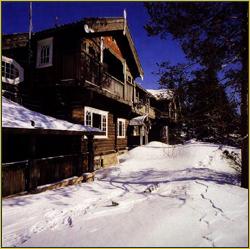 Kongesetern, one of
HM The King of Norway and the Queen's little get-aways.
Norwegians are not much for glamor, especially not from Norwegian celebrities. But...a little glamor is OK, isn't it?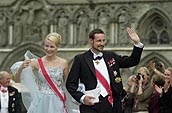 H.R.H Crown Prince Haakon and
H.R.H. Crown Princess Mette Marit (left)
Photo by Thomas Bjørnflaten, Scanpix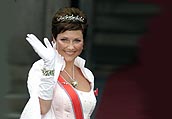 Princess Martha Louise (left)
Photo by Lise Åserud Scanpix/pool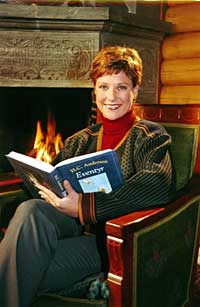 Princess Martha Louise reading fairy tales
(Prinsess Maartha Louise leser eventyr in Norwegian) (left)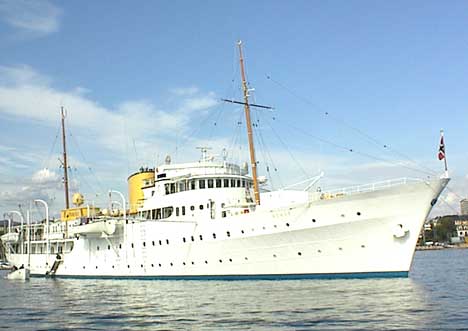 Kongeshipet Norge
The Royal Yacht Norway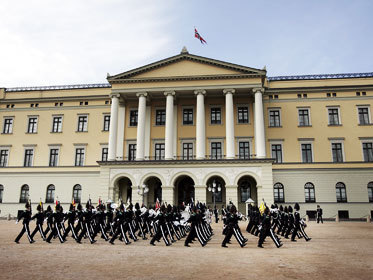 The Norwegian Royal Guards keep watch
over the Royal Palace of Norway.
My brother, Svein, served as one of the King's Royal Guards at the Royal Palace in Oslo. In fact, he even served in two armies - first in Norway as a King's Guard, and then he served in the U.S. Army in the Korean War. He received a Bronze Medal for his service in the Korean War.
Also, a nephew and a cousin of mine served in the Norwegian Royal Guard, at the King's Palace in Oslo.
We, as a family, are very proud of our men that served their countries.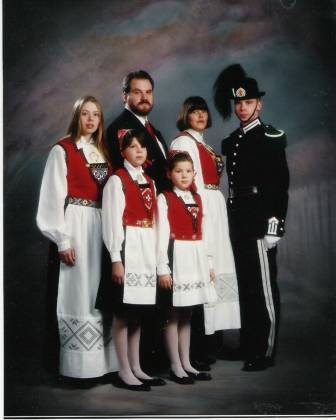 The ladies are wearing Hardanger Bunader/Norwegian National Costumes (left)
These special garments are worn on holidays, such as 17th of May, (syttende mai), Norway's Constitution day, and on many other special occasions.
My brother and his family. (left) My nephew is wearing his Norwegian Royal Guard uniform.

Here are a couple of stories you may enjoy - although it's more about me than The Royal Family of Norway...
www.norway-hei.com © Copyright 2020
All Rights Reserved
Fond childhood memories.
When I was a little girl, the King of Norway stroked my head - as he and his entourage were passing by. We talked about that for a long time...
His Majesty had visited Åndalsnes, the larger town next to Isfjorden, my hometown. The people were lined up to have a glance at His Majesty. Of course, we kids got to stay in front.
As His Majesty passed by, he stroked some of the children's heads, and my head was one of them. I really felt special - big time.


Meeting Norwegian Royalty - WOW! As an adult, I attended the Norwegian Lutheran Memorial Church, Chicago, Illinois and I also was part of the Church Council.
When King Olav V, visited the Norwegian Lutheran Memorial Church, Chicago, Illinois, the Church Council had the opportunity to meet the King.
I practiced my curtsey for about 2 weeks. Thankfully, I did OK, but I was very nervous. It isn't every day that you meet His Majesty King Hakon, King of Norway, and Her Majesty Queen Martha, Queen of Norway.
The Church Council gave a signed bible to H.M. King Olav, and that bible is now at the royal palace in Oslo. So, my name is at the king's castle in Oslo, how about that?
I attended the special banquet held in the evening with hundreds of guests, where His Majesty King Olav V and Her Majesty Queen Martha naturally were the Guests of Honor. It was an extravagant event, with an excellent menu and great speeches, an experience I will never forget. - Just a little story about when I met the Royal Family of Norway, that I decided to pass along...
This does not make me a special person, I just have a story to tell about the Royal Family of Norway.
www.norway-hei.com © Copyright 2020
All Rights Reserved

About the Government of Norway
Return to Homepage after the Royal Family of Norway
Search It Here