Nordlands Lefse
sooooooo very Norsk
Nordlandslefse
Mostly known as Nordlandslefse, but, a much-loved child has many names - it is also known as Hardangerlefse.
Nordlands lefse is very Norwegian and soooo good. This traditional Norwegian food will make your taste buds "Zing".
In Norway, "variety is definitely the spice of life". It seems like every village and town has its own Nordlandslefse recipe.
Like every else, including their three or more official spoken and written languages, they have a multitude of names and recipes for almost every kind of food.
Back to making Nordlands lefse...you need a griddle, a pastry board and a rolling pin without ridges (for some other kinds of lefse you need a rolling pin with ridges), and BINGO you are on your way to lefse baking.
This variety is about 1/4" thick and has to be cut instead of rolled to be served.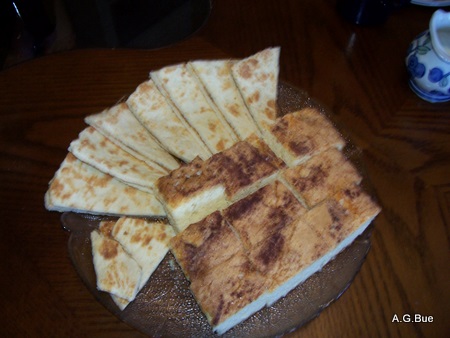 Nordlandlefse (left) Mor Monsen Cake (right)
Nordlandslefse is unlike the thin kind of lefse made with potatoes and usually served with Lutefisk. Nordlandslefse is thicker and usually enjoyed as a snack or a tasty dessert, and is never served with dinner.
Oh, I have some interesting facts for you, when I was in Norway a couple of weeks ago, mom told me that Nordlands lefse has a right side and a wrong side. Huh?
I could hardly believe it, but she proved it to me. The right side has an even golden color and the wrong side has round dark spots- "Go figure"...But, moms are always right - aren't they??
Nordlandslefse Recipe
Makes 24 pieces

Ingredients
2-1/2 cups (5 dl.) kefir or plain yogurt
2 eggs
2 cups sugar
1-1/2 tablespoon horn salt*
2 lbs-4 ounces flour or less (leave out 4 ounces for rolling out dough.)
9 ounces (2 sticks + 2 tablespoons)/250 gram) butter
*Recently I discovered that you can use regular Baking Powder instead of Hornsalt. WOW, that makes it a lot easier.
Preparation:
Mix butter and sugar until creamy.
Add eggs and stir
Mix horn salt or baking powder and a small amount of kefir in a cup.
Gradually add to the batter along with the remainder of kefir and flour.
Make a medium soft dough.
Form dough into a sausage-like roll and divide into 24 equal parts.
Roll out a round sheet about 1/4" thick with the rolling pin.
Sometimes I bake nordlandslefse in the oven at 400°F. (200°C.) on an ungreased cookie sheet and it turns out perfect or you can use your griddle.
To serve, spread butter all over the surface and sprinkle cinnamon and sugar on the entire lefsen. Cut it in half and place the other half on top. Cut into pie-shaped pieces and you are ready to enjoy this delicious Norwegian treat.
www.norway-hei.com © Copyright 2020
All Rights Reserved
Lefse Story
Lefse Baking
Foods of Norway
Norwegian Recipes after Nordlands Lefse
Search It Here