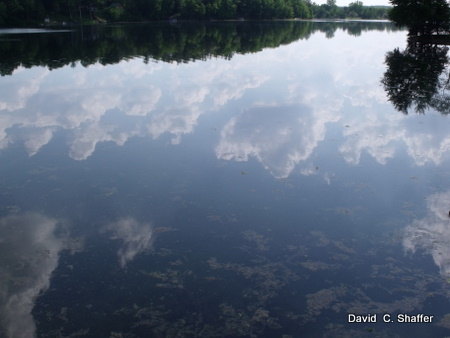 Reflections on Hemingway Lake
Enjoy swimming and water sports. Launch your boat or rent
our pontoon boat.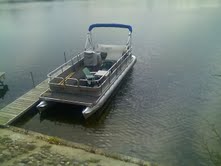 Pontoon Boat by the dock.
or how about using our small row boat FREE of charge?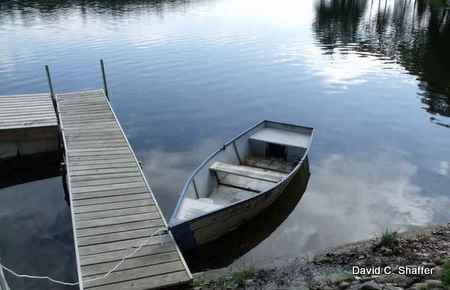 Row Boat.
Here you can do A LOT... OR ...

lounge around and DO NOTHING! WOW - sounds good to busy beaver me!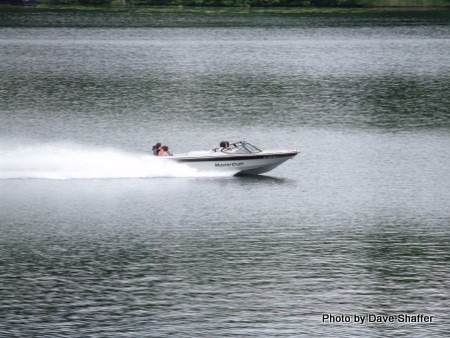 Sun and Fun on Hemingway Lake
The Blue Lake House is a perfect Lake Vacation Getaway.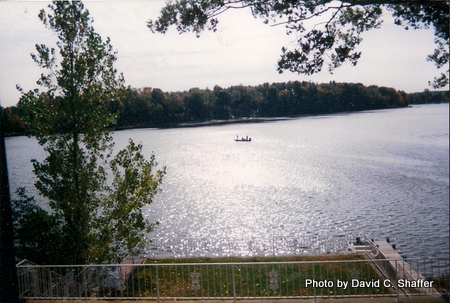 Great Fishing on Hemingway Lake
If fishing is for you, the lake is loaded with Large Mouth Bass, Yellow Perch, Sunfish, Bluegill and Channel Catfish. You will enjoy tossing your catch from this clean water on the grill.
Below are some pictures of our Michigan Lake Vacation Rental Cottage.
Some times we refer to our house as a cabin or a cottage, but it is an insulated, all-year-around home, in fact, I was told by an builder that it is built like a fort.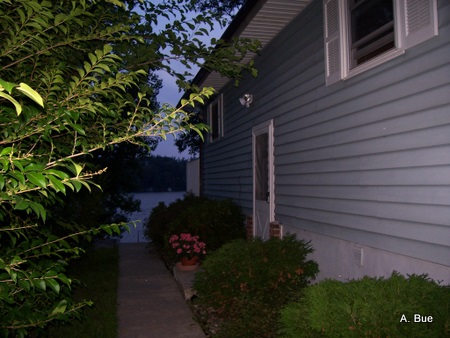 Side Entrance to The Blue Lake House
Have a look at the Kitchen areas below: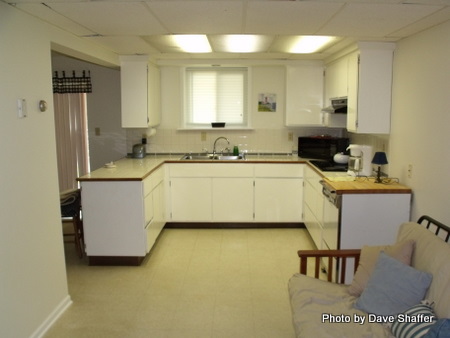 Efficient U-shaped work space in Kitchen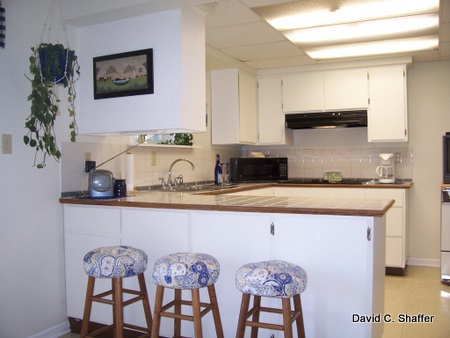 Breakfast Bar


Kitchen: Cook your favorite food in our clean and efficient kitchen equipped with an Electric Cook Top, Built-in Double Oven, Refrigerator and Microwave.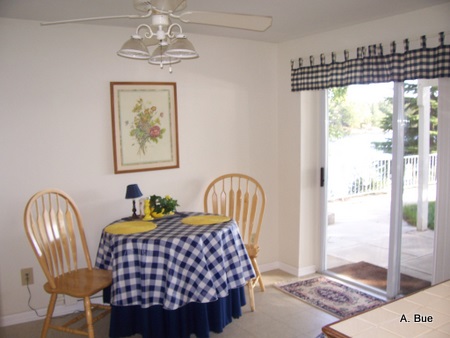 To Patio from the Dining Area.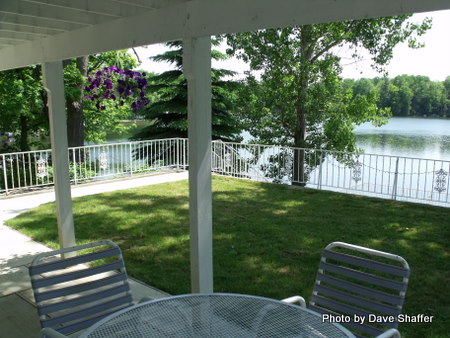 Patio outside the Dining Area.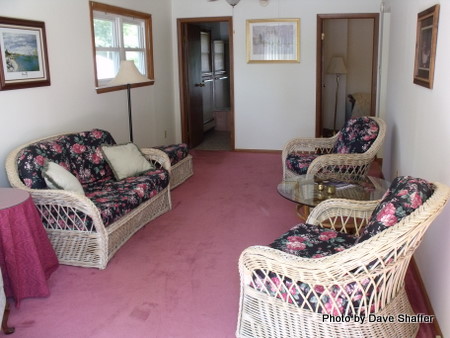 Living Room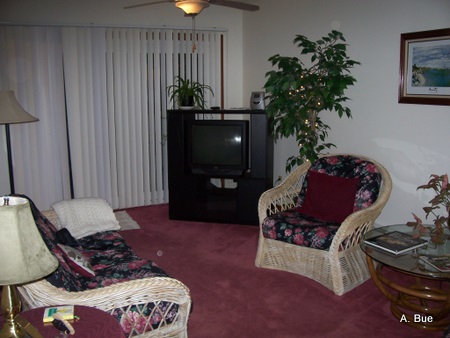 Another view of the Living Room


Relax and kick back in the cozy and comfortable living room where you can watch your favorite TV programs on Dish Network.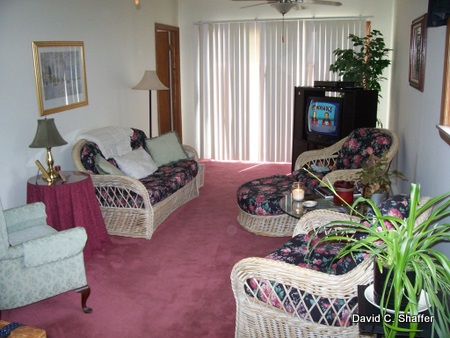 Living Room
Enjoy a breathtaking view of Hemingway Lake through the 8' sliding glass door,
which leads out to a huge deck.

Sleeping Accommodations:
Sleep 6 adults and 2 children.
Fresh linens/bedding are provided.
View of the lake from this bedroom. (picture below)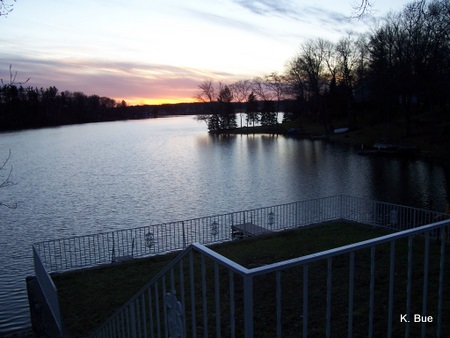 Evening at Hemingway Lake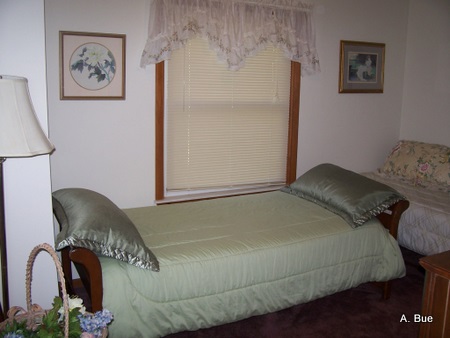 Bedroom with 2 Single Beds.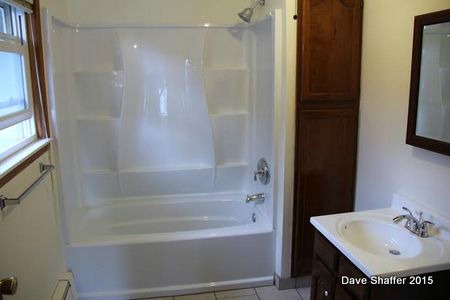 Master Bathroom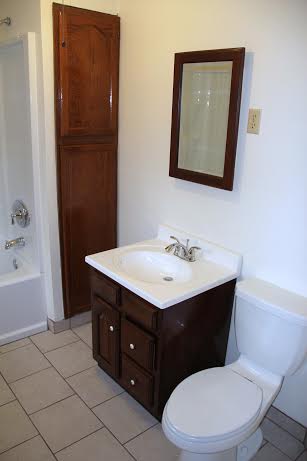 Master Bathroom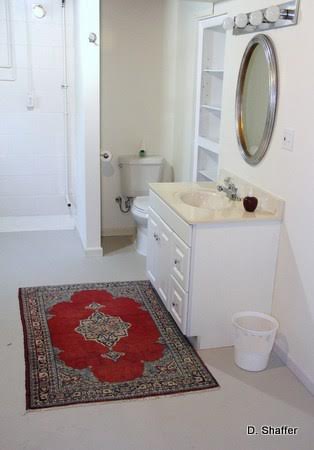 Half-bath in the Lower Level
Groceries:
Do a 7 minute dash over to Bryan's Market to pick up a delicious Pizza or a few second-to-none "cut-to-order" steaks from their superb Meat Department. Here you can find all the groceries you need and almost forgot, they have an awesome Bakery and Deli.
A short drive to the city of Lapeer (20-25 min) and you can shop at Walmart, Meijers and Kroger. In "Lovely Lapeer", as we lovingly call it, you will find great shopping, fine restaurants and more, s.a. a Cinema, The Ice Skating Palace; The Pix with live productions; Lapeer Rec Fitness Center; a Roller Skating Rink, Bow and Arrow shooting, Put-Put Golf and regular size golf courses, Lapeer Museum, a Farmers Market, Flea Market, resale shops, tons of Garage Sales and great places for antiquing.
On August 19, 20 and 21st, don't miss the The Lapeer Days a fun festival for the entire family. All summer and fall, there are tons of festivals around here.
If concerts are your delight, it will take you about one hour from our vacation rental cabin to the Palace in Auburn Hills, for concerts, sports events and more.
For shopping, about 30 - 45 minutes will take you to the Birch Run Outlet Stores or the celebrated Great Lakes Crossings with a myriad of stores and restaurants. Lots of choices here.
Nationally known, and second to none, The Somerset Mall, is one hour and 15 minutes away, will give you the shopping experience of a lifetime.
All-the-Fish-You-Can-Eat at the Lake Inn, Columbiaville, (about 5-8 minutes), serve the best fish around here. (You have choice of Cod or Walleye) on a Friday nights - about $8.00).
You will not regret sampling their scrumptious, generous serving of home made Carrot Cake. One piece of this tasty dessert is enough to serve 2-3 people, I am not kidding - Dave and I shared a piece of cake and had leftovers, which I brought home in a "doggy bag". Delish!
A train aficionado? Not far away you and your little train lovers can have the train ride of your life at Huckleberry Junction
Biking? Oh yes, check out the new, scenic Bike Trails at Southern Links Trailway, only minutes away from our vacation rental home.
Love eating fresh Blueberries? How about picking your own only minutes away? Visit Blueberry Lane Farms in Otter Lake. Blueberry Picking
The folks at Blueberry Lane Farms tells me that the blueberries are usually ready for picking in mid July.
Want some yummy Blueberry Pancakes for Breakfast? OH Yes, we love their big, delicious pancakes-loaded with with tons of sweet Blueberries on top. Can never have too many blueberries, you know!
AMENITIES:
Enjoy fantastic the view of gorgeous Hemingway Lake and being right on the water.
Every room is cozy, clean and tastefully furnished.
Most dishes, glasses and cookware provided.
Dish Network
Ceiling Fans installed in every room, even in the bathroom.
Linens and towels are provided.
Deck, Patio, tables/umbrellas, Chairs/lounging chairs.
Propane Grill
Dock
Fishing
Swimming
Last, but not least...How about cruising around the Lake in a Pontoon Boat (For Rent).
We will do our utmost to give you a comfortable stay at our lovely Lake Vacation Rental Home
on beautiful Hemingway Lake.
When you arrive, you will find a bottle of Michigan wine in the refrigerator for you...Oh, almost forgot, there are yummy homemade cookies waiting for anyone with a sweet tooth and of course, that would not be you!!...So, make sure to check out the Cookie Jar...and OH... we'll keep the lights on for you.


If you are looking for a wonderful Lake Vacation Rental home in Michigan,
do yourself a favor - contact us.
AVAILABILITY: The Blue Lake House is no longer available as a vacation rental.
www.norway-hei.com © Copyright 2020
All Rights Reserved
Want to email this page to a friend? CLICK 
To Homepage after Michigan Vacation Rental
Search It Here