Norway Mountains Norwegian Nature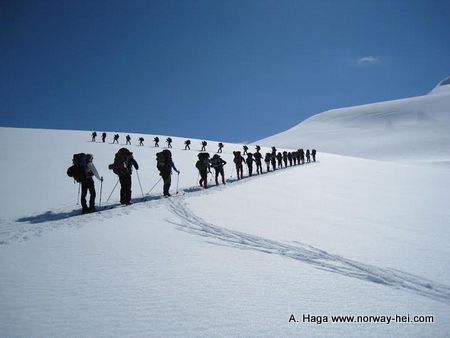 Skiers in Norway Mountains
Why did I name this page Norway Mountains Norwegian Nature?
Because this country is known for its clean, untouched nature. Come along with me and see.
"Den som gjør en reise har noe å fortelle" (the one who travels has something to share).
This is an old Norwegian proverb (Dette er et gammelt Norsk ordtak).
If you have traveled to Norway "The Country of the North", you surely would have a lot to tell about and tons of beautiful pictures to show your family and friends.
Have a glimpse (below) of Norway mountains and Norwegian nature, where I grew up.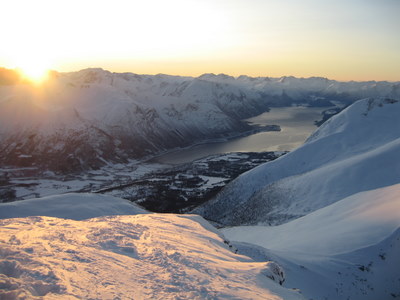 Sondre Klaua Fjell og Fjord
If you should decide to visit, be sure to bring your digital camera. Everywhere you turn you will have breathtaking view.


Edward Grieg, the Norwegian composer (left), painted the beauty of Norway with his music.
When you listen to the "The Mountain King", by Grieg, you can hear the brooks giggle and the thundering waterfalls galloping down the wild mountains sides.


When born here, Norway mountains Norwegian nature is planted deep in our soul.
I have spent many summers at Tokleskaret going to sleep at night by the non-stop lullaby of the dancing waterfalls.
The laughing brooks and the loudly humming river is "nature's orchestrated melodies of the mountain king". In "the olden days" farmers (bønder) employed ladies (budeier/seterjenter) to care for the cows, which were kept in the mountains during the summer.
Budeia lived in the farmer's mountain cabins (setra). In some places of the country, this form of farming tradition still goes on.
The grass in the mountains is especially rich and nutritious so the cows would give extra rich and delicious milk.


Budeia milked the cows and made cheese
and butter from the milk, which was kept chilled in ice-cold mountain streams.
The dairy products were carried down to the farm.
Budeia Painting by Gerhard Munthe, Hallingdal, 1890


Snowcapped Mountains, Isfjorden, Romsdal.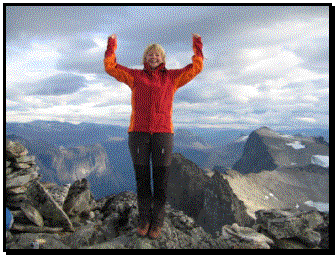 My good friend, Arna, successfully climbed the highest peak of Trolltindene, Møre og Romsdal.
Arna on top of The Troll-wall (Trollveggen), Romsdal 1795 meters above sea level (left)
Want to climb a mountain now?
Come along with this Norwegian mountain climber to Romsdalshorn.


Click on the arrow below to be part of climbing wild mountains...
Climbing Romsdalshorn

Romsdal mountains are also called "the Alps of the North" or "Romsdalsalpene".
Mountain climbers from all over the world come here to test their skills and to conquer these wild, majestic peaks.
Troll Wall (Trollveggen), located in Romsdal. (left)
Sometimes these daring visiting climbers venture up into these dangerous peaks without guides that know the territory well and occasionally they have to be rescued with helicopters.
These risky climbs end well most times, but unfortunately, sometimes not.
The white line indicates the route Russian mountain climbers used to conquer this peak.
                                          Romsdal Mountains in Moonlight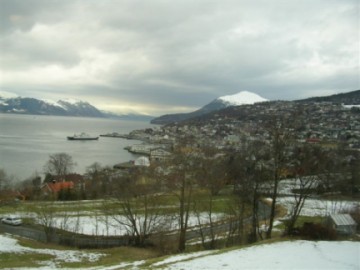 Village by the fjords


Many of my summer vacations, as a young girl, were spent at grandma's house in Sandenessjøen, an island in Helgeland, Northern Norway (Nord Norge).
Seven Sisters, Alstahaug (below), a well known mountain chain located in Sandenessjøen.



Mountains in Møre og Romsdal, Norway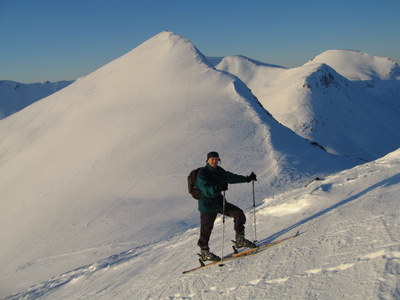 Skiing up the mountains.
Norway Base Jumping at its best...SCARY - yes -- but, must be exhilarating and FUN FOR SURE!

CLICK ON ARROW BELOW FOR THE RIDE OF YOUR LIFE...


Norway Base Jumbing
WOW, more pictures of Norway mountains and Norway nature...
Friends and Family on a Norwegian Mountain Top.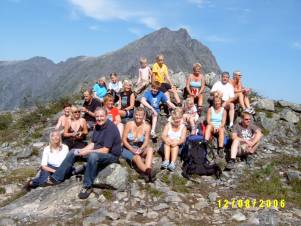 Young and not so young, you'll meet them on the ski slopes; on trails of woody hills and valleys; by rivers and lakes enjoying the beauty of Norway mountains Norwegian nature.
Nothing like having your 50th birthday on a mountain top.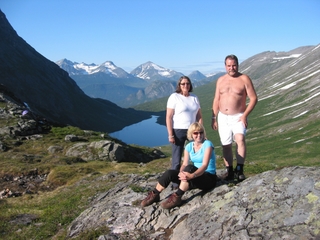 My brother, his wife and a friend hiking in the Romsdal mountains. (left)



Scroll down for more Norway mountains and Norwegian nature pictures below...
Springtime in Isfjorden

My sweet mom in the center, Arna (right) and Johnny (left) by her side.
Our grandma's house
under sunny mountain tops.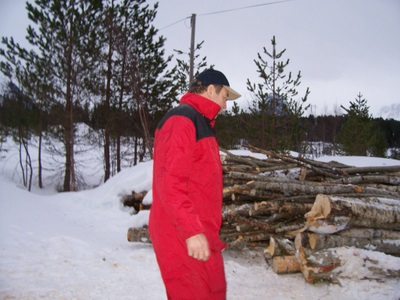 My brother, Bjørn, (bear), checking out
the wood supply by his hunting cabin.
Most people enjoy Norway mountains Norwegian nature.
Often folks here have getaways - cabin/hytter in Norwegian
or vacation homes/feriehus. These places are located in the mountains, by lakes or by the sea. Many weekends are spent enjoying their beautiful getaways.
Here is one of these gorgeous Norwegian getaways...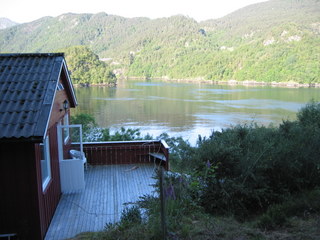 Cabin by the sea.
Luksund, located between Stavanger and Bergen.
Volda Panorama, Austefjorden
Isfjorden, my hometown, in Holiday Mood
Want to share your favorite Norway mountain picture?
Want to share your favorite Norway mountain picture?
Thank you for visiting my page on Norway mountains Norwegian nature. Stop in often to look for new pictures and information about Norway.


"My theory on Norwegian photography is that it's impossible to take a bad photo in Norway..no matter which way you point the camera...it's BEAUTIFUl'n Norwegian." A quote by Kari Anderson, my cousin and world traveler, owner and webmaster of Globe-hoppers.com.
Click here for more info on Norway
Return to Homepage after visiting Norway mountains Norwegian nature
Search Here