Norway Facts.



Looking for Norway facts? You came to the right place to learn about this beautiful "Jewel of the North". The meaning of the word Norway is "Way or Path to the North". This Masterpiece of Nature, is located in Northern Europe. It is a long, narrow, rugged and mountainous country. (Romsdal Alps pic above)
The majestic mountains are topped with white, sparkling, diamond-like glaciers surrounded by the bluest sky you can imagine.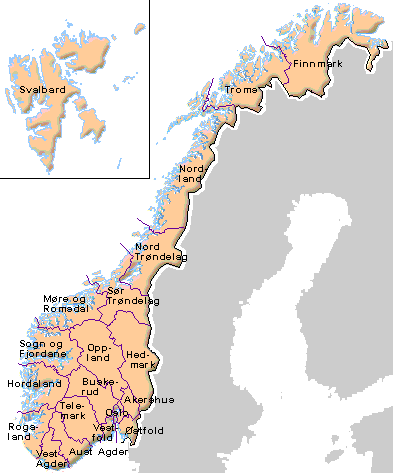 Norway Map, Svalbard included
The country has a coastline of over 25,000 kilometers in length. Without fjords and bays the length is 2,532 kilometer.
The size of the mainland is 323,802 Km2 (kvadratkilometer)
More Norway facts... Norway's western coastline is washed by the North Atlantic Ocean.
Norway borders The North Sea to the south-west, it connects into the Skagerrak Strait in the southeast, which also washes the shores of the Jutland Peninsula of Denmark; the south-west coast of Sweden and to west up the coast line, the Norwegian Sea and another ocean, the Barents Sea, an arm of the Arctic Ocean to the north. Norway borders Russia, Finland and Sweden to the east.
Stay with me for interesting Norway Facts.
Norway (the Norwegians call it Norge) is on the seas...
Norway with its elongated shape has one of the longest and most rugged coastlines in the world. It is dotted with more than 45,000 islands scattered throughout. The largest inhabited island is Hinnøya, which is
2,198 km2 in size with mountain ranges, broad valleys and summits over 1000 meters.
My brother Bjørn, is a hobby fisherman. He and his family live on one of these islands, called Averøy. This island is a perfect place if beautiful nature and fishing is some of your passions. Of course, he has a boat and tons of equipment to find the fish as well as for catching it.
There is no shortage of shipmates. His grandchildren enjoy boating with grandpa. Below you'll find two cute little Norway Facts...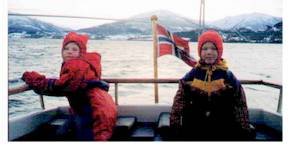 In 1989, Averøy was connected to mainland, to the city of Kristiansund N*, via Atlanterhavsveien (The Atlantic Road, one of the many wonders of Norway).
(*The reason for the N (North) is that there is a city with the name of Kristiansand S (South), located in the southern part of Norway).
Sweet little sailors on the Norwegian seas. (left)


The Atlantic Road, consisting of 8 bridges and many roads, is over 8 km (kilometer) in length. When this labor intensive project was completed people could now drive to mainland instead of using numerous ferries.
It's exciting crossing one of these bridges during a storm as the agitated, foaming water wash your auto as you scurry across. This car wash is free.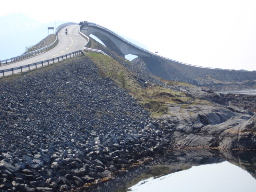 The Atlantic Road/Atlanterhavsveien, Averøy (above right)
The islands connected by Atlanterhavsveien (above left)
The cost of this project was 122 million Norwegian kroner (approx. 19.37 million US dollars) and took 6 years to complete.
In 2005, Atlanterhavsveien, the Atlantic Highway, was voted "The Norwegian Wonder Construction of the Century".
For more Norway facts, read on...
The trains are the latest in design; squeaky clean and super fast.
Of course, national and international airlines will take you wherever you want to venture.
Gliding along the picturesque long coast line are a fleet of Hurtigruter, Coastal Liners that will take you to your destination north or south on the west coast.
The Norwegian, Hurtigruten has a fleet of 12 Coastal Liners and Expedition Adventure Ships.
Norwegians don't have the time to drive around the fjords, so the travel time is reduced greatly by taking advantage of the on time hydrofoil ferries that seem to be everywhere.
When on board on the ferries the travelers usually head for the on board cafeteria for a quick and delicious meal.
An extensive network of bus transportation systems provide excellent local and national connections with planes, trains coast liner and ferries throughout the country. You might say, "Norway is well connected". Believe it or not, they are usually on time precisely the minute.
Norge does not only have water on the borders, it is blessed with literally tons of water inside the country as well. The country has over 150,000 lakes, with Mjøsa being the largest.
Hornindalsvatnet is Norway's and Europe's deepest lake, at 514 meters. Its surface is 53 meters above sea level, which means that its bottom is 461 meters below sea level.
Just in case you didn't know, most of Norway's lakes are filled with trout and other good tasting fish. That makes it a heaven for anyone who enjoy fishing. Water sport opportunities in this country are endless.



Sondre Klaua Mountain and Fjord (above)
Sondre Klaua Fjell og Fjord (Norwegian)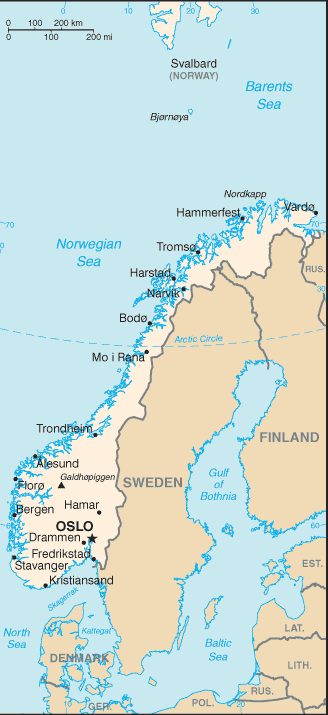 More Norway facts...
The country is about 1100 miles in length, measuring from northeast to southeast.
Norway's total coastline measures
25,148 kilometers; without fjords and bays, the length is only 2,532 Km.
Norway is 385,199 km2 in size. Svalbard, which is 61,020 km2 and Jan Mayen 377 km2 are included.

Average temperature in the winter is 27°F.(2°C.) and 57-65°F. 13-18°C.) in the summer.





Map of Norway (left)

The population of Norway is about 4.6 million. Most of the people live in the cities and the coastal areas.
The largest cities are Oslo, Bergen, Trondheim, Tromsø and Stavanger.
Oslo is the capital city, with a population of about 512,000.
Jostedalsbreen, Europe's largest glacier, is 487 km2 in size.
The tallest mountain, Galdhøpiggen, towers 8,100'
(2,469 meter).
Another Norway fact is that in the Norwegian language, there is no such thing as meters, therefore I write meter in plural as well as in singular.
Utigårdsfossen, glacier-fed 2,625' (800 meter) Mongefossen, Marstein (Mongebekk) 2,540'
(774 meter) Kjellfossen, highest free-fall waterfall drops 2755.9' (840 meter)*
*Waterfalls are measured in various ways; therefore the confusion about which waterfall is the greatest, highest or which waterfall has the longest water drop.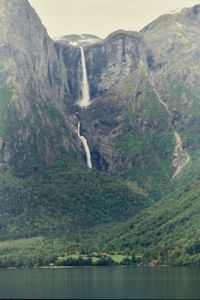 Mardalfossen/Mardal Waterfall (left) is the fourth largest waterfall in Norway, with a total drop of 1,696 ft (517 m) with individual descents of 974' and 722' each. It is located in Eikesdalen, Møre and Romsdal, not far from where I was born and raised.
A road with the name of Riksvei 9, will take you over the mountains to Mardalstjønna, also called Mardalsvatnet (Mardal Lake). Its water empties into Mardalsfossen.
This road is closed in the winter due to heavy snowfall, but it opens in late spring every year.
Hey, more Norway facts - read on...
Along Norway's coast-line are fingers of water that snake into the country sides, called fjords...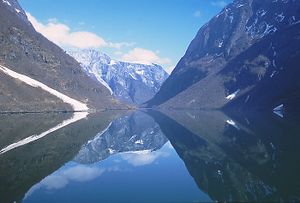 Norway has hundreds of fjords. Sognefjorden (left), the largest of the Norwegian fjords, is 204 Km. long.
It is said that Norway's fjords, with their sparkling blue water underneath dramatic, majestic, snow-capped mountains, are "God's Masterpieces of Nature".
For tourists, traveling in Norway is easy since most everyone there speak English. If you need directions, you'll be pleased to discover how helpful and friendly the Norwegians are.
I keep adding Norway facts, so come back to my site for information about this Scandinavian jewel.




See you in Norway! (Norwegian flag (left)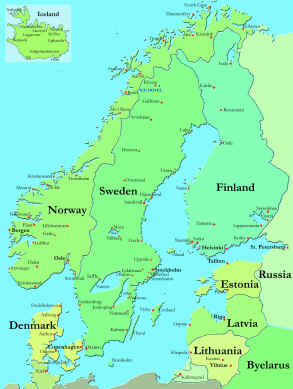 Flag of Denmark
One of my friends has a neat web site about
Denmark
, which is another beautiful Scandinavian country located south of Norway.
Visit his site and get tons of Interesting Facts about Denmark.
Usually, Scandinavia refers to Denmark, Norway and Sweden, but the other Nordic countries, Finland, Iceland and the Faroe Islands (Færøyene) are also sometimes included because of their close historic and cultural relations to Norway (Norge), Sweden (Sverige), and Denmark (Danmark).
In Norway, we say that Denmark is "Flat as a pancake" ("Flat som en pannekake", in Norwegian/på Norsk).
Denmark is surely is a great contrast to mountainous Norway. Map of Scandinavia (left)


Check this out
Norwegian Royalty
Government
Currency
Economy
To Homepage after Norway Facts.


Have a look at my Hometown, Isfjorden, on Webcam.
Search It Here