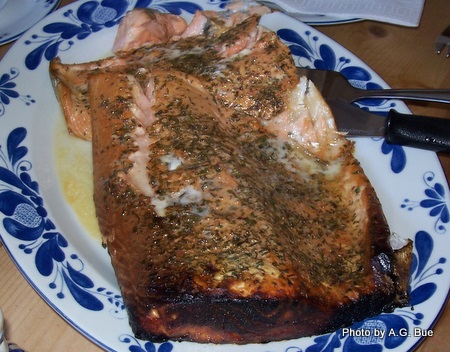 Foods of Norway
Fish is popular among the foods of Norway and
Grilled Salmon
(above) is surely one favorite.
No surprise - there is an abundance of seafood found in the waters inside and surrounding the nation. The fishing industry is flourishing, so naturally, Norway is a large exporter of fish.
Learn more about Norwegian food...
Seafood is healthy; we do not seem to eat enough it. It is a well-known fact that salmon (laks in Norwegian) is a rich source of Omega 3 Fatty Acid, the healthy fat, which lowers our cholesterol.
No wonder that the Norwegian population is one of the healthiest in the world, according to the Norwegian Institute of Public Health. In Norway, it is quite common to eat fish three to four times a week.
Since fresh fish is good and plentiful in Norway, the people there have developed numerous delicious ways to prepare seafood.
More about foods of Norway...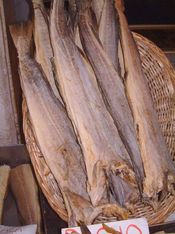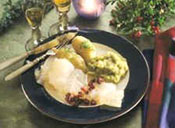 They poach, grill, bake, fry, marinate, smoke, grind it, salt-and-dry it; just hang-it-up-to-dry; cure it in salt brine, pickle it in wine and spices and more. How about that?
Here are some weird facts about foods of Norway...
When the fish is salted and dried, it is called Stock fish (klippfisk or kleppfisk in Norwegian (left) and that is the fish you use to make Bacalao.
In order to make lutefisk, the fish commonly used is cod, but other kinds of fish are also utilized. The fish is first soaked in lye, made of birch ash, and secondly, slowly dried and then you have... Love it or Leave it...Lutefisk (above right).
At Breakfast
Ring, Lauritz
Buy this Art Print at AllPosters.com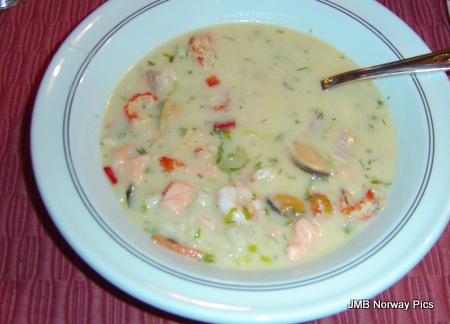 Seafood Bisque/Averøy Fiskesuppe
No one can "whip up" this soup better than my sister-in-laws, Gerd Merete and Marit. I remember, for mom's birthday, one year, they made seafood bisque for about 50 guests. People are still talking about how delicious it was.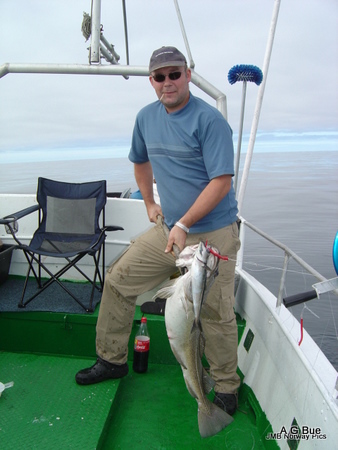 Bent Fishing
My brother, Bjørn and Bent, his son, both hobby fishermen, provided most of the ingredients from their fishing excursions.
Find recipe for some seafood below...

Fish Soup
Seafood Bisque with Shrimp
Savory Baked Salmon with Vegetables
Healthy Poached Salmon with Dill Sauce
Salmon Chowder
Salmon in Lemony Lemon Sauce
Marinated Salmon with Sherry Sauce
Dill Marinated Salmon/Norwegian Gravlaks
Piquant Mustard Sauce

Smoked Salmon (Røkt Laks in Norwegian) - how delicious, and another popular choice from the many foods of Norway.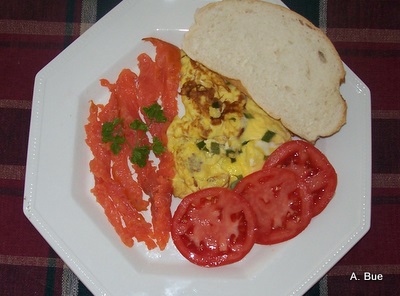 Breakfast is served
Sliced smoked salmon with an egg omelet and tomatoes)
My family and friends in Michigan, love it when I bring vacuum packed, smoked salmon fillets from Norway, back to the States.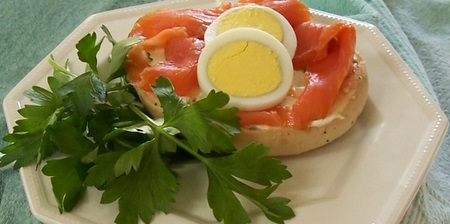 Norwegian Smoked Salmon on Bagel
My brother Bjørn, makes sure we are well supplied. His friend does salmon farming in Averøy, an island nearby the city of Kristiansund. Cleaning, smoking and vacuum packing the fish takes place immediately after it is harvested. Fresh Smoked means fresh here.

Norwegian Gravlaks is made from fresh or frozen salmon fillets. It is marinated in a dill mixture and served with Piquant Mustard Sauce.


Cod, "the Beef of the Sea", is definitely a Norwegian food because there is tons of cod fish in Norway. It is lean and mild in flavor, which lends itself well in many recipes.
Norwegians eat lots of cod fish and other sea foods. That might be one of the reasons you'll see a lot of slender Norwegians running around. One whole cod fish has the same calorie content as one tiny, little sugar cube. HUH - Makes you think - right?
Try these Cod Fish Recipes...
Norwegian Bacalao, a delicious Cod Recipe
Cod Casserole
Cod Baked in Foil
Happy Cod
Cod and Broccoli
Fish Nuggets Norwegian Fiskeboller
Fish Patties/Fish Burgers
Caviar (Kaviar in Norwegian)
Lutefisk
Pickled Herring Recipes
Stewed Green Peas

Pickled Herring is herring (sild) fillets pickled in sweet-sour sauce; sour cream, wine sauce, in tomato sauce (tomatsild) and more. Homemade Tomatsild is my son's favorite and aunt Gerd makes it just right.
Norwegian Caviar (Kaviar) is another delicacy. It is packaged in tubes so it is easy to keep fresh and also to use as sandwich spread and a tasty garnish on appetizers.

Fish Nuggets/Fiskeboller are exported all over the world. They are also available fresh in Norwegian super markets, but they can easily be made from white fish in your own kitchen.
Click here to find a whole bunch of traditional Norwegian Recipes
Here is more about Foods of Norway...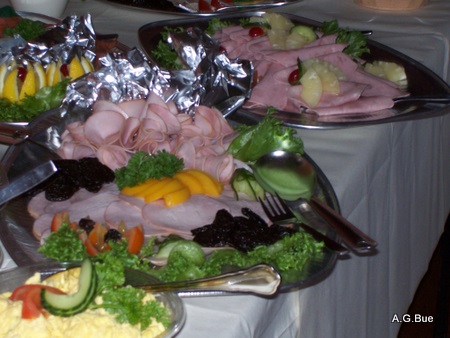 Check out Norwegian Recipes/Norske Oppskrifter
This might come as a surprise to you - Norwegians do not only eat fish...they eat beef, pork, lamb, chicken, turkey, venison and more. You will find wonderful roasts baking; soups and stews simmering and chicken grilling in Norwegian kitchens.
Mom makes awesome soups, "purrrfect" cold weather food. Today is very cold here in Michigan, so I am making my mom's Savory Yellow Pea Soup to warm me up on this cold winter day.



So, do you believe you would go hungry if you visit Norway? Will you be asking for hamburgers or might you try some of the delicious Foods of Norway?
By the way, they have hamburgers, just in case you "get lonely" for American food.
You will also find hot dogs in buns or varme polser i lumper, which are hot dogs (wrapped in potato cakes) with a Norwegian accent.
Last, bur not least, one of the favorite foods of Norway is Blotkake.
On your birthday you can count on having Blotkake, most likely with whipped cream all over it or maybe your birthday cake will be covered with marzipan (marsipan.) YUM YUM
I remember how much fun it was to get all dressed up in my beautiful party dress. Mom would curl my hair with "papirlotter", and top it off with a huge silk ribbon to match my dress and of course, I would wear my lakksko, my black, shiny Sunday shoes.
It was a wonderful feeling to go to the birthday parties dressed in my prettiest clothes.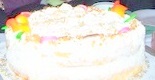 I remember as a child, at one birthday party I had 4 pieces of bløtkake.
Bløtkake Birthday Cake (left)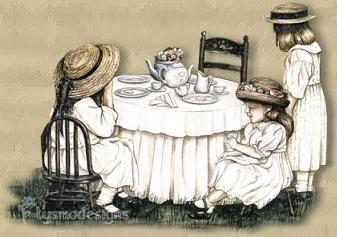 Naturally, one of the "funnest" part of a birthday party for kids is the birthday cake.
Norwegian bløtkake is usually covered with tons of whipped cream and topped with berries, which seem to be perfect for little girls and boys.
Birthday Party with Little Friends. (left)




Hope you enjoyed finding out about some of the foods of Norway.


English to Norwegian Translations Cooking and Baking Terms
English Norwegian Translations - Herbs and Spices
Norwegian Breakfast
Find Norwegian Recipes/Norske Oppskrifter here.

Want to use easy conversion tables for your cooking needs?
Visit OnlineConversion.com and convert just about anything to anything else.