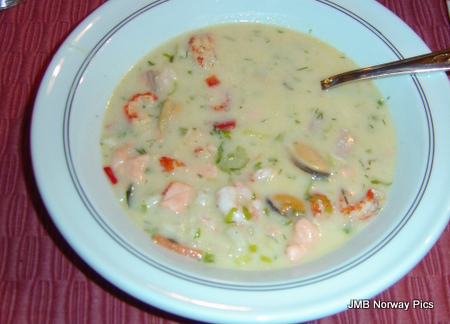 Norwegian Seafood Bisque
Norwegian Seafood Bisque with shrimp.
(Fiskesuppe med reker in Norwegian) (above)
Bisque is a rich and creamy seafood soup, which usually contains shellfish.
It is similar to fish soup, but it is thinner in consistency. Fish soup may contain a greater variety of seafood - there seem to be no rules about what seafood you can add to and still call it fish soup - all are delicious.
This soup makes a great meal to bring to a potluck get-together or to serving for lunch will make this meal very special. A cup of Seafood Bisque and a salad - bingo you have a satisfying treat.
In Norway, we have numerous ways to make seafood soup. We use cod, salmon, shrimp, flounder, lobster, crab, and numerous other kinds of seafood along with delicious vegetables and herbs. The Norwegians make sweet-sour fish soup and sildesuppe using stock made from the carcass of fish and the shrimp shells, which gives amazing flavor to soups and sauces and last, but not least numerous varieties of seafood bisque.
I welcome you to visit Norway-hei often to discover Norwegian cooking secrets and the unique flavors of Norway.
Seafood Bisque
Serves 4-6
Ingredients
24 shrimp (peeled)
1/2 small cod fillet
1/2 small salmon fillet
and the stock as well.
4 cups fish stock (you can use 1 fish bouillon cube per
cup to create fish stock - works great.
3/4 cup sweet cream
3/4 cup sour cream
1/3 cup white wine
2 peeled potatoes, chopped
1/4 cup onions, finely diced
1/2-cup leeks, cleaned well and thinly sliced
1/3 cup parsley root, cut into thin strips
Salt and white pepper to taste.
fresh chives and paprika for garnish
Preparation
Pour the stock into a soup pan.
Add vegetables and bring to a boil.
When vegetables are done
Turn to simmer
Add white wine
Add seafood
Cook medium heat until fish is flaky.
Add chives, retain some for garnish.
When seafood is done add sour cream.
Continue simmering while stirring gently.
Add cream and remove from heat.

Let the soup rest and garnish with chopped fresh chives or parsley before serving.
Sliced baguettes or French bread with herb butter is a tasty complement to this bisque. Of course, freshly out-of-the-oven crispy garlic bread is nice also. Your imagination is the limit.
I hope you will enjoy this delicious, creamy seafood bisque.
God appetitt! (Bon appétit!)
www.norway-hei.com © Copyright 2020
All Rights Reserved
Norwegian Recipes.
Foods of Norway after Norwegian Seafood Bisque
Search It Here