Fish Patties/Fish Burgers
Norwegian Fiskekaker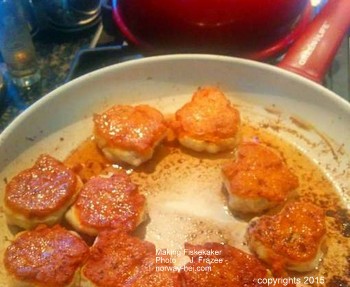 Norwegian Fiskekaker
Fish Patties/Fish Burgers/Fish Cakes
or
Fiskekaker
as we call them in Norway, are a lean and healthy alternative to beef burgers.
Here in the States, we call them fish sandwiches or fish burgers.
A great benefit of homemade fish sandwiches is, you choose the oil used for making them. Fish does not have to be deep-fried to be delicious.
Your family will benefit from healthy seafood.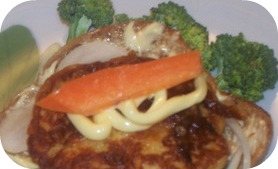 Fish Burger - Fish Sandwich
Deep-fried fish is not common in Norway, poached fish is our alternative - tasty and lean. Yum! However, we do saute some fish in butter, especially trout, mackerel, cod, flounder, and sometimes salmon fillets.
Fiskekake/Fish Patties - make a Fish Sandwich
In the mood for a fish sandwich? Load up a bun with a fish pattie and all the condiments you like. Bingo! You have a Fish Sandwich! Enjoy!
Place the fiskekaker on a cookie sheet and once they are frozen stick them in a freezer bag and keep them for later use. They will be easy to remove without sticking together.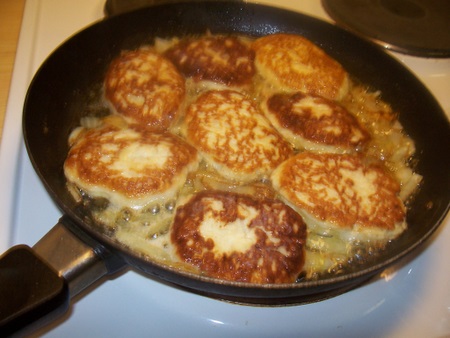 Fiskekaker
I was a little heavy-handed with the butter when I made these fish patties. If you want to get rid of the extra butter/oil place the patties on a few sheets of paper towels when they are done cooking to absorb the excess.
It's great to have a stash of fish patties in the freezer for a quick fish sandwich for lunch or an easy meal for dinner.
Here is a recipe for making Fish Patties or maybe you call them Fish Cakes.
Ingredients:
1 lb fresh or frozen haddock, cod, or whiting.
1 egg
1 cup milk or half and half (approximately)
2 tablespoons corn starch
1 tablespoon flour
1 teaspoon chopped fresh chives
1/8 teaspoon freshly ground nutmeg
1 teaspoon salt
1 teaspoon finely round white pepper
Extra virgin olive oil or organic extra virgin coconut oil for frying.
Place cut-up fillets in a food processor. Add flour, salt, spices, and an egg. Add milk gradually. Mix 1 minute. Use a large spoon to form patties and place in a pan lightly coated with Extra Virgin Olive Oil. Cook both sides until light golden brown.
Another method is to apply a light coating of EVO on a baking sheet and pop them in the oven at 350°F. for 10-12 minutes. Turn patties and finish baking until done.
If you make a double batch; freeze individual patties to have lean seafood burgers on hand for quick meals.
Serve with heaps of steamed vegetables, sauteed onions, mushroom, and garlic and why not, a spinach salad.
Enjoy deliciously skinny fish patties/fish sandwiches and stay lean and healthy.
www.norway-hei.com © Copyright 2020
All Rights Reserved
Norwegian Recipes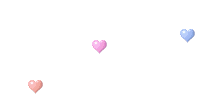 Go to Foods of Norway after Fish Patties
Search It Here