Norwegian Fish Soup Recipe

Norwegian Fish Soup (above)
Are you looking for a good Fish Soup recipe? Search no further, you found it here.
The flavors obviously are determined by the type of seafood used and the other ingredients.
Where good, fresh seafood is readily available, the ingredients are not limited. And if you have a fisherman in your family making delicious food from the sea is as easy as pie.
With all fish in the waters in and around Norway, the Norwegians have created almost unlimited ways to prepare seafood.
Now, there is a difference in fresh fish. Fresh water fish is caught in lakes and rivers and Salt Water Fish, is caught in salty oceans and fjords.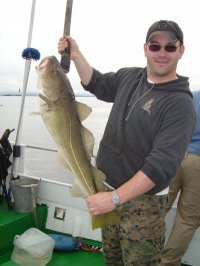 John, the Fisher Man
One of my favorite fish is cod, which is caught in saltwater.
It is great in so many recipes. You can steam cod, fry it, deep fry it, saute it, bread it; bake it, and use it in casseroles, soups, bisque, making Bacalao and even in Mexican Tacos, to mention a few.
Cod is great for making soup, like in the fish soup recipe listed below. Also, you can use cod to make Norwegian fish dumplings, fiskeboller in Norwegian, large fish dumplings, stor fiskeball in Norwegian, and fish loaf, fiskepudding in Norwegian.
Codfish is not the only kind of fish that can be used in making fish soup, most fresh fish offer great taste and nutrition. Freshwater fish, as well as saltwater fish, can both be used to make seafood bisque and many other delicious dinners for your family.
Never tried soup made with seafood? Maybe now is the time to venture out into tested waters, (no pun intended) knowing that seafood is good for us.
It is not a theory that we can all benefit from including more in our diet. How about giving this Norwegian Fish Soup Recipe a try?
Norsk Fiskesuppe Oppskrift
Serves 3-4
Ingredients:
1-1/2 cup (1/3 liter) cream
3 pints (1-1/2 liter) seafood stock
or (fish bouillons and water)
2-3 carrots chopped
2 stocks celery chopped
1/2 celery root chopped
1 parsley root chopped
3/4 cup green onions (chopped)
1/2 cup finely diced onions
2 tablespoons flour
1-2 tablespoons red wine vinegar
1-2 teaspoons sugar
5.3 ounces (150 gram) cod fillet
5.3 ounces (150 gram) salmon fillet
5.3 ounces of any fish fillet of choice
5.3 ounces (150 gram) shrimp
2 bay leaves
Salt to taste
Freshly ground white pepper
Chives and paprika for garnish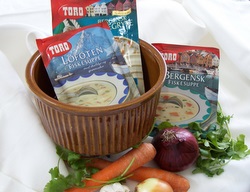 Norsk Fiskesuppe Poser
Norwegian Fish Soup Packets
These convenient packets are available in the supermarkets in Norway.
Preparation:
Bring water, bouillons and bay leaves to a boil in a stockpot.
Add vegetables.
Cook for 5 minutes.
Cut fish into smaller pieces and add to the pot.
Bring to boil and turn the heat down to simmer.
Add red wine vinegar and sugar to taste.
Stir 2 tablespoons flour and 1/2 cup cold water until smooth.
Add the mixture gradually while simmering.
Whisk in cream while simmering. Let rest and serve. Garnish with chives, parsley, and paprika.
Hope you will enjoy Norsk Fiskesuppe. God Middag!
www.norway-hei.com © Copyright 2020
All Rights Reserved
Click here for Norwegian Recipes.
To Foods of Norway after Fish Soup
Search It Here