Herbal Baked Salmon with Vegetables.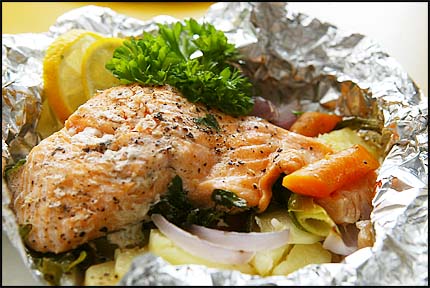 Herbal Salmon Baked in Aluminum Foil
Baked Salmon? Sure, no problem - here is a recipe for an entire seafood delicacy with herbs and vegetables baked in aluminum foil.
In addition to being delicious, this fish recipe is so easy with quick clean-up - after dinner just toss out the aluminum foil.
My Norwegian sister-in-law gave me this great recipe for baked herbal salmon and believe me, it is delicious. Aha, we Norwegians know how to cook seafood.
Not only is this an easy method to bake fish, but this meal with savory rosemary and vegetables is mega delicious.
Baking the whole meal in aluminum foil makes the preparation and clean-up very quick and easy, so this recipe has numerous benefits.
Toss the entire meal on the grill in your back yard and you'll keep your house cool as well.
It is a well-known fact that seafood is healthy and that salmon especially, is very rich in Omega 3 Fatty Acid, which lowers our cholesterol. So you get many benefits here, Tasty food and healthy. WOW!
Serves 4
Preheat oven 350°F.
Ingredients:
1 pound fish fillet skin on
Fresh rosemary, chopped.
1/2 tablespoon olive oil
1/2 tablespoon lemon zest
1/2 tablespoon lemon juice
Ground Sea salt
Coarsely ground black pepper
Aluminum foil
Vegetables
1 small onion, thinly sliced
Broccoli florets
Sliced red peppers
Sliced yellow squash
Sliced carrots
Thinly sliced red skin potatoes or
other vegetables of your choice
Preparation
Place a large heavy-duty aluminum foil on a baking sheet, spray with a cooking spray, or brush on olive oil.

Place rinsed and dried fish fillets,
skin-side down on foil.
Sprinkle lemon zest, salt,
pepper and rosemary

Arrange sliced onions, broccoli florets, red peppers, squash, sliced carrots, and scrubbed sliced red skin potatoes over the fish and spritz with lemon juice. Sprinkle pepper and ground sea salt sparingly if desired. Salt can be added as needed at the table.
Wrap the foil tightly around the fish and vegetables. Bake for 20 minutes in the preheated oven or place it on your grill.

Serving Suggestion
Place a serving platter on top of the foil-wrapped baked salmon. Turn the platter over and remove the foil. Remove skin from the fillet. Garnish with tomatoes, sliced cucumbers, parsley sprigs, and lemon slices. Serve and Enjoy!
I hope you'll like this easy-to-make Herbal Baked Salmon as much as we do. More great cooking ideas to come - so check in often.
Bon Appétit! God Middag! (in Norwegian)
www.norway-hei.com © Copyright 2020
All Rights Reserved
Foods of Norway
Norwegian Recipes after Herbal Baked Salmon
Search It Here