Cod Baked in Foil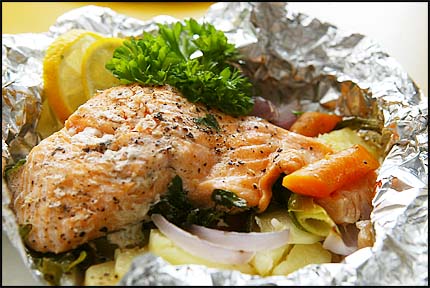 Cod Baked in Aluminum Foil
Want to shed pounds while you enjoy every bite? Try this tasty Cod Baked in Foil and weigh less.
Some people brag about being "lean and mean" - how about going for "lean and healthy" instead.
If you enjoy seafood, this dinner is fabulous. A few meals like this per week and you will be strong like a Viking.

Cod Baked in Foil
Preheat oven 400°F. (200°C.)
Bake Time: 20-25 minutes.
Ingredients
1 pound fish fillet, fresh or
frozen (thaw before cooking).
Cut into serving sizes.
3 medium red potatoes
scrubbed, thinly sliced.
3 carrots, sliced the long way
1 medium sweet onion, sliced
l leek, (thoroughly rinsed) sliced thin.
1/2 cup corn
1 sweet red pepper - sliced into strips
Drizzle EVO (Extra Virgin olive oil)
Freshly ground black pepper
1/2 teaspoon salt
Preparation
Wash vegetables and slice
(Leeks must be taken apart and carefully cleaned.)
Place all ingredients on a sheet of foil placed on a baking a baking sheet. Spray the foil with cooking spray first. Drizzle with EVO and add sprinkle with salt and pepper. Tightly wrap foil and place it in the oven in the baking pan for 20-25 minutes.
Suggestion for condiments: Mix sour cream and chives and place them on the table along with lemon wedges.
Oh, don't forget to serve a crisp salad with the baked cod.
Dinner is served. God middag! This Norwegian greeting is usually said before dinner and the translation is: "Have a Good Dinner".
www.norway-hei.com © Copyright 2020
All Rights Reserved
For other delicacies go to Norwegian Recipes
To main Food page after Cod Baked in Foil
SEARCH IT HERE