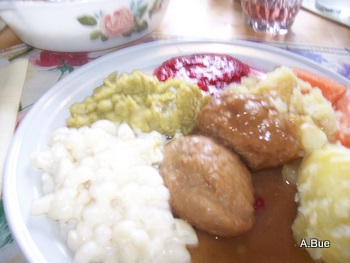 Swedish Meatballs
Here in the States, they are called
Swedish Meatballs
(above), but in Norway, we call them kjøttkaker or kjøttboller. Actually, there is a recipe for kjøttboller, but a different recipe for kjøttkaker.
If you visit various pages on my web site, you will discover that many things in Norway have at least one name, and meatballs are no exception.
The Norwegians serve kjøttkaker with stewed green peas, potatoes, gravy, and tyttebærsylte, lingonberries in Swedish, which is similar to whole berry cranberry sauce.
Here is the recipe
Makes 48 meatballs

Ingredients
1 lb ground beef
1 lb ground pork
2 cups bread crumbs/or oatmeal
1/2 cup milk
1 onion diced fine
2 tablespoons butter
2-1/2 teaspoons salt
1/4 teaspoon pepper
2 teaspoons freshly ground nutmeg
2 teaspoons paprika
1 teaspoon mustard
3 beaten eggs
4 tablespoons butter
Preparation
Soak bread crumbs or oatmeal in milk and mix it in with the meat. Saute onions in 2 tablespoons butter. Mix together seasonings, eggs, onion. Mix well and form into small balls.
My mom always makes a flat test-meatball, on a cast-iron skillet, to make sure the seasoning is right.
Baking Swedish Meatballs
Option #1
Baking Meatballs
This is a great method of making Swedish Meatballs that my Norwegian sister-in-law, Hjalma, taught me, and I like it because it is fast you bake them all at once and we don't use any fat for making them.
Heat the oven to 350° F.
Fill a small bowl with cold water, and use a tablespoon to form the balls. Dip the spoon in water; then use it for forming and place them in a large un-greased baking pan or on a cookie sheet. Bake for 45 minutes or until done. Transfer them to an ovenproof serving dish and set aside.

Option #2
Frying Meatballs
Form the kjøttkaker as mentioned above. Melt butter in a skillet; brown them on lightly all sides and place them in an ovenproof serving dish and set aside.
Sauce/Gravy
1/4 teaspoon minced garlic
4 tablespoons butter
2 teaspoons tomato paste
1 teaspoon beef concentrate or bouillon cube
2 cups beef stock
1 cup sour cream
1/4 teaspoon freshly ground nutmeg
1/8 teaspoon finely chopped fresh dill
Salt and freshly ground pepper to taste.
Add garlic and 1 tablespoon butter to the drippings in the skillet. Blend in 4 more tablespoons butter, tomato paste, beef bouillon, and stock.
Stir the mixture on low heat until it thickens. Stir in sour cream and pour the sauce over meatballs. Place in the oven for 20 minutes or until heated through.
Bingo, there you have Swedish Meatballs or Norwegian Kjøttkaker ready to enjoy.
www.norway-hei.com © Copyright 2020
All Rights Reserved
Norwegian Recipes after Swedish Meatballs
Search It Here