Norwegian Rice Pudding
Norsk Risgrynsgrøt/Risgrøt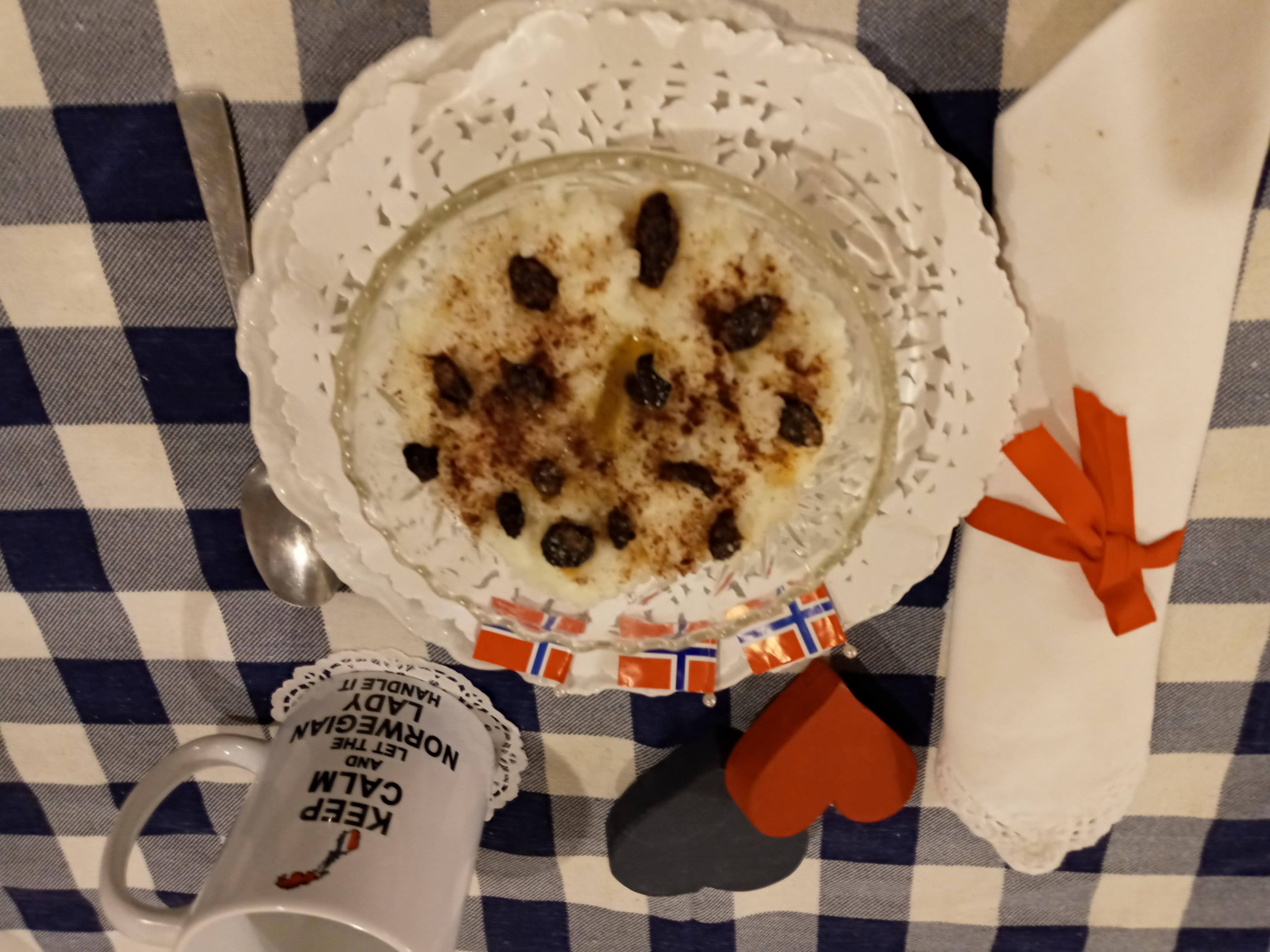 Norwegian Rice Pudding/risengrynsgrøt
Rice Pudding - risengrynsgrøt or risgrøt in Norwegian, is another delicious tradition from Norway.
Risgrøt is the ultimate comfort food, at least it is for my family and everybody I serve it to. Comfort food is called kosemat in Norwegian. Can hardly make too much of this good stuff, but if you do have some leftover - no problem, just stick it into the fridge and it will be gone soon.
Be sure to drop in on my mom on any Saturday, around lunchtime, she'll give you "ekte norsk" (authentic Norwegian) rice pudding/Risengrynsgrøt.
Why Saturday? I don't have a clue... but, it is a Norwegian thing. Hey mamma, if you get a lot of unexpected company Saturday, it's my fault - I invited everybody. hehe
How to make yummy Norwegian Rice Pudding

Ingredients
1 cup white rice of choice
2 cups of water
1/2- teaspoon salt
1/4 cup raisins (optional)
4-5 cups milk or enough to make a creamy pudding
cinnamon and sugar to sprinkle on top
and a dab of butter for the center
Preparation
Boil water and add rice, and salt according to directions.
Bring up to a boil again for a few minutes and turn the heat down to simmer. Add raisins and cover with a lid.
When rice is soft and all the water is absorbed, add milk; simmer and stir until you have a creamy consistency. Cook until the rice has finished expanding and all the milk has been absorbed.
If you want an extra creamy pudding, stir in 1 cup of cream before serving and let it be completely absorbed.
Rice will keep expanding as it cools. Be sure you add enough milk while it is still simmering and keep stirring on the bottom of the pot to prevent sticking or burning. I usually use a wooden spoon for stirring.
Also, some families add an almond to the pudding, whoever finds the almond gets a prize - my grandchildren love it.
When the rice pudding/risgrøten is done, let it rest for 5 minutes and ladle it onto dinner plates; sprinkle it with cinnamon and sugar with a dab of butter in the center, and serve with a glass of milk or fruit juice.
If I cook rice for dinner, sometimes I purposely make more than I need and use the extra cooked rice to make rice pudding another time. All I have to do then is to bring milk to a boil; add the cooked rice into the simmering milk and make a quick batch of rice pudding.
Someone asked how much milk to add to the cooked rice - I simmer the cooked rice and milk on low heat until I have a desired creamy consistency, and add milk as needed. I also add butter and a small touch of salt. Serve the pudding on individual plates and again sprinkle the finished rice pudding with cinnamon and sugar Enjoy!
Stop in again and I give you more traditional Norwegian recipes and fun facts about Norway and its people.
www.norway-hei.com © Copyright 2020
All Rights Reserved
Norwegian Recipes after Norwegian Rice Pudding
Search It Here