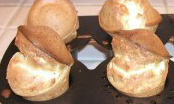 Cream Puffs - Puff Pastry
Vannbakkels in Norwegian
Desserts or Appetizers?
Cream Puffs or Puff Pastry - vannbakkels in Norwegian, will definitely be enjoyed whether you are having guests or you are surprising your family with this special treat.
These light, fluffy and delicious cream puffs/puff pastries make a great presentation worthy of royalty and will be appreciated by all.
Desserts
In Norway, cream puffs are called vannbakkels. Sometimes they are drizzled with glaze and wouldn't you be pleased when the cream puffs are filled with whipped Mocca cream and drizzled with melted chocolate - YUM.
These international bakers' delights are also filled with puddings, mousses, berries, and don't ever forget the whipped cream.
Sometimes you will find vannbakkels in Norway glazed and filled with Norway's famous trollkrem - Oh...what an unforgettable delicious event that is. YUM
Glaze for vannbakels can be made by stirring together confectioner sugar and a tiny amount of milk then drizzle it all over the puff pastry and let the glaze dry before cutting into it.
Of course, glazes can be made with water or juices instead and flavors can be added, such as lemon juice, or other flavors, such as Rum or vanilla flavoring, or whatever flavor you desire.
Dinner/Lunchenon Rolls
Your guests will snatch at least one or two pastries from the basket filled with these fluffy delights. You will hear not a few oh's and ah's as they vanish quickly, like snow on a sunny day.
Puff Pastry/Vannbakels
Ingredients
3/4 cup milk
2 tablespoons butter
1-tablespoon sugar (only when making dessert.)
1/8 teaspoon salt
3/4 cup flour (sifted)
3 eggs

Combine milk, butter, sugar, and salt in a heavy saucepan.
Cook over medium heat while stirring.
Add flour gradually.
Simmer and stir the ingredients until the mixture forms into a ball.
Turn off heat and cool. Add eggs and stir with an electric mixer until the eggs are added and well-integrated with the dough. Cover dough and cool well.
Spoon unto lightly greased cookie sheet. Bake in a preheated oven at 450°F. for 8 minutes. Turn heat down to 350°F. Bake 20 minutes.
Better not open oven door to peek - they will fall!
Appetizers or Canapes/Hors d'oeuvres
Mini muffin pans are ideal for making small puff pastries. Smaller size pastries are ideal for making savory canapes or appetizers.
Cut a mini-puff pastry half-open. Now you can really be creative by filling them with a myriad of spreads and mixes you can make from various kinds of seafood and meats to creamy cheeses and vegetables.
A filled puff pastry will almost look like a half-open shell loaded with appetizing deliciousness.
Luncheon:
Filled large-size puff pastries are great served as a main course at a luncheon.
Make large puff pastries, cut off the top, and fill with salads made with fresh fruit, berries, ham, salmon, tuna, crab, shrimp, chicken, or eggs.
Garnish Serving Plates makes an attractive Presentation.
Garnish the serving plate or individual plates with colorful fresh vegetables, berries, fruit, and a few sprigs of parsley or bright green leaf lettuce.
Keep your entertaining easy and elegant, by placing various salads on the table along with baskets of Puff Pastry or vannbakkels as we called them in Norway, and let your guests serve themselves.
Enjoy!
www.norway-hei.com © Copyright 2020
All Rights Reserved
Foods of Norway.
Norwegian Recipes after Cream Puffs
Search It Here