Adora's Easy Pie Crust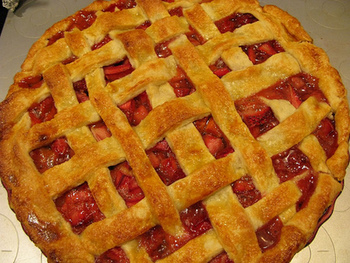 Cherry pie made with Easy Pie Crust.
My cousin, Adora's, who is responsible for this
Easy Pie Crust Recipe
, changed my pie baking from disastrous to successful.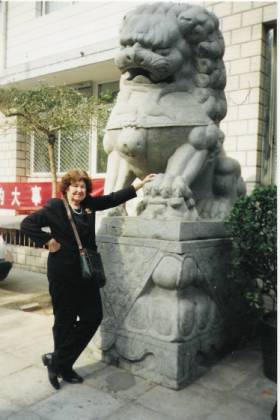 Here is a photo taken by Kari of my cousin Adora, her mom,
on a trip they made together to China a few years ago.
Kari is an expert on natural pearls and on making beautiful jewelry. Visit her web site karipearls to look at some stunning pearls and precious stone jewelery and find out about her wonderful hobby that has turned into a busines.
Onto baking...
Whether you are in Norway or somewhere else in the world, baking well is a "good thing".
The very first time I made an apple pie was a disaster. I had found a recipe somewhere and did a lot of experimenting, guessing, and changing the recipe - the result was...you guessed it...awful.
I had flour and dough all over the kitchen and I was very frustrated and yes...discouraged.
Also, after having added - don't laugh - sweet cream to the crust to make it "extra" good, and sprinkling a lot of sugar and cinnamon on the apples, what I made was not an apple pie - we still haven't figured out what I made.
My cousin Adora came to my rescue and showed me how to make a good pie and of course that includes the easy pie crust.
If you have been searching for a great, no-fail pie crust recipe, you might want to try cousin Adora's easy recipe. It can also be used for making chicken pot pies as well as for creating a fabulous quiche.
Recently, we brought an extra-large Lemon Meringue pie to a get-together with family and friends. A double pie crust recipe was needed to line a 9" x 13" baking pan for our favorite lemon meringue pie and for the decorations - heart-shaped medallions.
The pie dough was brought up on the sides of the pan and fluted as we usually do on pie crusts.
Heart-shaped medallions were made; brushed with egg wash, dusted with sugar, and baked separately.
The unfilled crust was baked at 350°F for about 35 minutes until lightly golden. The medallions require a shorter bake time than the easy pie crust.
The cooled pie crust was then filled to the brim with delicious homemade lemon pie filling.
The Lemon Meringue Pie was decorated with the cooled heart-shaped medallions and placed in the meringue before it was lightly toasted in the oven. It made a regal presentation.
Never-fail easy Pie Crust
Makes 2 pies with cover.

Ingredients
3 cups flour
1-1/4 cups vegetable shortening or butter
1 egg well beaten
5 tablespoons cold water
1-tablespoon vinegar
1-teaspoon salt
Preparation
Sift flour and salt together. Cut in shortening or butter. I use 2 forks, which works great for me. Mix egg, water, and vinegar and combine gradually with flour mixture.
Chill pie dough in the refrigerator. Cut it into four parts; place onto a floured, non-stick baking surface or pastry board and put your rolling pin to work.
A nice benefit is that this pie dough will freeze well. So, next time you want to make a pie, your easy pie crust dough is "ready to roll".
Happy easy pie crust making!
www.norway-hei.com © Copyright 2020
All Rights Reserved
Go to Norwegan Recipes after Easy Pie Crust
Search It Here