Hazelnut Coffee Cake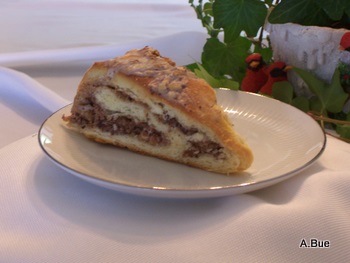 Hazelnut Coffee Cake
with Meringue Filling
Hazelnut Coffee Cake is a yummy cake with a sweet meringue filling and will bring OHS and AH, whether it is served at breakfast, brunch or whenever.
Hazel nuts are also called filbert nut or cobnut. In Norway hazelnuts are very popular, and they are called hasselnøtter.
My daughter greatly impressed me when she served this delightful cake at a luncheon recently. If you are like most homemakers, you are busy and don't have tons of time for complicated recipes.
It's easy to manage your time with this recipe because you prepare the dough a day in advance with an electric mixer - keep the dough in the fridge overnight and bake this amazingly yummy Hazelnut Coffee Cake the next day.
When you first glance at this recipe, you might think it's too complicated, but it is like anything you try for the first time. Once you read the recipe and understand the procedure, it's simple - of course, the second time you bake this cake, it's a breeze.
This recipe makes two Hazelnut Coffee Cakes.
8-10 slices per cake.

Find Nutrition information below.
Ingredients:
1 cup milk, divided
2 envelopes (¼ oz ea) dry yeast
1/2 cup warm water (105°F)
4 cups flour
1-1/4 cups granulated sugar, divided
1 teaspoon salt
2 sticks butter, cut up
4 egg yolks
4 egg whites
1 tablespoon + 2 teaspoons cinnamon, divided
1-1/2 cups chopped hazelnuts, divided
1 cup confectioners' sugar
1 teaspoon dark rum (optional)
1/2 teaspoon vanilla
DAY 1
Preparation:
° In a small saucepan, heat ¾ cup milk to scalding. Remove from heat and let cool to a warm temperature.
° Sprinkle yeast over the warm water (100-110°) and stir until yeast is completely dissolved.
° In the largest bowl of your electric mixer, combine flour, ¾ cup sugar, and salt. Work the butter in with two forks or a pastry cutter until the mixture resembles that of cornmeal.
° Combine 3 lightly beaten egg yolks, scalded milk and yeast mixture. Add this to flour mixture. Beat at medium speed (about 1 minute) until mixture is well blended and a soft dough forms.
° Divide the dough and shape and form into two balls.
° Place dough into individual buttered bowls, cover and refrigerate overnight.
DAY 2
° Remove dough from the refrigerator and leave at room temperature for 30 minutes. Heat oven to 350°F.

Preparing Meringue Filling for
for the Hazelnut Coffee cakes
4 large egg whites
1 cup sugar
1 cup chopped hazelnuts
2 teaspoons cinnamon
(Never use a plastic bowl when whipping the egg whites, as they will not form stiff peaks.)
° While the dough is standing, make meringue by beating 4 egg whites until light and foamy. Gradually beat in the remaining 1 cup sugar until stiff peaks form. Toward the end sprinkle cinnamon over mixture and fold in 1 cup chopped hazelnuts.
° Place one dough ball onto a lightly floured surface and form into an oval. Roll it out to a 10" X 18" rectangle.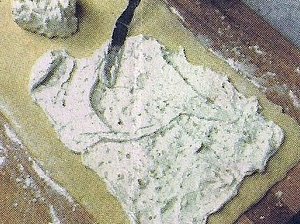 Spreading meringue over rolled out dough.
° Spread half of the meringue mixture onto the rectangle, leaving a 1" border.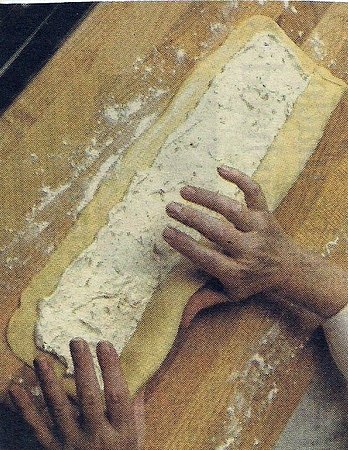 Roll or fold meringue filled dough
Roll up dough rectangle lengthwise jelly-roll style. Seal by pinching the ends of the dough.
Gently place the roll onto a large, greased baking sheet, seam side down. Form into a horseshoe shape.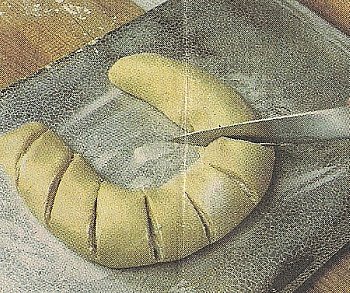 Cut slats 2" apart
Cut slats halfway through the dough at 2" intervals.
Repeat process with the second dough ball.
° Invert a large bowl over each of the cakes or cover well with a clean, moist cotton or linen dish towel and let the cakes rise for 45 minutes or until doubled.
° Lightly beat remaining egg yolk and 2 tablespoons milk.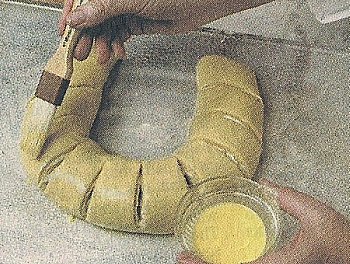 Brushing on egg wash
Brush entire surface of each cake with egg wash, but DO NOT brush the meringue filling that shows through the slats.
Bake for 30-35 minutes, until golden brown, turning the baking sheet halfway through the baking process.
Cool for 5 minutes on the baking sheet before glazing.
Glaze:
Mix together:
1 cup confectioners' sugar
2 tablespoons milk
1/2 teaspoon pure vanilla extract
Drizzle glaze over the coffee cake. Sprinkle the cake with remaining ½ cup chopped hazelnuts.
Nutrition information for Hazelnut Coffe Cake
based on 20 servings.
322 calories
17 grams fat (7 grams saturated)
62 milligrams cholesterol 6
6 grams protein
45 grams carbohydrates
2 grams dietary fiber
134 milligrams sodium
www.norway-hei.com © Copyright 2020
All Rights Reserved
Search It Here