Norwegian Christmas Tapioca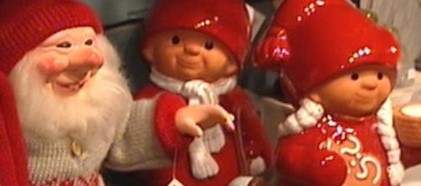 Norwegian Julenisser

Norwegian Christmas Tapioca is a quick and light dessert. If you like tapioca you'll love it. Both big and small "Santas" Julenisserin Norway)in your household will gobble up this delicious treat.
Ingredients:
4 cups water
1/2 cup baby pearl tapioca
1 box (3 ounces) strawberry jello
1/2 cup sugar (optional)
1 pint frozen strawberries
4-6 oz Cool Whip or whipping cream (optional).
Preparation:
Cook tapioca and water on very low heat until thick and clear.
Add jello and sugar and stir until dissolved.
Add frozen berries. Chill in refrigerator.
When the mixture is cool and thick, add Cool Whip or whipped cream, if desired.
Place in a pretty bowl. Serve as dessert after dinner with your Christmas cookies and candies.
www.norway-hei.com © Copyright 2020
All Rights Reserved
Norwegian Recipes after Norwegian Christmas Tapioca
Search It Here