Dessert Crepes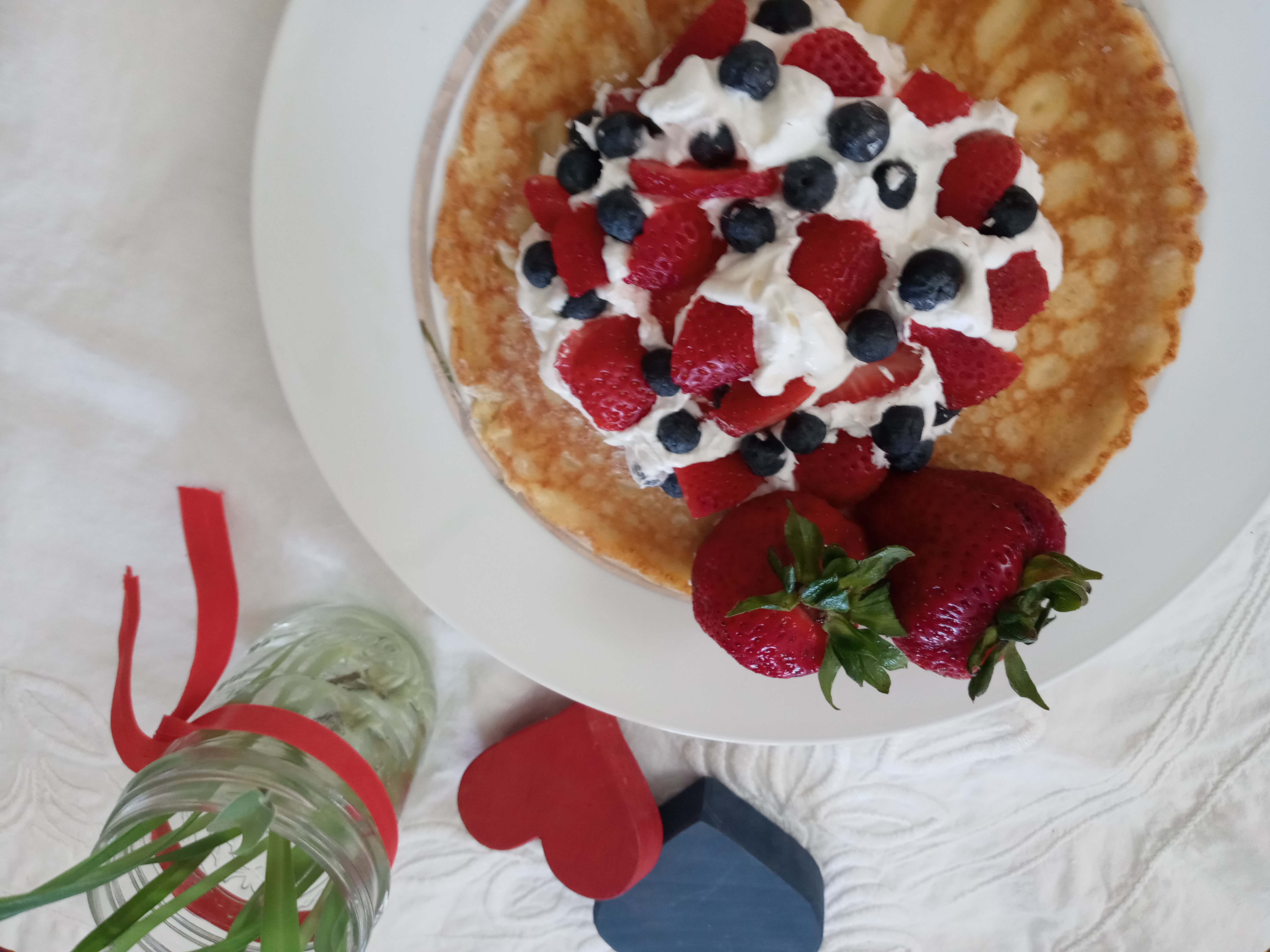 Crepes
In France, crepes are a typical classic street food.
Dessert Crepes
Vendors sell paper-thin pancakes filled with either something sweet and deliciously chocolaty; or filled with mellow lemony yumminess or something outrageously tasty and a little salty plus other varieties.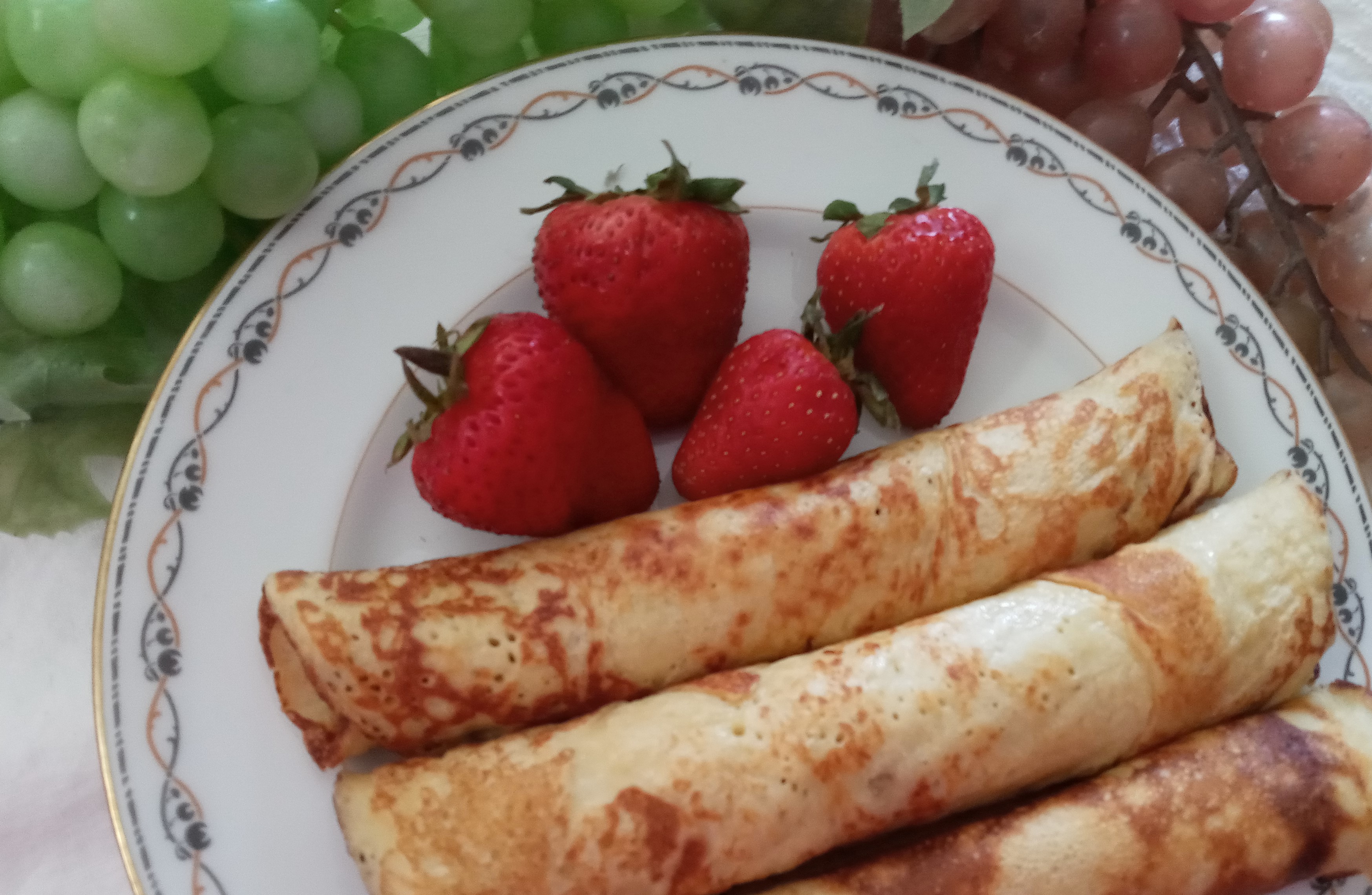 Rolled-up Crepes
Ingredients:
1 cup + 2 tablespoons flour
1 tablespoon sugar
1 teaspoon vanilla extract
4 eggs and 2 egg yokes
1-3/4 cup milk
1-1/4 cup half-and-half cream
1 cup cold water
1 tablespoon melted butter
1/4 teaspoon salt
Preparation:
Combine the dry ingredients.
Pour milk, cream, and water
into mixing bowl.
Add melted butter gradually while stirring.
Add eggs.
Add dry ingredients gradually

Place batter in the refrigerator for 20 minutes.
Sometimes I use a regular crepe pan specially made for the purpose of making crepes. At times I use an old fashion, cast iron frying pan to make them, of course, I can't flip that one - too heavy for me.
Other times, I use a Teflon-clad pan. However, a crepe pan is perfectly designed for crepe making because of its graduated edge, which works the best.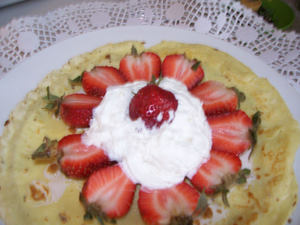 Dessert Crepes with fresh strawberries
and whipped cream
Here is how I make crepes...
Coat the pan with cooking spray or use a paper towel to distribute a few drops of olive oil or coconut oil to coat the oil evenly and to also soak up the excess.
Actually, fairly recently I have begun using organic virgin coconut oil because it is light and it withstands higher heat without burning.
Make small, thin pancakes by pouring a 1/3-cup of batter into a pan, carefully roll the pan around to distribute the batter. Carefully flip it over when the crepe is light golden in color.
I use a silicon-coated tuning knife/stick/tool, or whatever it is called, to flip the crepes. Sometimes I am area real show- off by quickly moving the pan up and around - flipping the crepes in the air. WOW!
As I keep making the crepes, I stack them on a plate until the batter is used up. If you plan to serve them right away - keep them covered with a lid or a round bowl to keep them warm.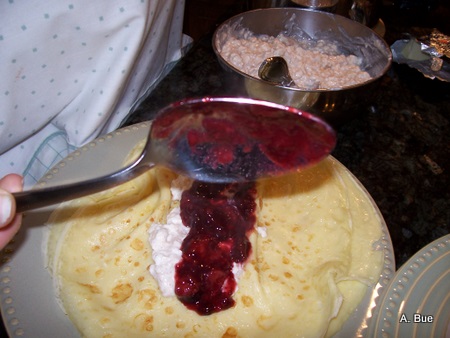 Filling Crepes
Fillings:
One way is to fill them with whipped cream, and top with berries. Another way is to fill them with whipped cream mixed with berries, jams or pudding and fold or roll them. You can also fill them with salads and seafood - they are versatile.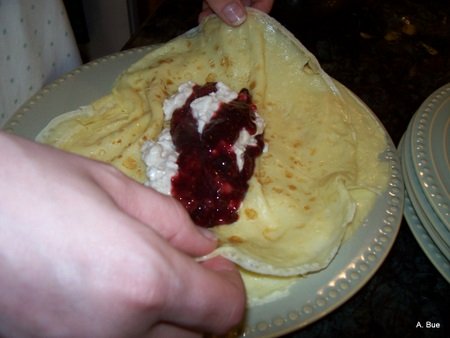 Folding Crepes
You might have a question about when to fill and fold? Should you do it while you are baking them or later?
Folding-Dessert Crepes
Whatever works best for you is the right way. You can fill and roll them after you are done making them all. But if you are lucky to have an assistant, he/she can "fill and roll" them right after you "flip them".
If you have question or comments about making this delicious treat, feel free to Contact me here
www.norway-hei.com © Copyright 2020
All Rights Reserved
Norwegian Recipes after Dessert Crepes
Search It Here