Rice Cream with Raspberry Sauce
Riskrem med Bringebær Saus (in Norwegian)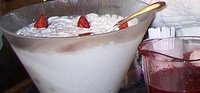 Rice Cream with Raspberry Sauce
Riskrem med Bringebær sause.
Rice cream with Raspberry Sauce is a traditional Norwegian dessert. It is creamy, fluffy with texture, but it is not rice puding. It's easy to make and delicious. You just have to try it.
I grew up in Norway, I remember as a young girl, one of my friends, Rannveig, and I had been hiking in the mountains for hours. When we got back to my house, mom had made my favorite dinner...  Fårikål and Riskrem for dessert.
After Hiking in Romsdal Mountains (above) all day, a couple of Vikings came home and had appetites like "starving mountain lions", and they ate so much that I was afraid they would end up on the floor and not being able to move. he-he

Recently, while visiting my daughter and her husband in Bowie, Maryland, their church held an International Food Festival. The people brought special foods from all over the world.
Of course, my daughter decided to bring a Norwegian dessert. So we made rice cream and raspberry sauce and it was a great success. There was not a smidgen left and we received all kinds of compliments.
When you go to Norway next time, be sure you ask for Riskrem med Rød Saus. Everybody will know what you mean.
In order to make Rice Cream, you first have to make Rice Pudding and let it cool completely before you fold in whipped cream. Below find out how I make Rice Pudding that we in Norway call Risengrynsgrøt.
How to make Rice Pudding:
1 cup white rice of choice
2 cups water
1/2 teaspoon salt
Milk
Preparation of Rice Pudding:
Bring water to a boil and add rice and salt according to directions.
Bring up to a boil again and turn heat to simmer. Cover with lid.
When rice is soft and all the water is absorbed add milk and stir until you have a creamy consistency. This will take a while.
It is important that the rice will finish expanding and all the milk has been absorbed to make a creamy pudding.
Rice will keep getting thick as it chills. So be sure you add enough milk while it is still simmering and keep stirring to prevent it from burning.
Once the pudding is creamy and soft. Let cool completely and place it in the refrigerator.
Ingredients for Raspberry Sauce/Bringebær Saus in Norwegian:
Frozen or fresh raspberries
A few drops red food coloring
Sugar to taste
Cornstarch or potato flour or for thickening.
2-1/2 cups water
Preparation of Raspberry Sauce:
Pour water into the pan and bring to a boil.
Turn heat down to simmer.
Add raspberries to the pan - bring to a boil and stir.
Add 2-3 tablespoons sugar, or to taste
Place 2-3 tablespoons cornstarch or potato flour in 1/2-cup cold water and stir.
Add this mixture gradually while stirring constantly.
Boil for 5 minutes while stirring.
Chill raspberry sauce while stirring to prevent skin to form on top.
Preparation of Rice Cream:
Heavy whipping cream
Rice pudding
Vanilla sugar or vanilla extract
Sugar to taste
Whip heavy cream until it peaks. If you whip too much you will make butter.
Place a few scoops of rice pudding into a large bowl.
Gradually blend whipped cream and rice pudding until you have a light, fluffy consistency.
Add vanilla sugar to taste. Liquid vanilla flavoring is not ideal but can be used.
In Norway, you can buy packets of ready-to-make, Raspberry Sauce (Rød Saus), which is delicious and easy to make, but I always add frozen raspberries to the sauce, as well. I usually bring tons of packets with me when I come back from Norway.
To serve rice cream, I use an attractive, large glass bowl and a glass pitcher for the Raspberry Sauce. My guests serve themselves. This is a tasty alternative to rice pudding.
www.norway-hei.com © Copyright 2020
All Rights Reserved
To find out more about Norwegian Foods, hop over to Foods of Norway
To Norwegian Recipes after Rice Cream
Search It Here