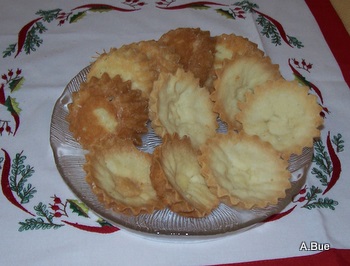 Norwegian Sandbakels/Sandkaker
Sandbakels Sandkaker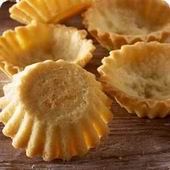 Sandbakels Sandkaker is definitely one of Norway's traditional Christmas cookies. They are formed as a little basket or bowl and can be filled with whipped cream and berries as well as nuts and dried fruit, or whatever your heart desires.
Sandbakels Sandkaker (left) dates back to the early 1900s and can be found in a recipe book written by the Norwegian
Author, Olaug Løk.
Sandkaker/sandbakels are some of my favorite Norwegian Christmas cookies that I make as a special treat for my family and friends throughout the year. These cookies can be stored frozen in a plastic freezer bag.
In Norway, you hardly celebrate Christmas without Sandkaker. These traditional cookies are a "must-have", in most Norwegian homes around the holidays..
You'll be ready for company at any time if you keep a bunch of these treats in your pantry for a quick and easy dessert.
These crisp mini-tart cookies can be filled with fruit, berries, nuts, chocolate, puddings, mousse, and whipped cream/ice cream, but they are often served and enjoyed plain.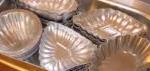 Sandkake Molds
Ingredients:
2 cups butter
1-1/2 cups sugar
2 eggs
1 teaspoon pure almond extract
4-1/8 cups all-purpose flour, sifted
7/8 cup finely ground almonds or almond flour
or use 5 cups flour instead of flour and ground almonds
A pinch of salt
Preparation:
Preheat oven: 350°F.

Bake time: 10 minutes
Cream butter and sugar
Add eggs
Add almond extract
Add flour gradually
Mix well
Form a small ball and press into the mold
Place the filled molds on a baking sheet
Bake at 350°F. for 10 minutes
Make sure the sandkake molds are cooled completely before placing the cookie dough into the molds again. Warm molds will melt the butter and deform the shape of the tart.
When they are baked, remove the molds from the baking sheet, and place them upside down on a cooling rack to cool completely. They will release easily when cooled.
It is a good idea to have more than one set of molds. That way, you can bake one batch and make another one, while one batch is cooling. It is a big time saver. Store the sandbakels sandkaker in an airtight container or in the freezer.
www.norway-hei.com © Copyright 2020
All Rights Reserved
Click here for other Norwegian Recipes
Foods of Norway after Sandbakels Sandkake
Search It Here