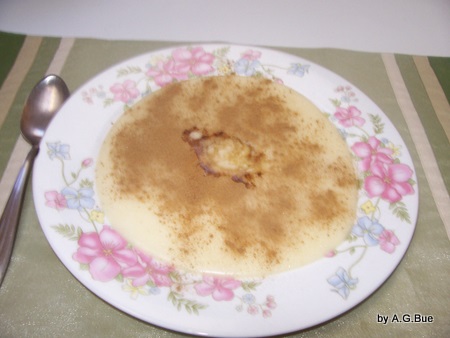 Rommegrot
Sour Cream Pudding
Rommegrot – what is that? Read on to find out about this traditional Norwegian food.
Norwegian rømmegrøt is a sour cream pudding, you might also call it, porridge.
It is believed that it has been a favorite food in Norway for hundreds of years – probably all the way back to the Vikings.
My sister-in-law, Marit, is an expert in making this delicacy. A few days ago, when I was in Norway, visiting my family, I had the pleasure of watching her make it the old fashion way. The best part, of course, was when it was served. WOW - it was a yummy event.
Rømmegrøt is a summer food and is traditionally served with vannkringle and spekemat. Spekemat is either thinly sliced cured leg of lamb (fenalår) or marinated, cured ham (skinke). Sometimes flatbrød, a crisp, thin bread, is served instead of vannkringle.
As well as being a very tasty food to make for your family, Rommegrot is a party food served at weddings and other celebrations, such as the 17th of May, which is Norway's Constitution Day. In Norway, we call that day, Syttende Mai.
I remember mom making gallons of rømmegrøt. It was transported to our mountain cabin (setra) in huge milk pales to be served at summer parties, along with spekemat and flatbrød.
When you boil the Norwegian sour cream, the butter will separate from the cream. The butter is then spooned out and reserved for serving on the pudding. If you don't have access to natural sour cream, you can melt butter instead.
Then you proceed to cook the sour cream pudding. Below you will find a simplified recipe.
Ingredients:
2 cups sour cream
1 cup flour
1-1//2 cups milk
1/2 cup heavy whipping cream
1/2 teaspoon salt
butter
cinnamon
sugar
Preparation:
Bring sour cream and cream to a soft boil for 5 minutes. Sift and stir in 3 tablespoons flour - one spoon at a time. Keep at low heat while adding the remainder of the flour and milk intermittently.
After all, is added, bring up to a boil on low heat and cook for an additional 5 minutes while stirring. This porridge/pudding is thin and light.
Ladle the rømmegrøt onto individual dinner plates or bowls. If you want to eat like a real Norwegian Viking, you have to sprinkle sugar and cinnamon on top of the pudding.
Wait, don't forget to put a smørøye (eye of butter - exact translation) - that is a dab of butter in the center of the sour cream pudding.
www.norway-hei.com © Copyright 2020
All Rights Reserved
Norwegian Recipes after Rommegrot
Search It Here