Mom's Scrumptious Mashed Potatoes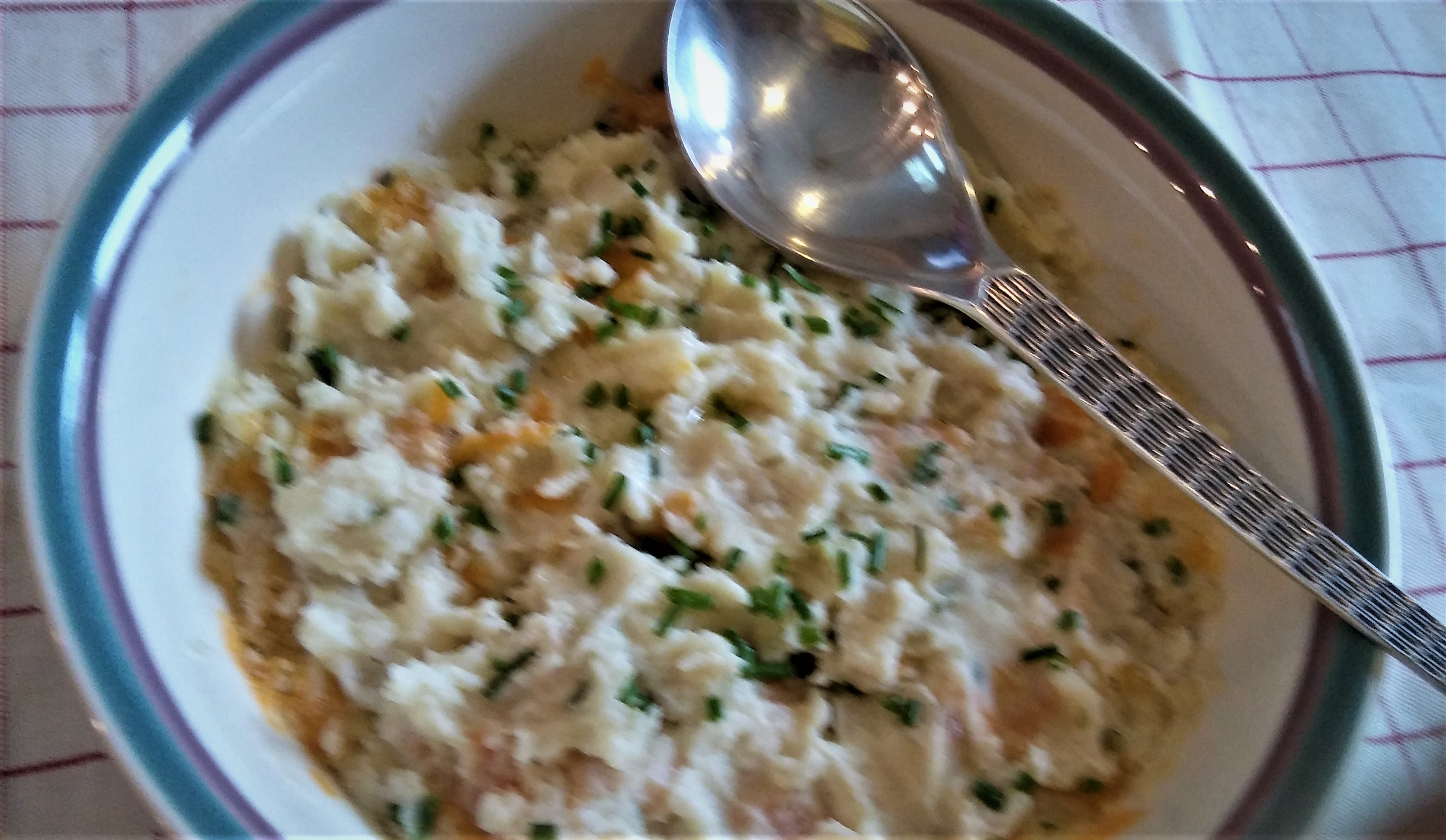 Mom's scrumptious Mashed Potatoes
Mashed potatoes do not have to be boring and colorless. When you garnish with chives, paprika, and cheddar cheese and bingo you will have an appetizing side dish.
In Norway, mashed potatoes are called potetmos or potetstappe.
Just about everything in Norway has at least two names. Norway is the land of variety and choices.
For most Norwegians, potatoes go with dinners like love and marriage. You will rarely have dinner in Norway without potatoes.
Would you believe that they eat potatoes with pancakes?, But I guess that is because they serve pancakes/pannekaker and blueberries with tons of bacon, that's flesk (in Norwegian). Unlike bacon, flesk is not smoked.

My son says, "Mom's Mashed Potatoes are not just food, but an event." Even I think I do a pretty good job.
The kitchen is one of my favorite spots and trying out new recipes is an enjoyment. Watching my own wonderful mom cooking over the years I sure learned a lot.
Often my guests ask me: "How did you make that? It tastes so good?" And, of course, I am happy to share the recipe.
Ingredients:

Potatoes
Milk depending upon how many potatoes
2 tablespoons butter
1/2 onion, finely diced
Green onions, chopped (optional)
Sharp cheddar, shredded (optional)
Sour Cream
Chives, finely chopped for garnish
Salt and white pepper to taste.
I usually allow 2-3 medium sized poteter, as we call them, per person. But if you are cooking for men, you will need more. Nobody around here seem to mind left overs either.
Preparation
:
Boil them scrubbed or peeled. Place them in a pan of water with a dash of salt. First you bring the water up to a boil, then place the lid on the pan and turn the heat down to simmer. Strain out the water when they are done; leave the lid off.
I have found that cooking them with the peel on, retains more of the flavor of the potatoes and also the vitamins as a lot of the vitamins are in the skin. Speaking of vitamins...did you know that potatoes contain lots of vitamin C?
I found that out from my sister-in-law, Marit, who also leave the skin on when boiling the potatoes, she said: "They taste better this way."
In order to make really good tasting mashed potatoes, and increase the delicious flavor, simmer the milk and onions in a saucepan until onions are soft. I always keep the onions in the mixture, but you can strain the milk to remove them if you prefer.
Often people add tons of butter and I am sure that makes them taste really nummy. but no need for if you want to cut down ob calories, because you are adding other wonderful flavors - I keep it lean, but we definitely love butter. No margarine to be found in my house.
Mash them with milk, and the onions cooked in the milk; sour cream and butter in a large pan and keep the pan on low to medium heat; stir to prevent burning. Add enough milk to make them light and fluffy. Sometimes I pour in a few dashes of cream, any kind.
Garnish the mashed potatoes with chopped chives and/or fresh parsley; place butter in the center. Yummy.
To add flavor and appeal sprinkle sharp cheddar and chives on top. Pop the dish in the oven right before serving to melt the cheese and bring it to a light golden color.
Check out Norwegian Lamb Casserole recipe here.
www.norway-hei.com © Copyright 2020
All Rights Reserved
Norwegian Recipes after Mom's Mashed Potatoes
Search Here