Lemon Mousse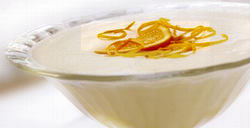 Sitronfromasj in Norwegian
Lemon Mousse, a light and flavorful dessert, is a delightfultasty event.
During the holidays and entertaining, we often serve many rich foods, so why not change the pace by surprising our family and friends with light and appetizing Lemon Mousse/Lemon Fromage dessert.
Of course, it is a perfect dessert for summer entertaining and at any garden party. It's very light and tasty.
I like to serve lemon mousse as a delightful dessert after enjoying perfectly grilled salmon or other favorites. It is ideal in the summer for a cool and very refreshing dessert.
Sitronfromasj
Makes 6 servings
1 envelope unflavored gelatin
1/2 cup sugar
1/4 teaspoon salt
4 egg yolks
1/2 cup milk
2 cups half-and-half (1/2 milk +1/2 cream)
1 tablespoon grated lemon rind plus extra for garnish.
1/4 cup lemon juice
Fresh lemon leaves
Fresh lemon peel, lemon zest and fresh lemon leaves for garnish.
Whipping cream
Preparation:
Stir together gelatin, sugar, and salt in the top part of a double boiler.
Beat egg yolks until thick and lemon-colored.
Add milk and half-and-half.
Stir eggs and milk combination into gelatin mixture. Cook and stir constantly over boiling water until mixture coats spoon - about 10 minutes.
Remove from heat. Stir in grated lemon rind. Slowly stir in lemon juice. Place into a 1-quart mold.
Chill until set. Remove from mold by quickly dipping the bottom in lukewarm water dry it off and place your serving plate over mold and turn over. The mousse should now come loose and sit nicely on your serving plate.
Make a design with whip cream on and around the dessert and vòila, you have a beautiful and delicious Lemon Mousse, sitronfromasj. In the Norwegian language, you combine words together - like in this case, sitronfromasj.
Another way to create lemon mousse is to keep stirring it and cool it down and create a light and fluffy texture. When cooled pour it into a large pretty glass serving bowl and top with whipped cream and garnish. See picture.
Garnish the Lemon Mousse with nice green lemon leaves, grated lemon rind, or lemon peel (You can use a vegetable peeler to make curly lemon peel) use your imagination and you're ready to serve your guests.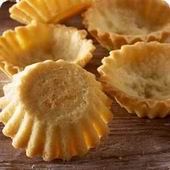 Another idea is to spoon Leomon Mousse into beautiful little Sandbakels/Sandkake tarts, garnish and you have gorgeous individual desserts.
www.norway-hei.com © Copyright 2020
All Rights Reserved
Norwegian Recipes after Lemon Mousse
Search It Here