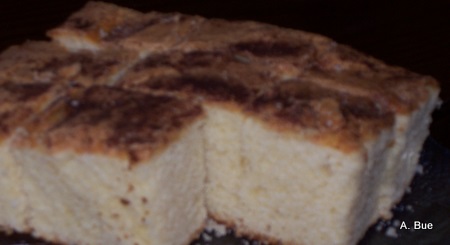 Mor Monsen Cake
Mother Monsen Cake
(in English)
Mor Monsen cake (Mor Monsen Kake), I wonder who she is?? Anyway, my mom always had this delicious Norwegian coffee cake ready to serve.
By the way, the word cake is kake in Norwegian, pronounced (ca) as in caviar and (ca) as in (caring. This is my very own method of teaching how to pronounce Norwegian words.
Keep stored in a lined plastic container in the freezer.
I love to sit by my computer and munch on a piece of Mor Monsen Cake with a cup of freshly brewed coffee.
Here is the recipe.
Ingredients:
1 cup + 1 tablespoon butter
1/4 cup sugar
6 eggs
Lemon zest from 1 lemon
1-3/4 cups flour
1 tsp. baking powder*
Topping::
1/2 cup almonds, slivered or ground
1/2 cup currants
3-4 T. granulated or pearl sugar
Preparation:
Cream butter and sugar until light and fluffy.
Add eggs, one at a time, and blend thoroughly after each addition.
Stir in lemon zest.
(*Check the expiration date on your baking powder. When it is near the expiration date, buy a new one or you may end up with a very flat cake. Buy the smallest container and keep an eye on the date.)
Mix baking powder and flour before adding.
Pour the batter into a 9 x 11" pan, lined with parchment or wax paper and a heavily greased and dusted with flour.
Smooth batter evenly.
Sprinkle with almonds, currants, and sugar.
Swirl almonds and currants into the batter with a fork so it does not fall off when the cake is done and sprinkle with pearl sugar on top.
Bake on the middle rack of the oven at 350° F. for 30-35 minutes to light golden.
Check to see if it is done by sticking a toothpick or wooden skewer into the cake, if the batter does not stick to the pick, it is ready to take out of the oven.
Cool slightly on a wire rack.
Cover cake with waxed paper and a cookie sheet and turn the pan upside down on the sheet.
Finish cooling on wire rack.
Keep this tasty Mor Monsen Cake in your freezer and you're always ready to serve a Norwegian dessert.
www.norway-hei.com © Copyright 2020
All Rights Reserved
Back to Norwegian Recipes after Mor Monsen Cake
Search It Here