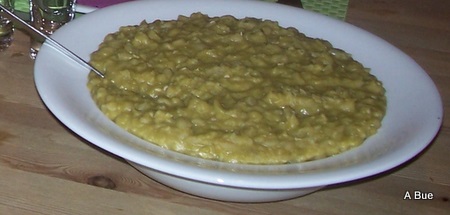 Stewed Green Peas
Grønnerterstuing made with the Nutritious legume, Green Peas.
In Norway, Stewed Green Peas, made of this healthy green legume, is often served with the traditional Norwegian seafood,
Lutefisk
.
But it is also served as a side dish with roast beef, meatballs, pork and lamb. Stewed green peas is a nutritious food in addition to be a tasty dish.
I believe, that in Norway, it almost always is served with meatballs and cranberries (kjøttkaker og tyttebær) - yummy.
Find our family's recipe below.
Ingredients:
2 cups dried green peas
Water
Sugar to taste
Butter to taste
1 teaspoon salt

Preparation:
Soak dried green peas overnight in a large bowl or pan.
filled with water. If you use split peas,
no need to soak.
Place peas in pan and cover with water.
Add 1 teaspoon salt.
Bring to boil and turn heat down to simmer.
Cover and cook until soft. Add water if needed.
Stir and mash green peas. Add butter and sugar to taste and you are ready to serve.
My family use butter and sugar, some people don't. Perhaps you could try both methods to see which one you like the best?
We should all include more legumes in our diet. Legumes are lean and and loaded of nutrition.
God Middag! This is a Norwegian greeting used before beginning eating your meal. The translation is Enjoy Dinner or as it is said in French, Bon Appetite!



Green Peas
Here is data on some of the wonderful benefits of this nutritious, healthy, lean and tasty legume that has been enjoyed for generations all over the world.
The information below will change if you add sugar, butter and salt to the recipe above.

Amounts Per Serving % Daily Value *

Sugars 5g
Protein 4g
Vitamin A 15%
Vitamin C 20%
Calcium 2%
Iron 6%
Calories 70
Calories from Fat 0
Total Fat 0g 0%
Sodium 0mg 0%
Total Carbohydrate 13g 4%
Dietary Fiber 4g 14%
* Percent Daily Values are based on a 2,000 calorie diet.


Click here for more Norwegian Recipes.
To Foods of Norway after Stewed Green Peas
Search It Here