Smoked Salmon Sandwich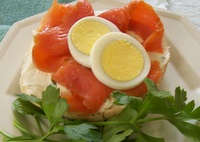 Open Face Smoked Salmon Sandwich
(Røkt Laks Smørrebrød, in Norwegian) Photo A.Bue (above)
Are you hungry for a delicious sandwich? Why not serve et Røkt Laks Smørrebrød? It is more than a sandwich, it is an event.

Some places around the world, like in New York, they call this salmon delicacy, Lox and it is served on a bagle with cream cheese.

In Norway, they even serve this smoked FISH for breakfast? Who would think of something that "fishy"??? ... Of course, it had to be the Norwegian Vikings.
Røkt Laks/lox is sooooooo delicious. And you don't even have to go all the way to Norway to enjoy this delicacy. If you are in the U.S., stop in at Sam's Club and pick up a vacuum packed Smoked Salmon Fillet. Why not make sandwiches in your own kitchen? Have a party.
Use a sharp knife to thinly slice the fish at an angle (filleting), skin side down. This is very important, according to my brother, Bjørn and... don't cut your fingers.
Arrange lox on a serving platter along with thinly sliced, red onions, leaf lettuce, tomatoes, hard boiled eggs, lemon and parsley sprigs.
Fill bowls with green and black olives, capers, chopped green onions, thinly sliced green and red peppers for garnish.
Place an assortment of breads and bagels in a nice basket lined with a cloth napkin. Don't forget the cream cheese.
Whip cream cheese until soft and fold in chives or dill for spreading on the bread.
This smoked fish is great for entertaining and your guests will enjoy creating their own tasty meal.
Oh, and this is how you order this delicacy in Norwegian: "Jeg vil ha et smørbrød med laks, takk". Practice, so you know it when you visit a restaurant in Norway.
Norwegian Recipes after Smoked Salmon Sandwich
Search It Here