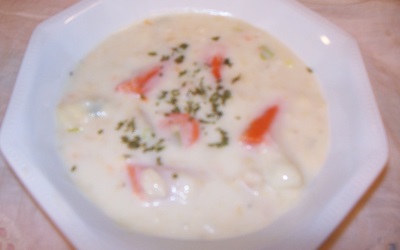 Salmon Chowder Recipe
Treat your family to this appetizing, healthy
Salmon Chowder
(above).
In Norway this delicious seafood chowder is made with Atlantic Salmon, which is plentyful in our cold waters, but other types of salmon will work fine.
Accompanied with baguettes, herb butter and a salad of spring greens will make this beautiful seafood meal fit for royalty. Get the applause!
Make a double recipe of this delicious fish chowder recipe and freeze some for later.


Salmon Chowder:
Serves 4
Ingredients:
1 pound fish fillet
6-7 cups diced, redskin potatoes
1 cup carrots
1 cup celery
1/3 cup red and green peppers
1/3 cup frozen corn
1/3 cup instant potatoes
1/3 cup fresh chopped parsley
1/3 cup chopped onions
3 cloves chopped garlic
1/3 cup chives for garnish
3 cups water
3 cups milk
2 cups half and half cream or milk
1-2 fish bouillons
1 tablespoon Worcestershire sauce
Season with salt and
Freshly ground pepper
Preparation:
Sauté onions and garlic until transparent.
Place potatoes, carrots, water, bouillon cube and salt into a soup kettle and simmer for 15 minutes. Add remainder of vegetables and simmer.
In a separate bowl whisk instant potatoes and milk. Add this gradually while stirring.
Add fish and stir until soup thickens. Lower the heat. Crumble the fish into smaller pieces when it is cooked. Add cream gradually while stirring.
Season with freshly ground pepper, Worcestershire and salt to taste. Turn heat off and let rest for a few minutes.
Garnish the Salmon Chowder with fresh chives before serving.
Click here for more Norwegian Recipes.
Go to Norwegian Recipes after Salmon Chowder Recipe
Search It Here