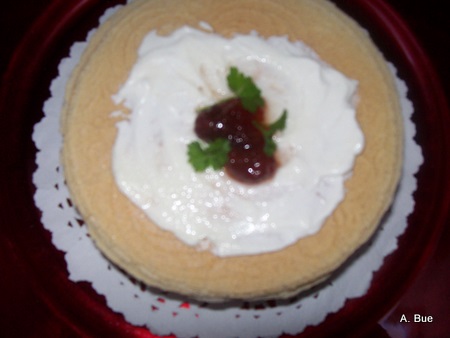 Krumkake Recipe

Krumkake (left) is a crispy, traditional Norwegian Christmas cookie (julekake). It is so delicious and it will melt in your mouth.
You can find them in most pantries in Norway at Christmas time, but they are so popular that many families bake them all year around - yum-yum.
In order to make these unusual Norske cookies you will need a special krumkake iron to bake them in. You will find pictures of the irons below.
Are you ready to make "crumkauke"? - (That's kind-of how you pronounce it in Norwegian.)
Ingredients:
3 eggs
5 ounces (150 gram) sugar
5 ounces(150 gram) butter
5 ounces (150 gram) flour
1/2 teaspoon cardamom
Preparation:
Whip eggs and sugar until pale yellow. Add melted, cooled butter. Add flour with cardamom mixed in. Let the batter rest in refrigerator 1 hour.
You can use a "No Stick Cooking Spray", canola oil, for example, on the iron to prevent sticking.
Place 1 teaspoon batter into warm iron and bake until light golden. Remove immediately and make desired shape.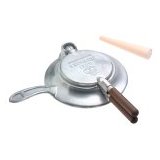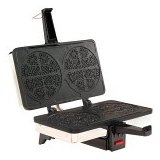 Cookie Roller





Non-electric Electric Krumkake Iron
Krumkake Iron


---

Traditional cone-shape: Immediately wrap warm cookie around roller.
Cup-shape: Place warm cookie into a cup (not mug) and let cool before removing.
Half-round shape: Place wafer directly over a small juice glass - it will take "a half-round-shape" and turn out perfect for filling.
Rolled-up shape: Use an ordinary butter knife to form a nice rolled-up shape.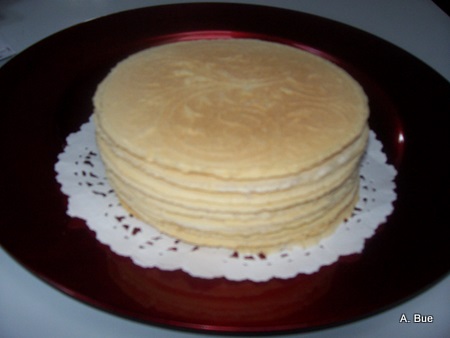 Stacked Flat Krumkaker
Round shape: Place cookie on flat surface. When they are cooled make them into a stack.
See, I am loaded with good ideas. No matter, which one you make - you'll have a beautiful dessert.
Cool before storing in airtight container.
To fill or not to fill this cute cookie, that is the question.
My first advice about fillings is, use your imagination.
This is one filling my family enjoy: Fold whipped cream with sliced strawberries; yummy golden cloud berries - "delish" or any kind of berry.
You can also fill the cookies with mousse, puddings or ice cream and sprinkle with ground nuts and chocolate shavings or whatever your taste buds call for.
Mom usually makes a rolled-up shape and serve berries, fruit and whipped cream on the side.
You can spoon filling between two flat cookies and decorate with whipped cream and a strawberry on top.
An other way, is to serve a variation of fillings in beautiful bowls and your guests can create their own desseert.
And last, but not least...this wonderful little Norwegian cookie is delicious plain.
Any of the above presentations will surely be a hit.
Oh, one more thing, your kids can impress their friends when their mom, makes her own tasty ice cream cones.
Click here for other Norwegian Recipes.
Return to Foods of Norway after Krumkake
Search It Here