Goro,
Norwegian Christmas Cookies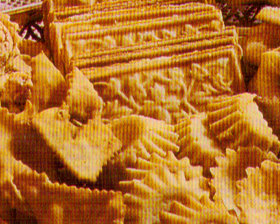 Goro
(the rectangular cookies above), are flat with a pretty design. They are sweet and crispy and sooooooooooooo delicious. Goro are traditional Norwegian Christmas Cookies.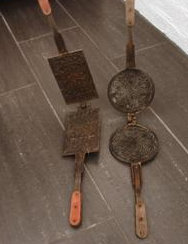 The old fashion cookie Iron,
(the rectangular one to the left.)
The round cookie iron on the picture is for making krumkake.
The iron measures about
4-1/2" x 7" and bakes three cookies each time.

Each cookie measures
about 2-1/2" x 4-1/2".

Mom makes 10 to 12 different kind of cookies every year. She begins baking Christmas cookies in Octobe. Cookies are not the only food to prepare for the Norwegian Julebord (Christmas smorgasbord).


It is a "good thing" to make tons of special foods for Christmas. The Norwegian home makers like to "brag a little" about all the goodies they made for this wonderful holiday.
There are many traditional foods expected on the Norwegian Julebord (Christmas table), so preparations must begin early.
Here is the recipe for these lovely cookies:
Ingredients:
1-1/2 deciliter (approx.
½ cup) heavy cream.
1 egg
125 gram sugar
(approx. ½ cup U.S).
150 gram flour
(approx 1-1/2 cup).
¼ teaspoon cardamom
1/2 teaspoon vanilla extract or vanilla sugar.
325 gram butter
(1-1/2 scant cup)
You will need a Goro Iron to makethese cookies.
Preparation:
Whip cream until peaked.
Whip egg white and sugar until peaked and
fold in whipped egg yolk (eggedosis).
Fold egg and whipped cream gently together
Blend butter, flour, cardamom, vanilla
and add it to egg and cream mixture.
Divide dough into small sections.
Chill for two hours.
Work with only one small section of dough
at a time.

Keep the remainder of dough chilled.
Roll dough out thin and cut to fit the iron.
To save time, roll and cut all the dough
before you begin baking.
Keep cookie batter chilled until you begin baking.
This will make them easier to handle without falling apart.
Bake cookies until light golden in color. Cut them apart and place on cooling racks.
Make sure Goro cookies are cooled before storing in an airtight container, lined with parchment paper.
To Norwegian Recipes after Goro Christmas Cookies.

SEARCH HERE