Norwegian Ginger Cookies
Norwegian Ginger Cookies
have a sweet and spicy taste.
When you bake them your house will be filled with the most delicious, fragrant aroma of these yummy Norwegian Christmas cookies.
You better make a double recipe. Because there will be standing room only in your kitchen.

All big and handsome; small and sweet Santas (Julenisser in Norway) (below),
in your family will anxiously be waiting for samples of these yummy treats.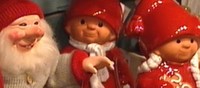 Ingredients:
1 cup butter
1 cup sugar
1/2 cup molasses
or Karo Syrup
2 eggs
4-1/2 cups flour
1 teaspoon salt
1/2 teaspoon ginger
1//2 teaspoon cloves
1/2 teaspoon cinnamon
1 tablespoon orange zest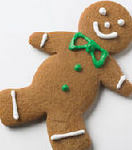 I use a butter knife to "paint"
the cookies with this
Glaze Recipe:
1 cup powdered sugar
1 egg white (I use egg white powder that you can obtain in the baking section at your supermarket.)
Add food color to make desired color.
White color is easy, of course, since you leave it plain.

Preparation:
Melt butter and add sugar and molasses.
Gradually add eggs.
Gradually add flour while stirring. Keep dough in fridge overnight. Roll dough thin on baking sheets. Use cookie cutters to press out fun Christmas shapes. Decorate with sprinkles.
Bake at 375°F. for 7-8 minutes or until golden brown.
If you make glaze to decorate the cookies, you could make a red hat and white beard for Santa or yellow lights for the Christmas tree cookies, and have fun.
This Christmas cookie-baking project might be lots of fun for the whole family.
To Norwegian Recipes after Ginger Cookies
Search It Here