Fyrstekake
Norwegian Royalty Cake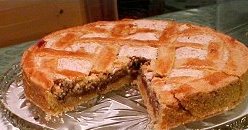 Fyrstekake (Royalty Cake)
(above) is a traditional Norwegian cake. Everybody in Norway is familiar with it since it has been a popular cake for generations.
My grandma used to send this kake with raspberry filling to me for my birthdays, because that was and still is my favorite dessert.
Find recipe here:
Ingredients:
3/4 cup butter
3/4 cup sugar
1 egg yolk
2 tablespoons milk
2 cups flour
2 teaspoons baking powder
1/2 teaspoon salt
Preparation:
Blend sugar and butter,
until light cream color.
Mix in egg yolk and milk
Mix flour, salt and baking
powder in separate bowl
and add gradually to batter/dough,
which will have to be kneaded.
Retain 1/3 of the dough for the
lattice to cover the filling. See picture.
Roll out the remaining 2/3's of the dough and place in greased spring form.
Filling Ingredients:
1/2 cup confectioners sugar
1-1/4 cup ground almonds
1/4 teaspoon almond extract
1/2 teaspoon ground cinnamon
1/4 teaspoon ground cardamom
1 egg lightly beaten
3-4 teaspoons water

Preparation of filling:
Blend above ingredients in a bowl. Spread it over dough in the spring form pan.
Roll out the remaining 1/3 of the dough. Cut into 1/2" strips and create a lattice pattern over the filling.
Bake in the middle of oven at 300-350°F. (150-180°C.) for about 45 minutes.
In Norway, cakes are usually placed on a beautiful serving plate on the coffee table clad with an attractive table cloth and with festive lighted candles. The guests serve themselves.
To Norwegian Recipes after Fyrstekake
Search It Here