Homemade Dessert Crepes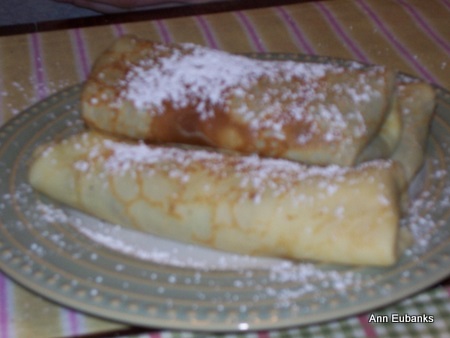 Dessert Crepes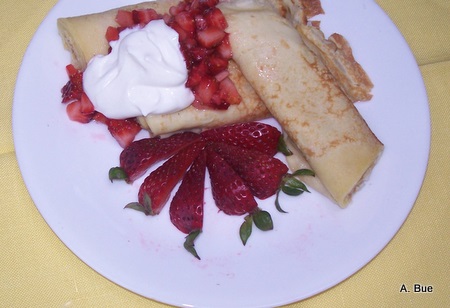 Crepes with
Strawberries and Whipped Cream
Dessert crepes are delicious with or without filling. In Norway, we also call them pannekaker.
Ingredients:
1 cup + 2 tablespoons flour
1 tablespoon sugar
1 teaspoon vanilla extract
4 eggs and 2 egg yokes
1-3/4 cup milk
1-1/4 cup half-and-half cream
1 cup cold water
1 tablespoon melted butter
1/4 teaspoon salt

Preparation:
Combine the dry ingredients.
Pour milk, cream and water
into mixing bowl.
Add melted butter gradually while stirring.
Add eggs.
Add dry ingredients gradually

Place batter in the refrigerator for 20 minutes.
Sometimes I use an old fashion, iron frying pan to make them other times I make them in a Teflon clad pan.
Coat the pan with cooking spray or use a paper towel to distribute a few drops of oil evenly and to soak up the excess.
Make small, thin cakes by pouring 1/3-cup batter into a Teflon pan, carefully roll the pan around to distribute the batter and carefully flip it over when light golden in color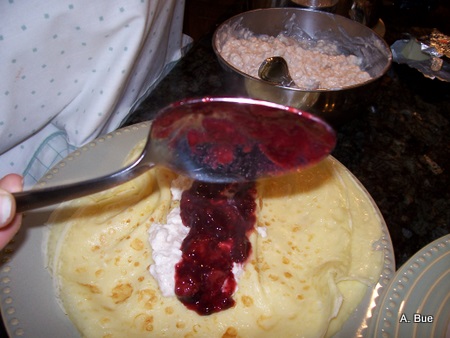 Filling Crepes
Fillings:
One way is to fill them with whipped cream, and top with berries. Another way is to fill them with whipped cream mixed with berries, jams or pudding and fold or roll them.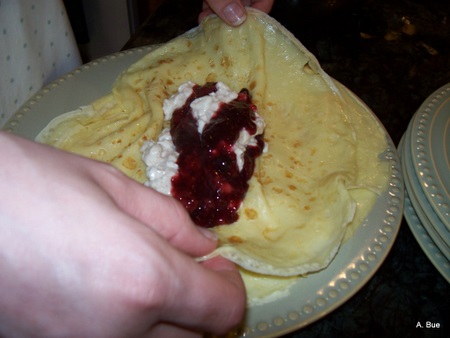 Folding Filled Crepes
You might have a question about when to fill and fold? Should you do it while you are baking them or later?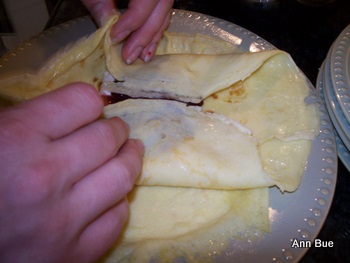 Folding-Dessert Crepes
Whatever works best for you is the right way. You can fill and roll them after you are done making them all. But if you are lucky to have an assistant, he/she can "fill and roll" them right after you "flip them".
www.norway-hei.com © Copyright 2020
All Rights Reserved
If you have question or comments about making this delicious treat, feel free to Contact me here
Norwegian Recipes after Dessert Crepes
Search It Here