Curry Sauce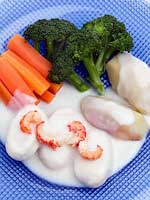 Curry Sauce and it's perfect with Norwegian Fiskeboller. It's also delicious with cauliflower.
Drizzle sauce over and around trimmed, steamed cauliflower placed in the middle of a serving platter. Garnish with paprika and parsley.
Add flavor and nutrition by placing broccoli florets and baby carrots on a platter. Serve sauce on the side.

Norwegian Fiskeboller/Fish Nuggets
in white Cream Sauce. (left)
Start by heating butter or oil in a saucepan. Stir in flour on low heat. This will make a type of roux. Do not brown it as you would for gravy for a beef roast or stew.
Gradually add liquids and bring up to a boil each time before adding more liquid. Do this until the desired consistency has been obtained. Constantly stir to prevent lumps
or sticking.
Ingredients:
4 tablespoons butter
4-5 tablespoons flour
1 teaspoon curry powder (or to taste)
1 cup water containing 1-2 cubes fish bouillons.
(If the sauce is not to be used with seafood, you
can use vegetable bouillon instead of fish bouillons.)
3 cups milk
Salt
Freshly ground white pepper.
Preparation:
Melt butter
Stir in flour
Add spices
Gradually add fish stock and milk while stirring constantly.
Bring to soft boil for 5 minutes.
Add fish nuggets (fiskeboller) and serve with glazed carrots, steamed broccoli. Garnish with chives.
This sauce can be used in many casseroles. For other flavors, add spices and bouillon cubes of your choice.
Visit my pages often for creative cooking ideas.
På gjensyn! (pow yenseen!) See you again!
www.norway-hei.com © Copyright 2020
All Rights Reserved
Norwegian Recipes
Fish Nuggets Norwegian Fiskeboller
Go to Foods of Norway after Curry Sauce
Search It Here