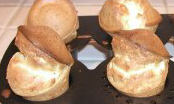 Cream Puffs
Having guests?
Serving delicious cream puffs/puff pastry filled with salads, mousse or spreads will make a sumptuous presentation worthy of royalty.
In Norway, we call them vannbakkels. This inter-national pastry can be filled to make elegant desserts as well as savory canapes /appetizers.
A huge basket of these fluffy delights served with dinner will give you many compliments. Trust me, as dinner rolls, they will vanish quick, like snow on a sunny day.
Puff Pastry:

Ingredients:
3/4 cup milk
2 tablespoons butter
1-tablespoon sugar (only when making dessert.)
1/8 teaspoon salt
3/4 cup flour (sifted)
3 eggs
Preparation:
Combine milk, butter, sugar and salt in heavy saucepan.
Cook over medium heat.
Add flour.
Simmer and stir until the mixture forms into a ball.
Turn off heat. Add eggs and stir with electric mixer until all eggs are added. Cover dough and cool well.
Spoon unto lightly greased cookie sheet. Bake in preheated oven at 450°F. for 8 minutes. Turn heat down to 350°F. Bake 20 minutes. Better not open oven door to peak - they will fall!
Ideas for Puff Pastry Fillings:
Dessert:.
Fill with whip cream only; or add berries, jams or fruit; fill with puddings and whip cream. Use your imagination.


Appetizers/Canapes/Hors d'oeuvres:
Make mini-puffs and cut them in half. Now you can really be creative. There are a myriad of fillings and mixes you can use, from sea foods and meats to cheeses and vegetables.
Mini muffin pans are ideal for canapes. Garnish with appetizing, colorful vegetables
and fruit.
Luncheon:
Make extra large pastries, cut off the top and fill with salads made with fresh fruit, berries, salmon, tuna, crab, shrimp, chicken or you whatever goodie you have on hand. Garnish with sprigs of fresh mint, chives, rosemary or parsley.
Keep your entertaining elegant, but easy by placing various salads on the table along with baskets of Cream Puffs and let your guests serve themselves.
Enjoy!
Foods of Norway.
Norwegian Recipes after Cream Puffs
Search It Here