Norwegian Bacalao Cod Recipe
Here you'll find a Norwegian Bacalao Cod Recipe, and I may as well let you know, in Norway, we have many varieties of this one.
In Spanish, the word Bacalao translates to cod in English and torsk in Norwegian.

Stock Fish/Klippfisk (below) is the main ingredient for this delicacy.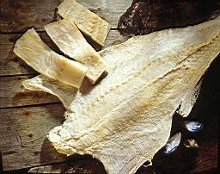 In Portugal, Spain, Italy, Greece, Brazil, the term is also used for stockfish (salted dried cod).
In Norway, Bacalao is a "stockfish casserole" with olives, tomatoes, onions, and peppers, but not always, because of the numerous recipes for this Norwegian fish dish. However, it is always made with cod as the main ingredient.
For example, one recipe is called Lofotlao. This one is more prominent in Lofoten, Northern Norway.
Kristiansund, is a city well known for their version of Bacalao. When I visited my friend Randi, who now lives in Minneapolis, but she was born and raised in Kristiansund, she made Bacalao for me and it was the Kritiansund version - it was totally delicious.
Other parts of the country have their own special way of making this cod casserole.
In the United States, salted cod can be found in a 1-lb wooden box in your grocer's meat department. If they don't carry it, ask for it.
My nephew, Bent, has his own rendition for this savory and sometimes spicy dish. Here is Bent's own Bacalao Cod Recipe.
Ingredients
1 lb salted cod
4 tablespoons fresh parsley, chopped
6 or less large onions, chopped
1/4 cup (or less) olive oil
3 tablespoons dry sherry
4 large tomatoes, peeled and chopped (canned
whole tomatoes work great)
4 tablespoons green olives, sliced
5 cloves garlic, minced
1 fresh or dried jalapeno pepper minced (for
those who like it real hot)
4-ounces pimientos
1/2 cup pitted black olives (Greek optional)
1/2 teaspoon oregano (optional)
Freshly ground pepper.
Salt to taste Preparation
Soak salted cod for 12 hours
Change water every 4 hours.
Drain and shred fish.

Saute onions and garlic in oil.
Add oregano, parsley, olives,
pimentos, jalapenos, wine and simmer.
Layer sauteed
vegetables, potatoes,
shredded fish, salt and pepper.
Drizzle remainder of the oil.
Bake at 350°F. for 35-40 minutes
and you have Bacalao.

Serve with Greek or Italian bread and salad and...of course, don't forget your favorite bottle of wine. Skål!

www.norway-hei.com © Copyright 2020
All Rights Reserved

Norwegian Recipes

Norwegian Paella


Go to Foods of Norway after Bacalao Cod Recipe

Search It Here