Cod Tacos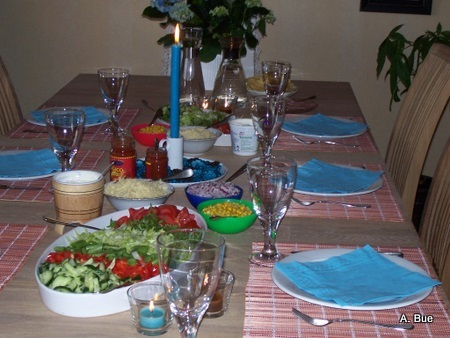 Norwegian Cod Tacos Dinner Party
Yes, this is a recipe for North-of-the-Border Cod Tacos, with a South of the Border kick.
First, defrost frozen cod, rinse and dry off with paper towels. Keep the fish in the refrigerator until you have the marinade made.
Place the ingredients for the marinade in a large bowl and stir. Add fish fillets and marinate in the refrigerator for 1 hour.
Marinade for Fish Fillets:
1 can (14.5 ounces) diced tomatoes
2 tablespoons wine vinegar
Onions of choice, chopped
Juice of 1 lemon
2 cloves garlic, minced
1/2 or less jalapeno pepper, chopped
1 teaspoon salt
Marinate fillets 1 hour or more and strain.
Pour 1 tablespoon olive oil into a large pan and add strained ingredients and saute until onions are soft.
Add fish and saute until it is flaky. Do not overcook or turn too often. Fish requires a very short cook time.
Filling
Sauteed fish fillets, and vegetables.
Roma tomatoes, firm, chopped
Green onions, chopped
Green peppers, chopped
Sweet red peppers, julienne
Black beans, 1 can strained
Sharp cheddar cheese, shredded
Black olives, sliced
Lettuce, finely sliced
Sour cream
Jalapeno peppers for those who like it
hot
Salsa, hot, medium or mild.
Let's have a party. And... Why shouldn't a meal be fun and easy?
Place the above ingredients into colorful serving bowls on the table along with salsa, crispy taco shell, tortillas and let your guests and family enjoy creating their own delicious Seafood Tacos. Olé!
And...of course, if you are Norwegian, proper Etiquette requires that you set the table with a knife and a fork. See picture above.
www.norway-hei.com © Copyright 2020
All Rights Reserved
Delicious Norwegian Recipes
Go to Foods of Norway after Cod Tacos
SEARCH IT HERE