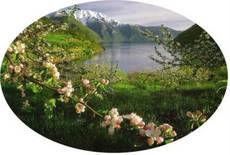 Wonders of Norway
Discover the many wonders of Norway. Read on to learn about some highlights of this "Kingdom of the North", also called the Land of the Midnight Sun. This one of the 3 countries referred to as Scandinavia.
Scandinavia is a historical and cultural-linguistic region in Northern Europe characterized by a common ethno-cultural Germanic heritage and related languages. It comprises the three kingdoms of Norway, Denmark, and Sweden. (Source Wikipedia
Norwegians love nature and take great pride in keeping nature as untouched as possible. Almost 17 per cent of mainland Norway is now protected under the Nature Diversity Act. A large proportion of this consists of mountainous areas.
Here you will find wild, rough, magnificent nature and in contrast, magnetizing, man made wonders, which allures visitors from all over the world.
You will also discover technologically advanced tunnels, bridges and well maintained roads, which makes travel by car a pleasure and surely a time saver.
This is Europe's Nordic parkland, rich in history, with a dramatic mix of cities and villages, ancient architecture, mountains, waterfalls, islands, seas, forests, fjords, rivers and lakes and not least, the wonder of the midnight sun and Aurora Borealis commonly known as Northern Lights, in the heavens, which will amaze you. Keep the sound on and click on the arrow in the picture below. Enjoy!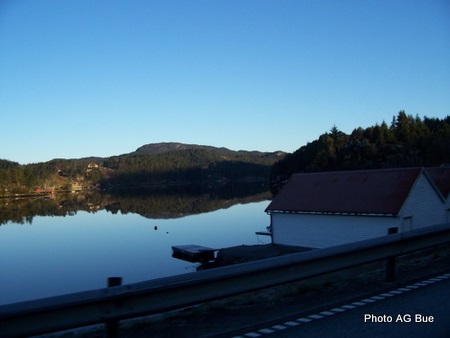 Another Beautiful Fjord


       Piano concert at the edge of a Norwegian mountain
           Source: News of Norway, www.norway.org
         The Royal Norwegian Embassy, Washington, DC

This beautiful country invites you to listen to concerts by thundering rivers and misting waterfalls. Today's feature is
the music by Edward Grieg's Per Gynt, "In The Hall Of The Mountain King". Be sure your sound is turned on. Enjoy!


History shows that these people are second to none in the arena of explorations. Most of us have heard about the fearless Vikings - even though they were explorers, they are also known as vicious fighter plundering across wide areas of northern and central Europe, as well as European Russia, during the late 8th to late 11th centuries.(Source Wikipedia)
Erik Thorvaldsson (Old Norse: Eiríkr Þorvaldsson; 950 – circa 1003), known as Erik the Red, Leif Erikson's father, a Norse Viking explorer, with dubious reputation, sailed west from Norway with his family and settled in Hornstrandir, northwestern Iceland. Medieval and Icelandic saga (history) sources claims that Erik the Red founded the first Norse settlement in Greenland. Erik was born in the Jæren district of Rogaland, Norway.
Leif Erikson (circa 970 – 1020) in Icelandic, Leifur Eirikkson, Leiv Eirikkson, in Norwegian, followed his father's foot steps in the area of explorations. About year 1000 A.D., Leif planted his tracks in a land he named, Vinland, nearly 500 years before Christopher Columbus. Its exact location is not known, but according to the Sagas of the Icelanders, he established a Norse settlement in Vinland, identified with the Norse L'Anse aux Meadows on the northern tip of Newfoundland, Canada.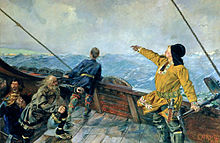 Leiv Eriksson
Painting by Christian Krohg
Roald Amundson and Fritjof Nansen placed this little country on the map with their daring explorations of the North and South Pole.
Among Captain Roald Amundsen's achievements, he gained an understanding of the mystery of Antarctic geography. Amundsen collected enough evidence to substantiate the theory that the great chain of mountains, which extends almost uninterruptedly from Alaska to Patagonia finds its continuation in a ridge connecting Victoria Land and King Edward VII Land, which, in honor of the former Queen Maud of Norway, he named this great chain of mountains "Queen Maude's Range." This information was collected from The Scientific American, Vol. CV1, No. 11, March 16, 1911 The Discovery of the South Pole.

Roald Amundson and Companions at the South Pole Dec. 14, 1911.

This small nation can boast of more recent explorers. They still produce adventurousness people with a strong, intrinsic curiosity for explorations and the unknown...


A Recent Race to the South Pole
Daring and adventurous Thor Heyerdahl (October 6, 1914 – April 18, 2002) an ethnographer and adventurer with a background in biology, zoology, botany, and geography.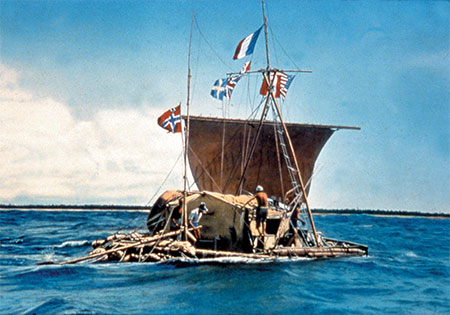 Thor Heyerdahls famous raft, Kon-Tiki
Thor Heyerdahl became known for his Kon-Tiki expedition in 1947, when he sailed 8,000 km (5,000 mi) across the Pacific Ocean in his hand-built raft from South America to the Tuamotu Island.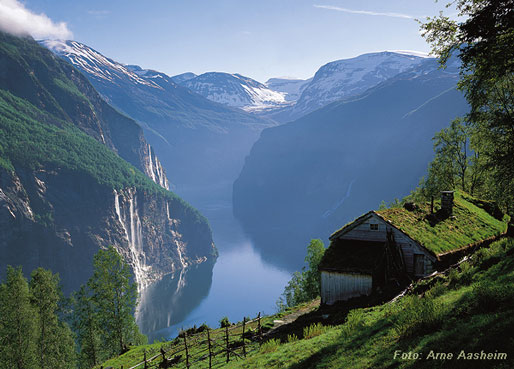 One will see an astonishing variety of serene rural landscape around the the capitol city, Oslo. But, this landscape is bleak compared to the wild, deep blue fjords along the Western Coast.
The historic architecture by the harbor in the cosmopolitan city, Bergen, will intrigue you while the zigzag roads that takes you to there will hypnotize you. If you travel to Bergen at the end of May, you can take in the International Festival/Festspillene, an annual international music and cultural event. Festspillene in Bergen is the largest yearly Festival held in Scandinavia.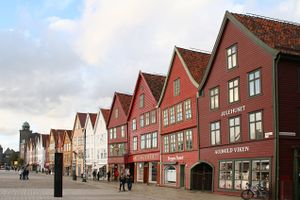 Bergen Harbor/Bergen Brygge
The the stark, barren landscape around Alta, Finnmark Fylke (County) is an astonishing contrast to the sunny beaches and coves of the Southern Coast and amaze visitors over and over again. From north to south, east to west, this country has a great variety - not only in landscape and nature, but in the area of their foods, their official two languages and many customs as well.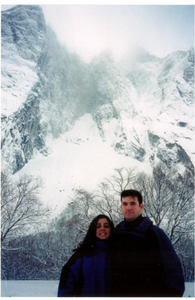 Romsdal Mountains
Photogenic Romsdalen, with its "Majestic Alps", can boast of intriguing roads like lightning, going up the mountainsides drawing curious visitors from near and far.
Sprays of dancing waterfalls will keep you spellbound and cool while you admire them from the many bridges that allow you to advance to the higher plateaus. It is a country of contrasts, with scenery so varied it never ceases to amaze.
A winter's velvety blue night sky is lighted by the shimmering Aurora Borealis, luring skiers to launch over the white sparkling crisp snow, before giving way to the bright Midnight Sun of summer that blends daytime and night into one.
Borgund Stav Church
The land of the Vikings is full of tradition, exemplified by its rustic stave churches, folklore, arts, foods and its folk music and folkedans, folk dance in English.
In contrast, this country is second to none in education and modern technology. Have you heard of the extreme road and tunnel building in this country? They are creators of tunnels under oceans and under majestic mountains.
The engineers here have a lot of experience in designing roads on mountain shelves and in zigzag patterns straight up the mountain walls. Their tunnel building expertise gives them the capability to build tunnels in the most unbelievable places...
As a matter of fact, they are the very first in the world planning and building a tunnel for ships. Ever heard of that before? WOW!
Norway building the worlds first Tunnel for Ships
The world's first ship tunnel, will provide safer, faster travel for cargo ships and commuter vessels to avoid the notoriously treacherous waters around the Stadlandet peninsula, also called Stat, located north of Bergen slightly southwest of Ålesund.
This land is rich in petroleum. This small nation is up-to-date if not innovative in oil drilling technology.
With the abundance of water supplies Norway produce hydro-electric power. A great deal of this electricity is exported to various countries in Europe.
Norway is one of the last great natural frontiers of the world. With its natural resources it invites exploration, with its steep mountains and jagged fjords, salmon-filled rivers, glaciers, and meadows.There you will find miles upon miles of roads and bridges connecting islands to mainland.
Norway Mountain Wilderness
Norway Mountains and Norwegian Nature
To Homepage after The Wonders of Norway.
Search It Here